Mission accomplished by Nutt at Brands Hatch WSBK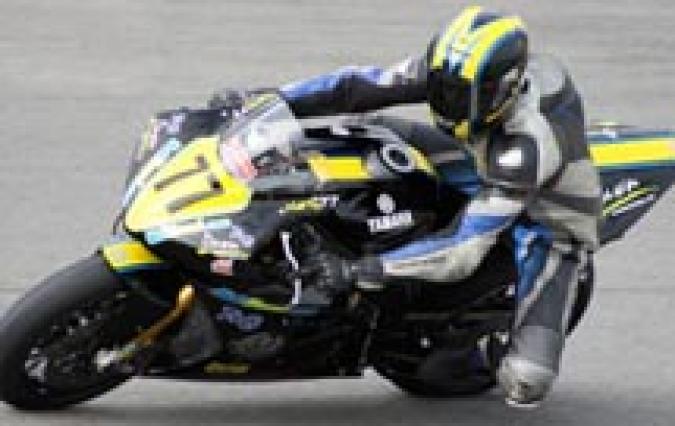 © Graham Etheridge
By Louise Cain
August 6 2007
Mission accomplished for Marty Nutt and his T&G/NuttTravel.com Yamaha team, who had a fruitful outing at Brands Hatch World Superbikes, with Nutt scoring his first World Championship point despite carrying an injury - he had crashed at Mallory Park and sustained a broken pubic bone.
However, this break didn't come to light until the start of the World Superbike weekend. Nutt was in considerable pain when on the bike so he decided to go to the medical centre, where he was X-rayed and the full extent of the injury discovered.
"I'm not feeling too bad when I'm not on the bike, it is just when I am on the bike it is really killing me," explained Nutt. "As you can imagine, a broken pubic bone getting hit all the time by the bike does make it really, really hard work."
He qualified in eighteenth place which under World Superbike rules meant he didn't go forward to the one lap shoot out of Superpole, which sets the top sixteen grid positions. However this gave him time to rest up before race day.

© Frank Duggan www.superbike-news.co.uk
"We're ecstatic - I'm made up. I think our whole camp is over the moon," he exclaimed after his point scoring race one, but he opted out of race two in order to save himself for the Bennetts British Superbike round this coming weekend at Croft.
Nutt wasn't fazed by the level of competition or by his famous on track rivals. "It wasn't as bad as I thought to be honest. My times would have been slower than they were earlier in the year but the weather is amazing which would probably bring the times down a bit as well. I did have to check myself when the likes of Toseland came by. It was all good, it was a steep learning curve and it is now something that I can cross off that big list in life. I've enjoyed the World paddock, I like the whole set up, it would be a very nice way to spend a year's racing."
Like any rider, Nutt would love to compete at World level for a season, but he is realistic, saying, "Unless somebody is going to offer us a ride for the season then I don't think it is an option."
As the only British Wild Card in the Superbike class, Nutt had a lot of support from the crowd. "I couldn't believe the sound from the crowd. That is the first time ever racing that I could hear the crowd cheering. You could see them when I was actually racing, which I shouldn't be looking at, but you could actually physically see them waving for me. That on its own carries you through a really tough race like that," he said.
He is now looking ahead to round ten of the Bennetts British Superbike Championship. "I'll be back for Croft I'm sure - fitness wise it isn't too bad; it is the fact that I can't move about on the bike. I'm having to do so much more with my arms and that is what is making it hard work."
Although it will be tough, Nutt enjoys Croft. "I love Croft. It is one of my better tracks as it is high speed, which is what I like. I was sort of thinking that I would be going there fully fit for a change, but I'm still hoping for a couple of good results as Tristan Palmer is starting to get away," he concluded.
Round ten of the Bennetts British Superbike Championship takes place on the 10th - 12th August, at Croft in North Yorkshire.