Márquez wins as MotoGP rivals falter in Argentina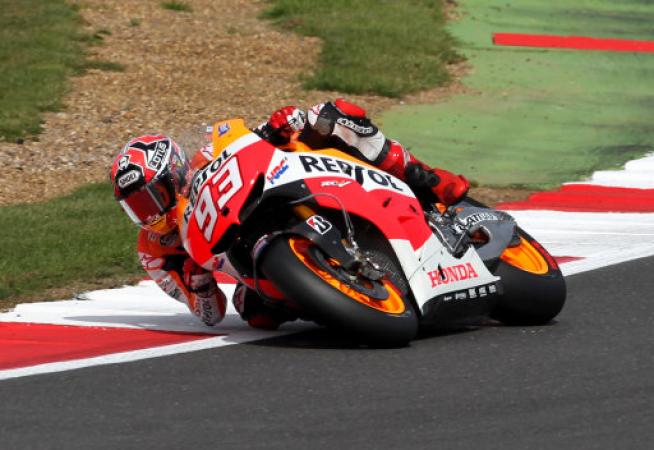 © David Davies/PA Wire
By Dan Moakes
April 11 2016
Jorge Lorenzo had won the 2016 FIM MotoGP World Championship season opener in Qatar, taking victory for Yamaha and making the perfect start to his title defence. Also on the podium were the team leaders for Ducati and Honda, who would be looking to improve in Argentina.
The only Grand Prix currently held in South America, the Argentine race is based at the Autódromo Termas de Río Hondo, this being the third year at the new venue. And in qualifying it was once again the case that the big three works teams had each of their two riders in the top six at the front of the grid. This time pole position went to Marc Márquez for Repsol Honda, with team-mate Dani Pedrosa fourth. In between were the MoviStar Yamahas, Valentino Rossi ahead of Lorenzo. Then came the two red Ducatis of Andrea Dovizioso and Andrea Iannone, fifth and sixth.
Leading the way for Suzuki again was 21-year-old Maverick Viñales, in seventh, with the other machine of Aleix Espargaró in P11. Héctor Barberá was eighth as the leading customer rider on the Avintia Ducati, just like in Qatar, and he headed Cal Crutchlow (LCR Honda) and Pol Espargaró (Tech 3 Yamaha). P12 saw Bradley Smith (also Tech 3), then it was Loris Baz (Avintia), Scott Redding (Pramac Ducati), Jack Miller (Marc VDS Honda), Stefan Bradl (Aprilia) and Eugene Laverty (Aspar Ducati).
Pramac Ducati rider Danilo Petrucci was still out of action through injury, with factory test rider Michele Pirro replacing him and taking P18. Then came Tito Rabat (Marc VDS Honda), Álvaro Bautistá (Aprilia) and Yonny Hernández (Aspar Ducati).
Form guide: GP wins at Termas de Río Hondo
Márquez, Rabat and Rossi - 1 each
The practice sessions had highlighted a possible concern over the Michelin tyres' durability, with Redding experiencing a worrying failure. The decision was made to reduce the race to 20 laps in duration, including a mandatory pit stop, either on lap nine, lap ten or lap eleven; the same solution as used at Phillip Island in 2013. The rider would swap bikes at the stop so as to continue on a new set of tyres.
There had been rain earlier in the day, and as they lined up for the start of the MotoGP race the tarmac was damp in places but the moisture had mostly dissipated. Lorenzo and Dovizioso did well off the line, taking over the first two positions ahead of Márquez. Meanwhile, Iannone went for the inside line at the looping right-handed turn one, with Pedrosa forced wide by the move and losing several places. Lorenzo was not at the front for long, as Dovizioso and Rossi were soon past. Márquez followed suit, on the inside through the long right-hander at turn eight, and the next left saw Viñales also overtake.
Seemingly in no time at all, Lorenzo was back in sixth, behind Dovizioso, Rossi, Márquez, Viñales and Iannone. Then came Barberá, Pol Espargaró, Miller, Baz, Laverty and Pedrosa, now twelfth. The second time through turn one had seen simultaneous crashes for Crutchlow and Aleix Espargaró, although both were able to rejoin the race at the tail of the field, behind the likes of Redding, Bautistá, Pirro, Bradl, Rabat and Smith. Hernández crashed out permanently early on.
It would prove to be an all-action race, and the first five soon began to move clear of Lorenzo and the rest. Márquez went to the front, passing Rossi at the Esses, then Dovizioso on the inside at turns twelve and thirteen, where a fast right tightens into a looping right. Meanwhile, Lorenzo was pushed back even further by Miller, up from fifteenth to sixth, only for the Australian to suffer a lowside crash at the right-handed turn three. This left Jorge in front of Baz and Barberá, although soon enough Pedrosa got past this duo.
Márquez was circulating with a loose television camera on the rear of his Honda, after contact from Iannone at the start, whilst the Italian was now contesting third place with team-mate Dovizioso; but a major player was missing after Lorenzo suffered a lowside crash at turn one, possibly due to the combination of a damp patch and a bumpy surface. With Márquez and Rossi squabbling over the lead, Viñales managed to get the better of the Ducati pair to run third.
Lap nine saw the first group of pit stops: Viñales, Iannone, Pedrosa, Baz, Barberá, Bradl, Crutchlow and Aleix Espargaró. Bautistá managed to crash in the pits but was still able to continue on his second machine. Next time around most of the remaining competitors came in, although Rabat stayed out and was briefly second as Márquez re-emerged ahead and Rossi behind. Once Tito was out of their way it was clear that Marc was gaining a fair bit of ground over 'the Doctor', Rossi not so happy with his second Yamaha.
This stage of the race saw larger gaps between the leading runners, with Márquez and Rossi still heading Viñales, Dovizioso and Iannone. Pedrosa was sixth, but only until being caught and passed by Redding, out of turn four onto the long back straight, then proceeding to move clear. Behind them came Barberá, Pol Espargaró, Laverty, Bradl, Baz (about to call it a day in the pits with rear wheel trouble), Rabat, Smith, Crutchlow, Bautistá, Aleix Espargaró and Pirro.
With Viñales catching Rossi, and the Ducati pair in tow, Márquez was out on his own and heading for victory. Redding's stint in sixth place ended sadly when his Ducati failed, and the next man out was rostrum contender Viñales, under pressure from Iannone, when the Spaniard had another of those lowside crashes at turn one. This left Rossi in a fierce battle with the Ducatis for second place, with some notable action at the right-handed turn five hairpin, where Iannone took the place on the inside but ran wide, allowing Dovizioso to overtake both his compatriots.
The struggle continued onto the last lap, when Iannone went for it on the inside of Rossi at turn seven, but again went wide. In the end, one of the final right-handers saw Iannone make the move on the inside of Dovizioso but managing to be the cause of both Ducatis crashing, gifting Rossi a secure second place. Dovizioso picked up his bike to try and walk it home to the flag, eventually securing P13 as the last finisher.
With Márquez winning and Rossi second, all of the action meant it was Pedrosa who inherited third, with Laverty a best-yet fourth, from Barberá, Pol Espargaró, Bradl, Smith, Rabat, Bautistá, Aleix Espargaró, Pirro and Dovi. Iannone and Crutchlow were a lap behind but not classified.
It was a story of missed opportunities for some, with Miller, Baz, Redding and Viñales all putting in good performances that went unrewarded, some of them out of the race through no fault of their own. Meanwhile, Jorge Lorenzo could not bring it home, even on a difficult day, to consolidate his Qatar success; and the finish of the race turned into a disaster for the Ducati team. But there were no such questions over Marc Márquez's race, his 25th premier class victory putting him at the top of the standings.
Standings after two races: Márquez 41; Rossi 33; Pedrosa 27; Lorenzo 25; Dovizioso 23; P.Espargaró 19; Barberá 18; Laverty 17
Yamaha 45; Honda 41; Ducati 33; Suzuki 15; Aprilia 12