Biographical rider entry list for BSB in 2016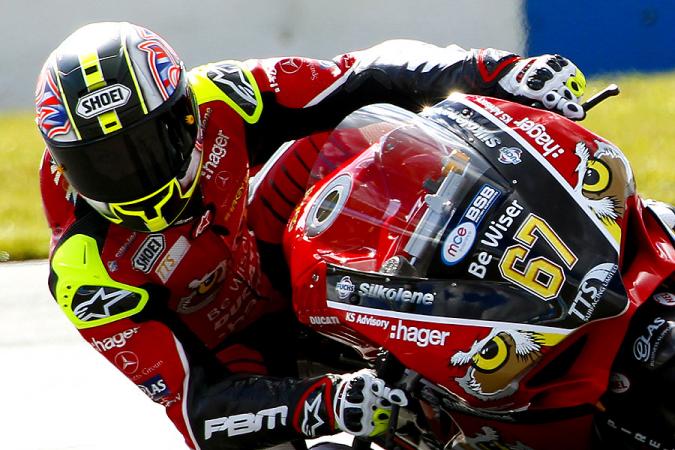 © Glynne Lewis
By Dan Moakes
May 31 2016
British Superbikes: Josh Brookes has gone to WSB for 2016, but Leon Haslam is back. Shane 'Shakey' Byrne gets back on a Ducati, aiming to win his fifth BSB crown; but Byrne and Haslam will face competition from the likes of Ryuichi Kiyonari, James Ellison, Michael Laverty, John Hopkins and others.


The 2016 British Superbike Championship:
Superbike racing in Britain frequently provides some of the best and most competitive motorsport action in the world, and the performances of UK riders in World Superbike racing go to prove that there is no shortage of talent emerging from the 'BSB' series. As well as home grown racers, the championship has also attracted some top men from overseas, which means that over the years there have been BSB race winners from Japan, Australia, Spain, France and the US.
In 2016 there will be an excellent mix of youthful and experienced talent racing in BSB: There have been a few changes in the rider line-up for this season, with another packed list of entrants and some new and returning faces. There will be ten overseas riders taking part, from several different countries; and there will be eleven riders with BSB race wins on their CVs, headed by multi-title winning Shane Byrne and Ryuichi Kiyonari. Yamaha, Kawasaki and BMW riders all won races last season, with Honda and Ducati men also on the podium, so there are plenty of opportunities for all those involved, and it is already shaping up to be another great season. Here are the essential biographical details on who's who among the current riders.
Shane Byrne, England
age 39 · BSB début 1999
racing number: 67
BSB wins: 68 2002-2015 (Ducati, Suzuki, Honda, Kawasaki)
BSB podium results: 156 · BSB pole positions: 25 · BSB fastest laps: 56
BSB Champion: 2003, 2008, 2012, 2014
WSB wins: 2 2003
best GP result: 10th 2004 (MotoGP)
Champion: British Superbike Cup 2001
Additional: World Superbike experience includes as a wildcard double race winner, and with eighth overall in 2009
Leon Haslam, England
age 32 · BSB début 2003
racing number: 91
BSB wins: 16 2004-2008 (Ducati, Honda)
BSB podium results: 54 · BSB pole positions: 10 · BSB fastest laps: 13
best season in BSB: 2nd 2006, 2008
WSB wins: 5 2010-2015
best GP result: 7th 2002 (250cc)
Champion: National Scooter 1997
Additional: Two Endurance wins at the Suzuka 8 Hours race; World Superbike runner-up in 2010
Howie Mainwaring Smart, England
age 30 · BSB début 2003
racing number: 43
BSB wins: 1 2014 (Kawasaki)
BSB podium results: 2
best season in BSB: 14th= 2014 · 4th in BSB Cup 2006
Champion: Junior Road Racing Association 1999
Additional: Intermittent BSB career, but also a regular in National Superstock, winning at Oulton Park in 2007
James Ellison, England
age 35 · BSB début 2004
racing number: 77
BSB wins: 12 2009-2015 (Yamaha, Honda, Kawasaki)
BSB podium results: 53 · BSB pole positions: 2 · BSB fastest laps: 17
best season in BSB: 2nd 2009
best WSB race result: 4th 2008
best GP result: 9th 2006 (MotoGP)
Champion: Newcomers' Honda CB500 Cup 1998 · European Superstock 2000, 2001 · British Superbike Cup 2004
Additional: Raced successfully for the 2003 title-winning team in World Endurance, with second place four times; best result of fifth in AMA Superbike racing, at Road America in 2007; podium results in World Supersport
Ryuichi Kiyonari, Japan
age 33 · BSB début 2004
racing number: 23
BSB wins: 50 2004-2014 (Honda, BMW)
BSB podium results: 94 · BSB pole positions: 11 · BSB fastest laps: 38
BSB Champion: 2006, 2007, 2010
WSB wins: 3 2008
best GP result: 11th 2003 (MotoGP)
Champion: All-Japan Supersport (ST600) 2002 · Asian Road Racing 600cc 2012
Additional: Four Endurance wins at the Suzuka 8 Hours race for Honda; World Superbikes ninth overall in 2008
Stuart Easton, Scotland
age 31 · BSB début 2004
racing number: 5
BSB wins: 4 2009-2015 (Honda, Kawasaki)
BSB podium results: 29 · BSB pole positions: 1 · BSB fastest laps: 2
best season in BSB: 3rd 2009
best WSB race result: 18th 2009
best GP result: 20th 2000 (125cc)
Champion: British Supersport 2002, 2013
Additional: British championship race wins at 125cc and 250cc level - in 2000 third overall in 125, and in 2001 fourth overall in 250; road racing victories at the Macau Grand Prix
Michael Laverty, Northern Ireland
age 34 · BSB début 2005
racing number: 7
BSB wins: 8 2010-2015 (Suzuki, Yamaha, Honda, BMW)
BSB podium results: 33 · BSB pole positions: 2 · BSB fastest laps: 10
best season in BSB: 4th 2010, 2011, 2015
best GP result: 12th 2014 (MotoGP)
Champion: Irish Supermoto 2001, 2002 · British Supersport 2007
Additional: European Superstock race winner, at Assen in 2002; best result of second in AMA Superbike racing, at Road America in 2009
Alastair Seeley, Northern Ireland
age 36 · BSB début 2006
racing number: 34
BSB wins: 1 2010
BSB podium results: 4 · BSB fastest laps: 3
best season in BSB: 6th 2010
Champion: National Superstock 1000 2009 · British Supersport 2011
Additional: Race wins on the roads in events such as the North West 200
Billy McConnell, Australia
age 29 · BSB début 2006
racing number: 3
BSB podium results: 1
best BSB race result: 3rd
best season in BSB: 12th 2008
Champion: Yamaha R6 Cup 2005 · British Supersport 2014
Additional: Race winner in the National Superstock Cup (UK) in 2004
Peter Hickman, England
age 29 · BSB début 2006
racing number: 60
BSB wins: 1 2014 (Honda)
BSB podium results: 5
best season in BSB: 9th 2011, 2015 · 2nd in BSB Cup 2009
best WSB race result: 9th 2012
Champion: National Superstock Cup 2004
Additional: National Superstock podium finisher and third overall in 2008; road racing at the Isle of Man TT in 2014-15, with a best result of fifth in Superstock
Aaron Zanotti, England
age 34 · BSB début 2007
racing number: 64
best BSB race result: 11th
best season in BSB: 26th 2007 · 5th in BSB Evo 2010
best WSB race result: 16th 2007
Champion: Superteen 1999
Additional: Best result of fifth in the British 250cc series, in 2001; second overall in the National Superstock series in 2006, with a best result of second place twice
Martin Jessopp, England
age 30 · BSB début 2007
racing number: 40
BSB fastest laps: 1
best BSB race result: 4th
best season in BSB: 11th 2011 · 2nd in BSB Cup 2008
Additional: Top ten results in World Endurance in 2003; road racing in the Macau Grand Prix and at the Isle of Man TT
Tommy Bridewell, England
age 27 · BSB début 2007
racing number: 46
BSB wins: 2 2014-2015 (Yamaha, BMW)
BSB podium results: 15 · BSB fastest laps: 2
best season in BSB: 3rd 2014
best WSB race result: 18th 2010
best GP result: 27th 2004 (125cc)
Additional: Fourth overall in the British 125cc series in 2003, with a win at Mondello Park; third overall in the Yamaha R6 Cup in 2005, with four race wins
Jason O'Halloran, Australia
age 28 · BSB début 2008
racing number: 22
BSB podium results: 2
best BSB race result: 3rd
best season in BSB: 13th 2015
best GP result: 25th 2013 (Moto2)
Champion: GP80 Masters Junior Road Racing 2002 · Australian Supersport 2007
Additional: Top six results in World Endurance racing; podium results in British Supersport and National Superstock (UK)
Richard Cooper, England
age 33 · BSB début 2009
racing number: 47
BSB podium results: 3
best BSB race result: 2nd
best season in BSB: 8th 2015
best WSB race result: DNF 2009
Champion: National Superstock 2011
Additional: Race winner in British Supersport in 2013, and sixth overall in 2012
Dan Linfoot, England
age 27 · BSB début 2009
racing number: 4
BSB podium results: 5 · BSB fastest laps: 3
best BSB race result: 2nd
best season in BSB: 5th 2014, 2015
best GP result: 9th 2005 (125cc) & 2007 (250cc)
Additional: a European 250cc race winner, at Vallelunga in 2006; twice a European Superstock 600 race winner in 2008; fourth overall in the British 125cc series in 2005, with second place four times, and two race wins in the 2006 series; seventh overall in British Supersport in 2009, with a best of third place twice
Christian Iddon, England
age 31 · BSB début 2010
racing number: 24
BSB pole positions: 1
best BSB race result: 4th
best season in BSB: 10th 2015
best WSB race result: 9th (disqualified) 2014
Champion: British Supermoto nine titles in total
Additional: Race winner in British Supersport, and fourth overall in 2012
Jenny Tinmouth, England
age 36 · BSB début 2011
racing number: 20
best BSB race result: 15th
best season in BSB: 30th= 2013
Additional: Fourth on the Isle of Man in the 2010 TT Zero electric race; second overall in the British Supersport Cup in 2010; raced in British 125cc series, with a best result of seventh
John Hopkins, United States
age 32 · BSB début 2011
racing number: 21
BSB wins: 5 2011 (Suzuki)
BSB podium results: 17 · BSB pole positions: 3 · BSB fastest laps: 2
best season in BSB: 2nd 2011
best WSB race result: 5th 2011
best GP result: 2nd 2007 (MotoGP)
Champion: Aprilia RS250 Challenge 1999 · AMA Supersport 750cc 2000 · AMA Formula Xtreme 2001
Additional: MotoGP regular 2002-08, and fourth overall in 2007, behind only Casey Stoner, Dani Pedrosa and Valentino Rossi; best result of second in AMA Superbike racing at Barber in 2010
Jakub Smrž, Czech Republic
age 33 · BSB début 2012
racing number: 96
BSB pole positions: 1
best BSB race result: 6th
best season in BSB: 14th= 2014
best WSB race result: 2nd 2011
best GP result: 5th 2001 (125cc)
Champion: Czech Republic 125cc 1998, 1999
Additional: Raced in World Endurance, with a best result of third in 2008; race winner in European 125cc, and runner-up overall in 2000
Danny Buchan, England
age 22 · BSB début 2012
racing number: 83
BSB podium results: 2
best BSB race result: 2nd
best season in BSB: 12th 2015
Champion: National Superstock 1000 2014
Additional: British Supersport experience
Michael Dunlop, Northern Ireland
age 27 · BSB début 2014
racing number: 6
best BSB race result: 24th
best season in BSB: no points scored
Additional: Road racing specialist with eleven wins at the Isle of Man TT and several lap records, plus further success in notable Irish events
Filip Backlund, Sweden
age 26 · BSB début 2014
racing number: 99
best BSB race result: 8th
best season in BSB: 24th= 2014
Champion: Swedish Pro-Superbike 2011
Additional: Raced at FIM Superstock 1000 level in 2008, with a best result of eighth
Shaun Winfield, England
age 22 · BSB début 2014
racing number: 8
best BSB race result: 17th
best season in BSB: no points scored
Champion: British Minimoto 2005
Additional: British Supersport and 125cc experience
Lee Jackson, England
age 20 · BSB début 2014
racing number: 14
best BSB race result: 5th
best season in BSB: 14th 2015
Champion: National Superstock 600 2012
Additional: Race winner in National Superstock 1000
Vittorio Iannuzzo, Italy
age 33 · BSB début 2015
racing number: 31
best BSB race result: DNF
best season in BSB: no points scored
best WSB race result: 7th 2003
Champion: European Superstock 2002
Additional: World Supersport experience, top ten in 2012; race wins in Italian Superbike series
Jack Kennedy, Ireland
age 28 · BSB début: 2015
racing number: 44
best BSB race result: 7th
best season in BSB: 22nd 2015
Additional: British Supersport runner-up 2012, seven race wins in the class; World Supersport 2013-14, best result second
Luke Mossey, England
age 23 · BSB début 2015
racing number: 12
BSB podium results: 2
best BSB race result: 3rd
best season in BSB: 7th 2015
best GP result: 18th 2009 (250cc)
Additional: Race winner in British Supersport, three times top eight overall
And these are the British Superbike rookies in 2016:
Matej Smrž, Czech Republic
age 31 · racing number: 25
best WSB race result: 21st 2008
best GP result: 27th 2001 (125cc)
Notes: Race winner in the Superstock 1000 FIM Cup and sixth overall, 2008; regular in the IDM (German) Superbike series for the last six years
Glenn Irwin, Northern Ireland
age 26 · racing number: 2
Notes: Eight race wins in British Supersport, fourth overall twice
James Rispoli, United States
age 24 · racing number: 71
best GP result: 25th 2013 (Moto2)
Champion: AMA Pro Supersport East 2011 · AMA Pro Supersport West 2012
Notes: Fifth in British Supersport 2015, with best result of second
Sam Hornsey, England
age 22 · racing number: 94
Notes: British Supersport experience, with best result of third, and seventh position overall in 2015; British 125 experience, with best result of third and seventh overall in 2010
James East*, England
age 26 · racing number: 11
Notes: Experience in British racing includes Supersport, Superstock and 125cc, finishing tenth in the 2008 British 125 series
* East was hoping to ride for FS-3 Racing in BSB 2016 but the seat went to Billy McConnell
---
Also watch out for possible appearances from these riders, who all saw BSB action in the 2015 season:
Michael Rutter, England
age 43 · BSB début 1992
racing number: 19
BSB wins: 28 1995-2010 (Ducati, Honda, Yamaha, Kawasaki)
BSB podium results: 107 · BSB pole positions: 17 · BSB fastest laps: 25
best season in BSB: 2nd 2002, 2004
best WSB race result: 3rd 1997
best GP race result: 11th 1999 (500cc)
Additional: Road racing success including several wins at the Macau Grand Prix and North West 200, plus fourteen podium results at the Isle of Man TT, including wins in the 1998 600cc Junior race and the TT Zero electric races in 2011, 2012 and 2013
Chris Walker, England
age 44 · BSB début 1995
racing number: 9
BSB wins: 21 1997-2012 (Yamaha, Kawasaki, Suzuki)
BSB podium results: 73 · BSB pole positions: 11 · BSB fastest laps: 11
best season in BSB: 2nd 1997, 1998, 1999, 2000
WSB wins: 1 2006
best GP result: 12th 2001 (500cc)
Champion: National 250cc 1995
Additional: World Endurance race winner at the Le Mans 24 Hours in 1999; twelve World Superbike podium results in total, sixth overall in 2003; twice winner of the Mallory Park Race of Year
Julien da Costa, France
age 34 · BSB début 2005
racing number: 86
best BSB race result: 4th
best season in BSB: 7th 2009
best WSB race result: 14th 2005
best GP result: 22nd 2000 (250cc)
Champion: French 125cc Aprilia Cup 1998 · French Stocksport 2002 · French Supersport 2003, 2006 · French Superbike (Superproduction) 2004, 2012
Additional: Nine times a race winner in the Endurance World Championship, 2007-14, and sixteen podium results - member of Suzuki's title winning team on more than one occasion
David Johnson, Australia
age 33 · BSB début 2005
racing number: 16
best BSB race result: 9th
best season in BSB: 19th= 2008 · 6th in BSB Evo 2010
best WSB race result: 19th 2012
Champion: Australian 125cc 2000
Additional: Road racing competitor with best result of fourth at the Isle of Man TT, in the 2014 Superstock race; regular in British Superstock racing, with several podium results
John Ingram, England
age 40 · BSB début 2007
racing number: 56
best BSB race result: 12th
best season in BSB: 31st 2014
Champion: EMRA 1300cc Open 2012 · EMRA Superbike 2013 · ThundersportGB GP1 2013
Additional: Winner of Mallory Trophy more than once
Ian Hutchinson, England
age 36 · BSB début 2007
racing number: 66
best BSB race result: 11th
best season in BSB: 23rd 2007
Additional: Road racing success including eleven Isle of Man TT wins, five of them at the 2010 event, three in 2015, plus other events such as the North West 200; race winner in British Supersport and sixth overall in 2009; race winner in National Superstock and sixth overall in 2006
Adam Jenkinson, England
age 31 · BSB début 2008
racing number: 2
best BSB race result: 10th
best season in BSB: 18th 2010
Additional: Three race wins in the Yamaha R6 Cup in 2004; raced at FIM Superstock 1000 level in 2006 and 2007; a race winner in National Superstock at Silverstone in 2009
Victor Cox, England
age 30 · BSB début 2008
racing number: 28
best BSB race result: 16th
best season in BSB: no points scored
Additional: Raced in the Yamaha R6 Cup, with a win at Brands Hatch in 2003; British Superstock experience
Broc Parkes, Australia
age 34 · BSB début 2009
racing number: 23
BSB podium results: 3 · BSB fastest laps: 1
best BSB race result: 2nd
best season in BSB: 17th 2009
best WSB race result: 5th 2001
best GP result: 11th 2014 (MotoGP)
Champion: Australian FX Superbike 2013
Additional: Six race wins in World Supersport, and overall runner-up in 2004 and 2007; podium results in World Endurance racing
Joe Burns, England
age 23 · BSB début 2010
racing number: 53
best BSB race result: 20th
best season in BSB: no points scored
Additional: Top six results in National Superstock 600, and similar experience in the 1000 series
Barry Burrell, England
age 30 · BSB début 2011
racing number: 71
best BSB race result: 4th
best season in BSB: 14th 2012 · 3rd in BSB Evo 2011
Additional: Two BSB Evo wins in 2011; raced in European Superstock 600, with a best result of fourth in 2006; FIM Superstock 1000 racer, with best result of seventh; National Superstock experience
James Westmoreland, England
age 27 · BSB début 2011
racing number: 6
BSB podium results: 1
best BSB race result: 3rd
BSB pole positions: 1 · BSB fastest laps: 2
best season in BSB: 5th 2013
best GP result: 22nd 2005 (125cc)
Champion: 125cc GP Cup 2005 · ACU Academy Cup 2005 · Supersport Cup 2007
Additional: Second overall in the British 125cc series in both 2005 and 2006, with six wins in total; second overall in British Supersport in 2010, with four wins 2009-10
Robbin Harms, Denmark
age 34 · BSB début 2012
racing number: 27
best BSB race result: 7th
best season in BSB: 22nd 2012, 2013
best GP result: 10th 2003 (125cc)
Champion: Dutch 125cc 1996, 1997, 1998 · Scandinavian 125cc 1998, 1999
Additional: Podium results in World Supersport, and fifth overall in 2006
Lee Costello, England
age 29 · BSB début 2013
racing number: 39
BSB podium results: 1
best BSB race result: 2nd
best season in BSB: 19th 2013
best GP result: 26th 2008 (125cc)
Additional: Race winner in British 125cc, and eighth overall in 2007
Josh Waters, Australia
age 29 · BSB début 2013
racing number: 21
BSB wins: 2 2014 (Suzuki)
BSB podium results: 3 · BSB fastest laps: 2
best season in BSB: 9th 2014
best WSB race result: 12th 2011
best GP result: 18th 2004 (250cc)
Champion: Australian Superbike 2009, 2012
Additional: Podium results in World Endurance
Rhalf Lo Turco, Brazil
age 40 · BSB début 2014
racing number: 45
best BSB race result: 18th
best season in BSB: no points scored
Champion: Hottrax Motogrande 1000 (Superbike) 2012
Jed Metcher, Australia
age 25 · BSB début 2014
racing number: 68
best BSB race result: 7th
best season in BSB: 27th= 2014
best GP result: 20th 2008 (125cc)
Champion: European Superstock 600 2011
Additional: World Supersport racer in 2012, with best result of seventh
Danny Johnson, England
age 30 · BSB début 2015
racing number: 86
best BSB race result: 20th
best season in BSB: no points scored
David McFadden, South Africa
age 25 · BSB début 2015
racing number: 69
best BSB race result: 25th
best season in BSB: no points scored
best WSB race result: 16th 2012
Champion: South African National Supersport 2011
Taylor Mackenzie, Scotland
age 23 · BSB début 2015
racing number: 11
best BSB race result: 16th
best season in BSB: no points scored
best GP result: 5th 2011 (125cc)
Additional: Podium finisher in British Supersport
Luke Stapleford, England
age 24 · BSB début 2015
racing number: 66
best BSB race result: 12th
best season in BSB: 29th 2015
Champion: British Supersport 2015
Additional: Podium results in National Superstock 600
James Rose, England
age 27 · BSB début 2015
racing number: 28
best BSB race result: 24th
best season in BSB: no points scored
Additional: R6 Cup podium results; National championship experience in various categories
All information correct prior to the start of the 2016 season
---