Maverick Viñales wins on his Yamaha début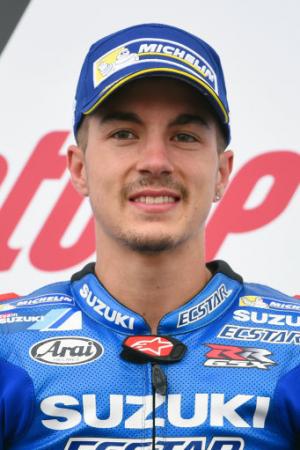 © David Davies/PA Wire
By Dan Moakes
April 5 2017
The new season of racing in MotoGP was going to involve quite a few important personnel changes, now with six different motorcycle manufacturers represented on the grid. Would there be an all-new combination on top of the podium in Qatar, or something more familiar?
As has become traditional, the 2017 motorcycle Grand Prix campaign kick-started with the floodlit night race at the Losail circuit in the Qatari desert. There would be three multiple MotoGP champion riders in the field, in the form of serious rivals Valentino Rossi, Jorge Lorenzo and Marc Márquez. Rossi (with MoviStar Yamaha) and Márquez (with Repsol Honda) had stayed where they were for the new season, but Lorenzo had made the move to join Ducati, who had won a GP race for the first time in six years during 2016, actually taking one each for riders Andrea Iannone and Andrea Dovizioso. Taking over from Lorenzo on the other works Yamaha would be Maverick Viñales, with Iannone making way for Lorenzo and finishing off the triangle by taking over from Viñales on the works Suzuki.
Dovizioso remained at Ducati, with Dani Pedrosa continuing in the Repsol Honda camp. Also unchanged were the LCR Honda, Avintia Ducati, Pramac Ducati and Marc VDS Honda rider line-ups. New to the MotoGP grid, after one outing at the end of 2016, were the Red Bull-backed KTM team, with their RC16 motorcycle. To race this they had hired both of the riders previously with the Tech 3 Yamaha squad, Bradley Smith and Pol Espargaró. Tech 3 had opted for two of the four rookies graduating from the Moto2 class: Jonas Folger (23), five times a Grand Prix winner; and Johann Zarco (26), double Moto2 champion.
Suzuki had an all-new pairing, with Iannone joined by the third rookie: Alex Rins (21), twelve times a GP winner. It was a similar story at Aprilia, as Aleix Espargaró, coming in from Suzuki, was joined by the fourth rookie: Sam Lowes (26), three times a GP winner. The other change was with Karel Abraham returning to MotoGP to join Álvaro Bautistá, formerly of the Gresini team, in the Aspar Ducati line-up.
Track time at Losail was, on this occasion, restricted by the rains that fell during the weekend. With flooded run-off areas, qualifying had to be cancelled, and so the grid was determined by earlier practice times. Four different manufacturers took up places in the top five, with one of the rookie riders also in there. Viñales was on pole, joined on the front row by Iannone and Márquez. Row two was headed by Zarco, from Dovizioso. Scott Redding was sixth for OCTO Pramac Racing, from Pedrosa, Folger, Cal Crutchlow (LCR), Rossi and Danilo Petrucci (also Pramac). Lorenzo was down in twelfth, only the fourth best Ducati rider, just ahead of two more Desmosedici men: Bautistá and Loris Baz (Avintia).
Aleix Espargaró was in P15 for Aprilia Racing Team Gresini, followed by Jack Miller (EG 0,0 Marc VDS), Abraham, Rins, Tito Rabat (also Marc VDS), Héctor Barberá (Reale Avintia Racing), Lowes, and KTM's Espargaró and Smith. The 23 riders also had to contend with rain on race day, with a cloud burst causing a delayed start, and necessitating a couple of extra warm-up laps - after which the track proved to have dried out again.
Form guide: GP wins at Losail
Lorenzo 6; Rossi 4; Márquez 2; Barberá, Bautistá, P.Espargaró, Folger, Iannone, Miller, Rabat & Viñales 1
Lorenzo's practice form was compounded at the start of the race. Initially in about eighth position, he ran wide in an early left-hander, onto the run-off area, and rejoined the field back in P16. Iannone was the early leader, with Viñales dropping back to fifth. But new man Zarco quickly passed Márquez then Iannone to lead the race, then began to pull away from all the experienced MotoGP competitors. Márquez also went through on Iannone, with Dovizioso fourth, then Viñales, Pedrosa, Rossi, Bautistá, Redding, Miller and Crutchlow.
Bautistá showed a combative start as he overtook Rossi in the opening exchanges, with the Yamaha man soon repaying the compliment before setting about Pedrosa for sixth, which he would duly take over before long. Meanwhile, Zarco was making good use of his soft compound rear tyre, building a lead of over 1.5s. Fourth man Dovizioso had gone for the same option, moving up as he used the Ducati's straightline speed to overtake Iannone on the main straight, with Márquez his next target.
With a new rider on board, the Tech 3 Yamaha team started the season looking strong. Folger had dropped out of the points from his eighth placed start and would have to make his way through, but Zarco was showing everyone the way. As a customer team Tech 3 had achieved 24 premier class GP podium results (with the likes of Dovizioso, Crutchlow and Colin Edwards) but no race wins. Whatever the possibilities here, a few laps in it ended for Zarco, the Frenchman suffering a lowside crash at the turn two left-hander.
This left Dovizioso leading Márquez and Iannone, with a bit of a gap to Viñales and Rossi on the Yamahas, then Bautistá, Pedrosa, Miller and Redding. As Viñales closed in on the pair a battle developed between Márquez and Iannone for second, allowing 'Dovi' to increase his lead. At around this time the Aspar Ducati of Bautistá went down, losing sixth place when he crashed at the final right-hander of turn sixteen. Before this, Crutchlow had suffered two separate crashes and was also out. Further back, Lorenzo had got past the likes of Baz and Petrucci and was battling Rins for a top ten place, behind Aleix Espargaró.
The incidents were not over as next it was Iannone going down, losing the front end at the turn five right-hander, then trying unsuccessfully to rejoin. This put Viñales on the tail of second man Márquez, but only until he overtook on the inside for turn one, the right-hander at the end of the longest straight. Rossi was not to be outdone, getting the better of Marc through the left and right sequence of turns fifteen and sixteen. The Yamahas were second and third, with Viñales on a medium compound rear, surely more durable than the one Dovi was using.
Sure enough, Viñales closed in on leader Dovizioso, making a move on the inside at a left-hander. However, it wasn't over, the Ducati's speed allowing the Italian to get back ahead on the main start-finish straight. There were a few more changes between the pair and Dovi was in front again with two laps remaining, Rossi tagging on as Márquez was unable to keep pace. Viñales made another move on the inside at turn five, this time doing enough to maintain his lead on the straight going into the final lap. Dovizioso was not able to get close enough again, with Maverick therefore taking the win in his first race for Yamaha.
The podium therefore would feature Viñales, Dovizioso and Rossi, with Márquez and Pedrosa fourth and fifth for Honda. Aleix Espargaró had enjoyed a strong race on the Aprilia RS-GP, catching and passing Miller and Redding to take sixth place. Behind Scott and Jack at the flag were rookies Rins and Folger, both ahead of Lorenzo, the remaining finishers being Baz, Barberá, Abraham, Rabat, Pol Espargaró, Smith and Lowes. Petrucci was the fifth of the non-finishers, among whom Zarco retained the fastest lap of the race.
Allowing for the crashes of top six runners Johann Zarco (who led handily), Álvaro Bautistá and Andrea Iannone, in the end it was the expected names to feature at the top of the leaderboard; apart from Jorge Lorenzo, who had apparently not fully adjusted his riding approach to the Ducati Desmosedici D17. Pre-season talk had made Marc Márquez and Maverick Viñales the title favourites, and it was the latter who won the first battle. Andrea Dovizioso, Valentino Rossi and Dani Pedrosa were in there as well, also contenders. It looks like a fascinating season ahead.
Standings after one race: Viñales 25; Dovizioso 20; Rossi 16; Márquez 13; Pedrosa 11; A.Espargaró 10; Redding 9; Miller 8; Rins 7; Folger 6; Lorenzo 5; Baz 4; Barberá 3; Abraham 2; Rabat 1.
Yamaha 25; Ducati 20; Honda 13; Aprilia 10; Suzuki 7.