Shane Byrne's double win at Snetterton 300 in BSB 2015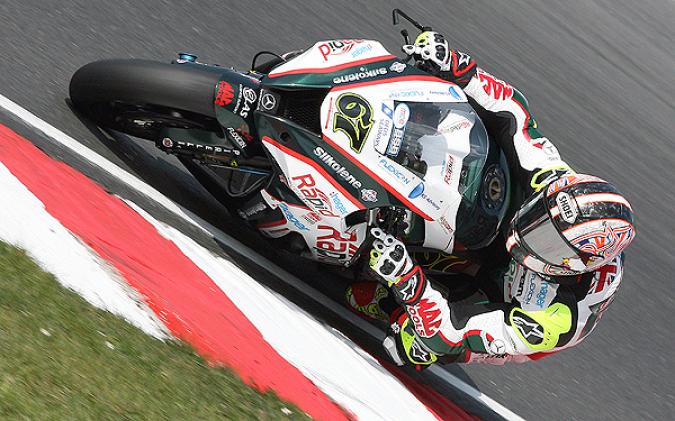 © Glynne Lewis
By Dan Moakes
June 28 2015
Kawasaki riders James Ellison and Shane Byrne were setting the pace in the 2015 British Superbike Championship prior to the seven-week break between rounds three and four. The other likely challengers were no doubt looking to get involved at the front at Snetterton.
Shane Byrne pictured on his Kawasaki in 2014
The 'Snetterton 300' circuit, extended with additional infield corners, was introduced in 2011 - and winners at the 'new' track have included Byrne, Ryuichi Kiyonari and Michael Laverty. 'Kiyo' and Laverty are on BMW machinery in 2015, but in qualifying this time out it was bikes from Kawasaki and Honda that set the pace for the front row of the grid. The session was rain affected and not all of the regular podium contenders managed representative times.
Kiyonari on the Buildbase BMW missed out on the front four rows, and Ellison on the JG Speedfit Kawasaki was only tenth, both men having taken pole position at earlier rounds. Pole man from last time out, Josh Brookes on the Milwaukee Yamaha, was fourth at Snetterton; it was 'Shakey' Byrne (PBM Kawasaki) who became the fourth different pole sitter of the season. Meanwhile, Honda Racing were looking strong, with Jason O'Halloran second and Dan Linfoot back from injury and taking third.
The Tyco BMWs were next, with Laverty in sixth and Tommy Bridewell one place better off. Then it was Stuart Easton (PBM Kawasaki), Luke Mossey (Quattro Plant Tec-Care Kawasaki), Josh Waters (Bennetts Suzuki), Ellison, Lee Jackson (Buildbase BMW Motorrad) and Billy McConnell (Smiths Racing BMW). For the front row starters, plus Laverty, Mossey, Waters and Jackson, these were their best qualifying positions for the season to date.
Snetterton
Form guide: BSB wins on both 300 circuit and previous configuration
Ryuichi Kiyonari · 2005, 2006 (x2), 2007 (x2), 2010, 2011
Shane Byrne · 2003, 2008, 2013, 2014 (x2)
Chris Walker · 1997, 2000
Josh Brookes · 2010 (x2)
Michael Rutter · 2003
Michael Laverty · 2012
Jackson was an early casualty in race one, going down in the first few moments, but Byrne got it right to lead away, ahead of O'Halloran, Laverty, Bridewell and Easton. Linfoot and Brookes were a bit further pack in the back. Shakey was already building an impressive gap over the next group during the first lap, and meanwhile Ellison was in trouble when he went straight on into the escape road at the Esses, the left-handed Brundle corner which is followed by a right called Nelson.
Byrne had the pace and continued to build his advantage, which was three-seconds on lap four. As the race unfolded this grew to four-seconds and the reigning champion was never really challenged. Meanwhile, O'Halloran was second and led Laverty, Bridewell, Easton, Brookes, Linfoot, Mossey, Richard Cooper (TAG Kawasaki), Waters, Chris Walker (Be Wiser Kawasaki), Filip Backlund (also TAG), Danny Buchan (also Be Wiser) and Peter Hickman (RAF Reserves BMW). James Westmoreland (JG Speedfit Kawasaki) was out of the points when he had to pull off the track.
The final corner at Snetterton, previously known as Russell Bend, is a right-left chicane called Murrays. This was where Bridewell overtook team-mate Laverty for third, and Brookes was also on the move, making his pass on Easton at the same place. Josh was on form and he soon made up another spot along the main Senna straight, dropping Laverty to fifth. Then his target was Bridewell, who he passed at Brundle, going into the Esses at the end of the Bentley Straight.
This stage of the race saw Laverty retire to the pits with engine trouble, whilst Brookes started to eat into O'Halloran's margin, which had been growing. Brookes caught up to his countryman and eventually made the pass at Murrays, deciding the podium order in the closing stages. Bridewell maintained fourth, with Mossey having dropped to ninth, behind Mainwaring. Linfoot had moved up to fifth, with Walker completing his climb to sixth by passing Easton on the inside at the right-handed Bomb Hole corner. Cooper was tenth, then Broc Parkes (Milwaukee Yamaha), Hickman, Buchan, Waters and Jack Kennedy (WD-40 Kawasaki).
The new grid for race two reflected the earlier result, with Byrne heading Brookes, O'Halloran and Bridewell. Then it was Mainwaring, Christian Iddon (Bennetts Suzuki), Parkes, Waters, Laverty, Walker, Backlund and Linfoot. Byrne again led away, with O'Halloran soon demoted to third when Brookes went through on the inside for the right-handed Montreal hairpin. Bridewell seemed to jump the start but he then found himself down in P11 behind Parkes, Walker, Laverty, Ellison, Iddon, Easton and Linfoot. Kiyonari seemed to be touring around and soon he crashed out.
Brookes was in position to stay with Byrne this time around, but his efforts went on hold when the safety car was needed - Taylor Mackenzie had to abandon his WD-40 Kawasaki when flames erupted from beneath him. The restart saw changes for fourth place, behind O'Halloran, when Walker and Ellison both managed to get past Parkes at the right-handed first corner, Riches. Behind these three were Iddon, Laverty, Bridewell, Mainwaring, Easton and Linfoot.
Byrne led from Brookes, with Walker now challenging O'Halloran for third. Unfortunately, 'the Stalker' would go down at this stage, when the rear of his bike got away from him out of Riches. Brookes was on the attack, but as Byrne set a new fastest lap so Josh began to have difficulties. He quickly lost out to O'Halloran, Ellison, Parkes and Laverty, which meant he was back to sixth. It seems he was experiencing an electronics problem which affected his gear changes.
Byrne once again was able to race off out of range of the pursuing pack, O'Halloran and Ellison with a little clear air back to the rest. Laverty passed Parkes for fourth at the Esses, and now Brookes found a way to deal with his technical problems and go on the attack again. He passed team-mate Parkes on the inside at Riches, then closed in on Ellison with Laverty in tow. Bridewell had passed Mainwaring and then Parkes (at Murrays) to run fifth.
Ellison lost some places in the late stages, with Brookes back through into third and catching O'Halloran. He went past into second place when his line through Brundle gave him the inside at Nelson. Jenny Tinmouth (Honda Racing) had crashed coming out of the Coram right-hander, and not long after that Mainwaring also went out with his own crash at Murrays. The race result therefore saw Byrne win again, from Brookes, O'Halloran, Laverty, Bridewell, Easton, Ellison, Backlund, Iddon, Linfoot, Parkes, Cooper, Mossey, McConnell and Hickman.
James Ellison scored only nine points at Snetterton, with Shane Byrne getting the maximum, and it meant that James fell behind in the championship race. In fact, Josh Brookes also got ahead of the three-time race winner, and additionally it was a weekend of progress for Jason O'Halloran. The 27-year-old had appeared in the British Superbike series in 2008, 2009 and 2012, with a best finish of seventh. That had improved to fifth with the 2015 Honda, now with Snetterton marking his first podium results, twice third. What will follow next time out?
Standings after eight races: Byrne 151; Brookes 134; Ellison 118; Easton 99; Bridewell 77; O'Halloran 74; Laverty 53; Linfoot 50; Mainwaring and Walker 45.
podium credits: Byrne 25, Ellison 18, Brookes 13, Easton 6, Bridewell 5, Linfoot 3, O'Halloran 2.