Bridewell and Easton are BSB 2015 winners at Oulton Park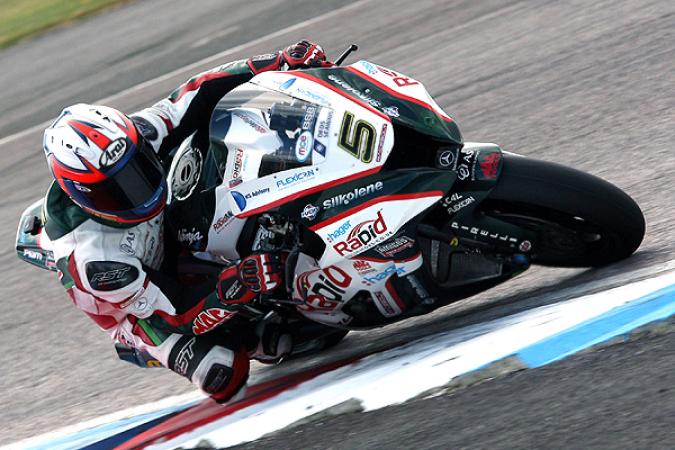 © Glynne Lewis
By Dan Moakes
May 22 2015
Kawasaki riders Shane Byrne and James Ellison had shared out the race wins in the first two British Superbike rounds of 2015, with Honda and Yamaha riders also making podium visits. Would it be a two horse race to the title, or would a new challenger emerge at Oulton Park?
Stuart Easton pictured on his Kawasaki in 2014
Round three saw Honda Racing's Dan Linfoot still absent through injury, and he was joined on the sidelines by Peter Hickman after the RAF Reserves BMW rider also got injured because of an incident during practice. Qualifying saw three former winners at Oulton relegated to the second row of the grid; three men who just happened to be among the championship favourites: Ryuichi Kiyonari (Buildbase BMW) was fourth, then Byrne (PBM Kawasaki), then Ellison (JG Speedfit Kawasaki).
There were three different makes of motorcycle on the front row, with Josh Brookes (Milwaukee Yamaha) on pole, then Tommy Bridewell (Tyco BMW) and Stuart Easton (PBM Kawasaki). These starting slots were the best yet in 2015 for each rider, with Brookes the first man to get the new Yamaha onto the front rank. The best Honda was ridden by Jason O'Halloran into P7, from Michael Laverty (Tyco BMW), Danny Buchan (Be Wiser Kawasaki), Billy McConnell (Smiths BMW), Chris Walker (also Be Wiser) and Howie Mainwaring (Quattro Plant Kawasaki)
Oulton Park
Form guide: BSB wins
Ryuichi Kiyonari · 2005 (x2), 2006 (x2), 2007 (x2), 2010 (x3), 2011, 2014 (x2)
Shane Byrne · 2003 (x2), 2008 (x2), 2012, 2013 (x2), 2014
Chris Walker · 1997, 2000, 2012
Michael Rutter · 1998, 2002, 2005
Josh Brookes · 2013, 2014 (x2)
Stuart Easton · 2009, 2010
Michael Laverty · 2010
James Ellison · 2013
The start of race one briefly saw Easton in the lead, but he was quickly shuffled back behind team-mate Byrne, with Brookes and Bridewell ahead of them both. Kiyonari was fifth, then O'Halloran, Laverty, Ellison and Walker, with Mainwaring about to take over in ninth. Bridewell soon got the better of his 2014 team-mate to lead the race, threatening to start putting his BMW out of reach. Buchan suffered an early crash at the Druids right-hander, with Jack Kennedy already having been involved in his own incident.
The race unfolded with the first five starting to move clear of the rest of the pack, where Ellison got the better of Laverty and O'Halloran to run sixth. Bridewell led Brookes, Byrne and Easton, with fifth man Kiyonari beginning to lose ground. Before Tommy could pull away, Josh set fastest lap as he came back to the 26-year-old. As the race neared its conclusion, the Yamaha rider was pushing the pace, but Bridewell responded and duly took his second BSB victory. Byrne had lost touch but he still completed the podium.
The finishing order for the leading positions in the race did not really change, with Easton fourth, then Kiyonari, Ellison, O'Halloran, Laverty and Mainwaring. Walker had also lost out to Richard Cooper (Anvil Hire TAG Kawasaki), with Josh Waters twelfth for Bennetts Suzuki, then James Westmoreland (JG Speedfit Kawasaki), McConnell, Lee Jackson (Buildbase BMW), Martin Jessopp (Riders BMW), Christian Iddon (Bennetts Suzuki) and Taylor Mackenzie (WD-40 Kawasaki).
Based on fastest lap times, the grid for race two hardly saw any change among the top seven, with Brookes, Bridewell and Easton again making up the front row. Byrne moved up to fourth, from Kiyonari, Ellison and O'Halloran; then it was Waters, Cooper, Laverty, Mainwaring and Walker. This time Easton led away, from Kiyonari and Bridewell. Regular winners Brookes, Byrne and Ellison were next, then O'Halloran, Laverty, Cooper, Mainwaring, Walker and McConnell.
One of the best Oulton overtaking spots is on the brakes for the final right-hander at Lodge Corner, where 'Kiyo' took over in the lead at the end of lap one. Easton also lost out in short order to Bridewell on the inside at Cascades, the left-hander after the drop through the first couple of corners; and then to Byrne, going to the inside for the right-hand banked loop at Shell Oils Corner. The first six were starting to get clear, with Kiyonari leading Bridewell - until Tommy made a pass on the inside at the right-handed first turn, Old Hall Corner. Then came Byrne, Easton, Brookes and Ellison.
Following his race one success, Bridewell's spell in the lead during race two proved short lived. The right-left-right Hizzys chicane saw the BMW man crash out when the front end of his machine tucked under. And the next action was between Brookes and Ellison for fourth, with James passing at Old Hall and then Josh just going wide onto the grass at the left but making a quick recovery and soon closing in again. At half-distance, Byrne took over in front, placing his Kawasaki on the inside of Kiyonari's BMW for Shell; the same corner saw Ellison try to get around Easton on the outside.
The order was Byrne, from Kiyonari, Easton, Ellison and Brookes, but now Kiyo took over in front with a move at Lodge. By now the next group had Laverty heading O'Halloran, Mainwaring and Cooper. Easton passed team-mate Byrne at Old Hall, but was soon put back to third. Then Kiyonari had a bit of a 'moment' out of the fast left Island Bend, with Byrne therefore able to go for the inside at Shell and get through. The BMW man tried to regain the spot on the inside at Lodge but went wide and let 'Shakey' back ahead.
The penultimate lap saw drama involving the two leaders, happening at the heavy braking zone for the first part of the Hizzys chicane. Kiyonari made a mistake, his BMW snaking as he put the brakes on, and he was unable to avoid hitting the rear of Byrne's Kawasaki. Both riders went down, leaving a three-way contest for victory, Easton then Ellison then Brookes. On the last lap, James looked at going past on the outside of Stuart at Lodge, but over Deer Leap and to the finish line the order remained unchanged.
The leaders of the next group therefore inherited fourth place and beyond, with Laverty heading O'Halloran, Mainwaring, Cooper, McConnell, Walker, Jackson, Westmoreland, Waters, Luke Mossey (Quattro Plant Kawasaki), Jessopp, Iddon, Filip Backlund (TAG Kawasaki), Buchan and Kennedy. Michael Rutter (Gearlink Kawasaki) was another retirement.
All of the main contenders came home in the first race, but with Tommy Bridewell and Tyco BMW having made a step forward to top them all with victory. Stuart Easton was right in there battling for the win in race two regardless of any incidents, deserving his success, but this time Bridewell went out along with Shane Byrne and Ryuichi Kiyonari. In the championship chase, these results played into the hands of James Ellison (sixth and second) and Josh Brookes (second and third), although Byrne remained in there thanks to his previously consistent finishes. Plenty more can be expected in round four.
Standings after six races: Ellison 109; Byrne 101; Brookes 94; Easton 80; Bridewell 53; O'Halloran 42; Laverty 40; Kiyonari 39; Mainwaring 37; Walker 35; Linfoot 33; McConnell 31.
podium credits: Ellison 18, Byrne 15, Brookes 7, Easton 6, Bridewell 5, Linfoot 3.