HM Plant Honda split Oulton Park BSB race wins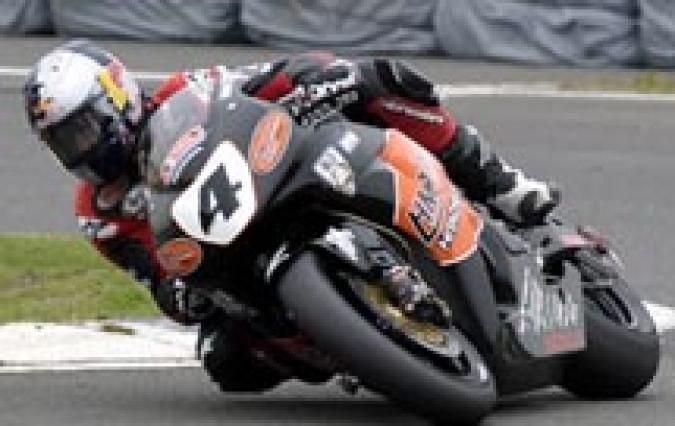 © Raceline Photography
By Dan Moakes
July 17 2007
The previous three British Superbike race victories had gone to 20-year-old HM Plant Honda rider Jonathan Rea, so that the Ulsterman was closing in on his points leading team-mate, Ryuichi Kiyonari. Round eight of the series saw the return visit to Oulton Park, where 'Kiyo' had won five times in the past, so perhaps the momentum was about to switch back again?
Despite the mid-summer date for this meeting, and not unlike the preceding May Bank Holiday round here, Oulton was affected by somewhat unfriendly weather conditions on race day. In qualifying, the usual front runners emerged from their laps of the dramatic, flowing and undulating parkland circuit - namely Honda and Ducati runners - but it was not pain-free for all of them. Rea secured pole position for the third straight meeting, although he'd hurt his hand in a Friday incident. However, without a recent knee operation he wouldn't have been riding at all.
AIM Yamaha rider Steve Plater, a winner here in 2002 and 2003, was less well off. His accident in qualifying put the 34-year-old out of the meeting. Meanwhile, Rea's most prominent Honda colleagues filled five of the next eight slots, with main rival Kiyonari in fourth. The Stobart pair also appeared on the first two rows, with Shane Byrne in eighth, and rookie Tom Sykes in a best yet of second. Karl Harris was sixth for Hydrex, and Leon Camier's Bike Animal FireBlade was ninth.
Ducati's challenge came, as ever, from the Airwaves/GSE Racing pair. Leon Haslam would start third, and Gregorio Lavilla fifth. Rizla Suzuki had seventh for Cal Crutchlow, and eleventh for Chris Walker. Tommy Hill took up the task single-handed for Virgin Yamaha, with Hudson Kennaugh now out of the picture, and he would start tenth. Michael Rutter was back from his wrist injury, piloting the first of the Kawasakis to P12.
Rain greeted the competitors for race one, and in fact both Hill and Haslam crashed during warm-up on the tricky surface, at the fast right-hand Druids Corner. It was looking potentially treacherous, with no let up in the downpour. Rea kept the lead ahead of Kiyo for the right-handed first Old Hall Corner, from Haslam, Walker and Harris, but chaos soon ensued.
A mess of bikes throwing up spray on the slippery tarmac is courting disaster. In mid-pack, Lavilla went down on the exit of the corner, taking a hit on the ribs from one of his following rivals - possibly Hill. The Yamaha man had to go off the track for the incident, and Camier was also particularly delayed. Gregorio was not seriously hurt, but his chance of valuable points certainly was. Another early exit was suffered by Simon Andrews, his Jentin Racing machine, now a 2007-spec Yamaha R1, crashing out too.
The fields of débris, plus not so safe conditions, led to the use of yellow flags, and a few hands up from riders on the first lap. The safety car was despatched, and the race restarted when all obstacles had been cleared. Rea again led Kiyo and Haslam, but with Harris passing Walker on the inside for Old Hall. Sykes was sixth, with a gap already opening behind him. Michelin's wet weather tyres looked pretty handy as the HM Plant Honda riders led the mainly Dunlop-shod opposition. Two of whom were Rutter and Chris Martin, both about to crash out.
Rea's control of the race was not complete in the circumstances. A rear end 'moment' at Druids saw him run off on the outside of the circuit, regaining the track behind Kiyo, Haslam and Harris. Karl lost the place again to a move from Rea at Old Hall. While Kiyo ran clear, Rea had to first get to grips with Haslam before he could threaten the lead again. Jonathan did this at the braking zone for the right-left-right Hizzy's chicane, down the slope from Hill Top. Harris, Walker and Sykes still followed.
Rea's run of victories was to come to an end. Much the same thing happened to him as he lost the rear at Druids, but this time it was terminal. Kiyo had shot into a decent lead, so the race now was on for second. Haslam looked safer in the position as Harris had a moment at Cascades, the left-hander after the dip down from Old Hall. Walker and Sykes passed him as it happened, but Karl was back past Tom at Island Bend moments later.
Sykes re-passed Harris, but the Hydrex rider recovered fourth at the banked right-handed Shell Oils hairpin. Any threat to Haslam and Walker from these two was soon to end. Sykes had a front end crash at Druids, then Harris did the same at the final right-hander Lodge Corner. The dodgy conditions were not letting up. But Byrne had been making progress, and moved in behind Haslam and Walker.
The race was Kiyo's but ended with all the action for second. Byrne was on the attack, and on the penultimate lap took Walker's third on the inside going into Hizzy's. He then pulled by Haslam coming out of Druids, and they went three abreast for the following Lodge. Leon, Chris and Shane emerged from the corner in that order. Walker tried for second at Old Hall on the last lap, but along Lakeside, between Cascades and Island, Byrne got by both of them. Haslam found himself now fourth in a frenzied instant, and in fact dropped back now, frustrated with tyre wear issues. Byrne just edged out Walker at the finish.
Kiyonari secured his fiftieth BSB podium, and the two 'veteran' World Superbike race winners joined him there. Five front runners may have been out, but Crutchlow kept on board for a best yet of fifth, behind Haslam. Camier had come all the way through for sixth, from Scott Smart, Hill, Ollie Bridewell and Guy Martin. The second Hydrex man had not practiced, after arriving from the Southern 100 road races, and therefore secured P10 from last on the grid.
It was still raining when race two got going, for a reduced number of laps. This time they all survived the first corner, and Lavilla was among the starters. Rea and Kiyo used the Michelins again to quickly pull away, with Harris next, from Haslam, Walker, Bridewell, Camier, Byrne, Sykes, Rutter, Smart, Crutchlow, Lavilla, Tristan Palmer and Sean Emmett. Hill had been in the group, but went down at Cascades, and yet was able to get going again well down on the rest.
Crutchlow was unable to back up his first race showing, frustratedly cruising into the pits with a troubled Suzuki, but meanwhile Kiyo was having no such difficulty. The Japanese rider was pouring on the pace, but again the Druids Corner proved the undoing of a top competitor. Ryuichi had a familiar rear slide then grip crash here on lap four, and was out. In a reverse from earlier, Rea benefited from his team-mate's slip.
Harris therefore moved into a relatively comfortable second, but third was not gifted to Haslam. The Ducati rider had hit trouble over the start-finish line, putting his hand up to warn the men in pursuit as he slowed, possibly with gear selection problems. Walker therefore overtook, as did Camier, Sykes and Byrne. But then Leon's problem seemed to be gone again, and he was back on the pace.
The first three became spread out on track, with Kiyo already having seconds in hand over Harris then Walker. But there was some good racing over fourth, which Camier lost going wide at Lodge. Sykes, on the inside, had a moment of his own, and Byrne was there to take advantage of both men and go through. Camier then ran out to the grass at Old Hall, which put him back behind Haslam in seventh.
Haslam recovered further when passing Sykes down through The Avenue, curving right on the incline from Old Hall to Cascades, and was therefore fifth at half-distance. This became fourth when Walker made the next mistake. He ran on into a gravel trap, where he had a slow fall, but he restarted to get going just in front of Guy Martin. This meant he was still in the points, and just outside the top ten. Ahead of him was a race between Rutter and Bridewell, for seventh, which went to the Kawasaki man at Shell Oils.
Rea's lead was under no threat, and he was duly delighted to take the flag out of sight of the rest. Harris, sliding the rear of the Honda at Lodge, was also well in the clear. Walker's mistake gave Byrne and Haslam - also sliding the rear at Lodge - unchallenged runs to third and fourth, and Camier could not quite catch his namesake Leon. Sykes was sixth, while the late racing had been for seventh.
Rutter eluded Bridewell, who now had Walker and Lavilla to worry about. Chris was on the attack, and on the penultimate lap passed on the inside at Lodge. The order then stayed unchanged, with Smart, Palmer, Peter Hickman and Tom Tunstall next home. Fifteenth man Marty Nutt was in fact the first man on a Yamaha, and indeed the only one. Malcolm Ashley and Aaron Zanotti were two more to crash out.
It was clearly a difficult day for the riders, with very mixed results coming from the rain-affected meeting. Only three riders managed top six results in both outings, and none of the three points leaders was among them. Fourth man Leon Haslam was, but only with two race fourths. Because of this, and a bad day for Gregorio Lavilla, it marked the only meeting of the season to date with no Ducati representation on the podium. Best overall at Oulton was Shane Byrne, then, the only double podium man in second and third.
Michelin, and therefore HM Plant Honda, had looked the class of the field in the wet, but neither Ryuichi Kiyonari nor Jonathan Rea was cautious enough to stay on board each time. Because of this, the points margin remained the same, but with Haslam moving past Lavilla into third. Leon Camier did another good job with his sixth and fifth, but more noticeable as front runners were Chris Walker and Karl Harris.
Both these men made mistakes, and each while riding well and near the front, but both also appeared on the podium when they avoided trouble. Indeed, third and fifth in race one was the best result of 2007 for Rizla Suzuki. But second in race two was the best ever for Hydrex Honda. Before that it had been a third for Steve Plater, at Brands Hatch at the end of 2005, but on a full works Honda. Harris has a particularly good record at Oulton - four Supersport wins, and his best Superbike results in 2002 (4th & 5th), 2005 (3rd twice) and 2006 (pole and two 2nds) - but that doesn't change the fact that he was deservedly emotional about his result here this time.
Standings after sixteen races: Kiyonari 273; Rea 262; Haslam 231; Lavilla 226; Byrne 187; Camier 166; Sykes 148; Walker 128; Harris 99; Hill 94; Crutchlow 67; Rutter 59.