Sean Emmett in the top ten at Knockhill BSB round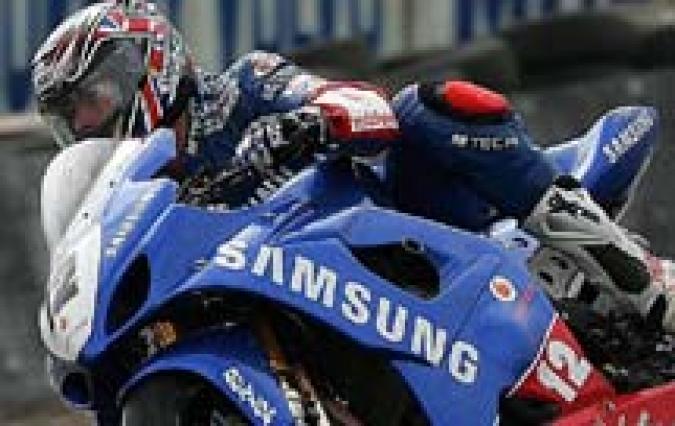 Dave Couldwell, Monopics
By Louise Cain
July 2 2007
Sean Emmett, who usually races the Samsung Ducati in the Metzeler National Superstock Championship, was promoted to run in the Superbike class aboard the Samsung Suzuki due to his team-mate Dean Thomas crashing during free practice and cracking two ribs. He took home two ninth place finishes for the team at the seventh round of the Bennetts British Superbike championship at Knockhill in Scotland.
Thomas had been testing some new tyres and was running in about eighth to ninth place when his crash happened. "We tried some different spec tyres in the second session and went forward. I was comfortable in eighth which is great, plus they were consistent laps which would do full race distance. I just got caught out - I came out of the chicane and I didn't go over it any quicker, I just changed direction marginally faster than I had previously," he explained.
That was enough for the crash to occur. "I just flicked off and landed on top of the bike and did the old Randy Mamola style, you know legs off one side. I thought I had saved it and then we got onto the gravel and it started to tank slap, and just as it pitched me off I caught the handle bars in the ribs again. It got me just in the same place as I got hit last year. So the top and bottom of it is I've cracked a couple of ribs again so that is me done for this weekend."
With Thomas out of action, Emmett stepped in and qualified in twentieth place, having got caught out when the rain started just twelve minutes into the session. However, his lowly qualifying didn't stop him getting through the pack in both the wet races.

© Dave Couldwell of Monopics
"It is fantastic!" grinned Emmett. "I got the chance to ride the Samsung Suzuki courtesy of Dean Thomas breaking two ribs on Friday. So Enzo DiClemente (team manager) asked if I wanted to ride it and I jumped at the chance. I've never ridden a Suzuki Superbike so I was intrigued; it is a really good bike. It is John Reynolds' championship winning bike from '05 and it is a well sorted bike. It has good speed both in the wet and in the dry - it was going really well, so I adapted to it quickly, and that shows it is a decent bike. I got two ninths and they weren't gifted to me so I'm really pleased. The problem is I really want to be back on a Superbike now!"
Thomas is hoping to be recovered in time for Oulton Park, and if not then Emmett will continue to race the Samsung Superbike. "I'm hoping Dean doesn't get better!" quipped Emmett. "I think he will - he has broken a couple of ribs which can take two to six weeks to heal. If he doesn't get better then I'm on it for Oulton Park, if he does then I'm back on the 1098 Ducati Superstock machine. It was good and I've had a great weekend. I've really enjoyed my racing."
The eighth round of the Bennetts British Superbike Championship takes place at Oulton Park on the 13th – 15th July.