A dramatic Turkish MotoGP won by Casey Stoner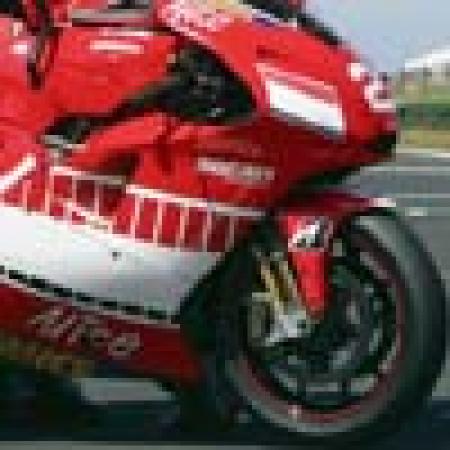 © Getty Images
By Dan Moakes
April 23 2007
MotoGP made its third, and possibly final, visit to Ístanbul Otodrom where this exciting modern circuit played host to the Turkish Grand Prix. Ducati and Yamaha racers had won in rounds one and two, but 24-year-old Honda rider Marco Melandri had won here both times previously.
The top four qualifiers gave the front of the grid a similar look to the races of Qatar and Spain, with the Fiat Yamaha pair ranged against the two youngest men in the field. Pole position was taken by Valentino Rossi, on the 800cc Yamaha M1, and his team-mate Colin Edwards was second. Dani Pedrosa's Repsol Honda RC212V was third, with Casey Stoner fourth for Marlboro Ducati. This quartet also made up the four leaders in the points table.
The next two guys were in their best positions so far this season, pushing Rizla Suzuki's John Hopkins down to seventh: Loris Capirossi was fifth on the second Ducati, and champion Nicky Hayden was sixth on the second Repsol machine. The other Suzuki was in ninth, marking an improvement for Chris Vermeulen, and the two blue bikes were split by the green of Randy de Puniet's leading Kawasaki. The top nine lap times were covered by a single second.
The other Hondas started from row four and beyond; the Gresini bikes of Toní Elías (tenth) and Friday crasher Melandri (14th), the Konica Minolta RCV of Shin'ya Nakano (12th), and the LCR RCV of Carlos Checa (16th). Making his second visit to the track, Olivier Jacque was 11th for Kawasaki. Alex Barros had linked up with a new crash helmet supplier, racing an all-new white 'design', and he started 13th. His d'Antín Ducati partner Alex Hofmann was in P17, and the Tech 3 Yamahas were 15th and 19th, Makoto Tamada leading Sylvain Guintoli. Kenny Roberts had the family machine in P18.
For a dry race, six of the first seven got away from the start in grid order, but with Pedrosa dropping to eighth. He was behind Rossi, Edwards, Stoner, Capirossi, Hayden, Hopkins and Elías, the last of whom was up three places. Barros had moved from 13th to ninth off the line. The looping downhill-uphill right-handed turn seven saw a move from Stoner to pass Edwards, with Capirossi also going through the gap. Colin was also overtaken by Hopkins, at the hard braking left of turn nine.
But the drama of lap one was yet to really kick in. It started at turn eleven, a very fast cresting downhill right kink. Leader Rossi ran wide through the turn, taking himself onto the run-off tarmac on the outside, and losing four places with reduced momentum as he rejoined the track. This fast section leads to a heavy breaking tight left-hander, good for passing, and the following pack were apparently distracted, or looking to capitalise at this point.
The turn twelve braking zone saw Jacque seemingly a little late to slow down as he got on the inside, and he clipped the rear of Edwards and the front of Pedrosa, both just to his right. All three crashed, and Vermeulen, on Dani's right, was also caught up. The Suzuki actually rested on top of the Honda as all the machines and riders scrambled about the place. One of the Tech 3 riders went around the incident on the run-off, and somehow everyone else kept out of the trouble. Vermeulen got his machine up and going again, but Jacque, Pedrosa and Edwards were out, with only minor injuries incurred.
The leaders were unaffected by the crash, but now Stoner and Capirossi led Hopkins, Elías, Rossi and Hayden. Melandri was now up to seventh, from Barros, de Puniet, Hofmann, Checa, Tamada, Nakano and Roberts. For now it was the first four that began to move clear of the rest, and with Stoner also easing away from his experienced Ducati team-mate. An early fastest lap from Rossi brought him back to Capirossi, Hopkins and Elías, and this evolved into a competitive scrap as Casey held his lead.
Turns twelve, thirteen and fourteen were the scene of some of the best action, as the circuit goes left-right-left back onto the start-finish straight. Elías was looking racy, but went wide in a move on Hopkins at T14, which let Rossi up to fourth. There was a similar scenario at T12, where Rossi failed to stay ahead of Hopkins, but he forced a gap on the inside at T14, where John also got passed by Toní on the way out.
Stoner was into a clear enough lead as Melandri brought Hayden, Barros and de Puniet up to the group for second. Capirossi, Rossi and Elías now pulled away from Hopkins and the rest, but John joined them again thanks to their spirited place changing. Valentino took second from Loris going into the four-apex long left-handed turn eight. And Toní followed his lead with a move through on the inside at T12. With Rossi into second, Stoner's two-second lead began to be reduced, but then Elías made another inside pass at T12, clashing with Rossi and pushing the Italian wide.
This proved to be the break that Stoner needed, as from then on his lead would continue to grow again. Similarly, Elías was soon slipping away from the others, as he left Rossi to fend off Capirossi and Hopkins. At half-distance, this trio was being joined by Melandri, Hayden and Barros again, and a turn twelve move by Hopkins on Capirossi also allowed Melandri to move up one.
With eight laps to go it was looking like Rossi might be having some problems, most likely with his front tyre. Onboard television pictures showed that the right side of his rear Michelin was clearly worn, too. The Italian led a six bike train, and the proximity had allowed Barros to overtake the seventh placed Hayden. The former team-mates swapped again, and Alex used his braking skills at turn nine to get the verdict again.
Rossi's apparent difficulties were compounded when both Hopkins and Melandri got ahead at T12, followed by Capirossi and Barros on the main straight. Hayden was not long behind Rossi now either. The race for third was on between a packed group of six, with de Puniet close to tagging on as well. Hopkins held the position until Capirossi made a play, but the impressive Barros on his unofficial Ducati was looking just as determined. The veteran Brazilian passed Melandri on the inside at turn nine, then tried to get Hopkins at T12, which only let Marco back through.
With five laps to go, Stoner was around six seconds in the lead, with Elías about four in front of Capirossi. The two leaders' positions were decided, and the Italian rider looked to be getting an advantage over his bunched pursuers, as Hopkins was about to lose out. The Suzuki man was passed by Melandri at T12, forced wide and passed also by Barros and Hayden. By now Rossi had dropped back, and was attacked and soon passed by de Puniet, before Hofmann also homed in.
The action behind him brought the group up to Capirossi in the late stages. Melandri took fourth from Barros, but the Brazilian got it back at T12. On the final time through, Loris got into a wobble out of turn eleven, which let his former Pons team-mate pull ahead, but the Marlboro Ducati man found the inside to re-pass the Pramac Ducati at turn twelve, and he just retained his podium spot to the line. Barros was equally closely shadowed by Melandri and Hopkins.
Bridgestone has cause to celebrate, as seventh finisher Hayden was the first man not on their tyres. The champion's modest result was ahead of de Puniet and Hofmann, with Rossi back in tenth and only the second Michelin runner. Vermeulen had ridden well from his early setback for the next spot, from Checa, Nakano, Tamada, Guintoli and Roberts. The three first lap casualties were the only non-finishers.
Valentino Rossi may have been in trouble, but this was another good race from Casey Stoner, at the track where he'd had his best result the year before. The result for Rossi, plus the unfortunate fate of Dani Pedrosa and Colin Edwards, meant that the race's youngest rider was back into the series lead. For the two riders caught in the multiple crash, their lost places on lap one had been enough to put them in the midst of the action.
For Toní Elías, this was his best MotoGP race apart from his winning effort at Portugal last season, and good form also came from both Loris Capirossi and Alex Barros, the men with most Grand Prix experience. For Barros, it was like he had not been away in Superbikes, and for Capirossi it was about the focus being back after the recent distraction of his son's birth. For Nicky Hayden, though, we still seem to be looking at a man who is not on song with his new 800cc mount.
Standings after three races: Stoner 61; Rossi 51; Pedrosa 36; Elías 35; Melandri 30; Edwards and Hayden 26; Barros 25; Hopkins 23; Vermeulen 21.