Noriyuki Haga dominant for Yamaha at Monza WSBK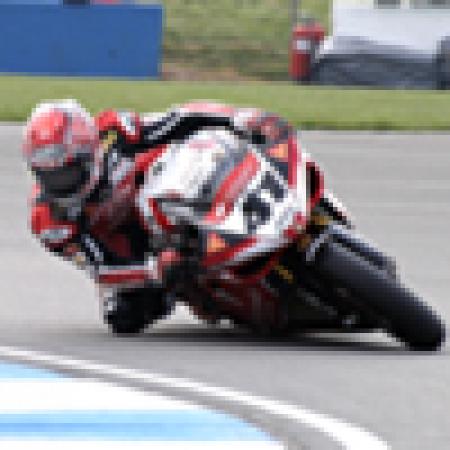 Raceline Photography
By Rob Every
May 16 2007
It was damage limitation for Honda's championship leader James Toseland at Monza - a bad rear tyre selection that afflicted many riders causing him trouble, and also allowing Nori Haga to bag his first double win for a long time, at the track where his Yamaha Italia team are based.
Nori scorched to pole position with a perfect lap, but the start was very nearly a disaster, as Lorenzo Lanzi totally messed up his braking point and flew through the entire field on the factory Ducati - nearly taking out many riders into the awful mickey mouse turn one chicane.
To many people's surprise it was Roby Rolfo that led the way. The Ten Kate Honda man had a great weekend at Monza, finally showing the form everyone knew he had and leading this race for a while.
Toseland was soon into the lead and looking as tidy as ever, no doubt hoping to run away form the field, but it was made clear that he had picked a rear tyre that was softer than most others, and he might possibly run into problems later in the race.
Haga at this stage had made an average start, but was starting to edge to the front of the pack. That pack included Rolfo, Troy Corser (Yamaha), Max Biaggi (Suzuki) and Troy Bayliss, who was showing good speed on the down on power Ducati.
Haga then was quickly with leader Toseland and, after shadowing him for a while, moved in front of the Honda. It was clear at this stage that both men were quicker than the rest as, despite squabbling for position, they were still pulling away - the Yamaha not quite having the legs of the Honda on the straights but a vast improvement from the season start. Corser though was clearly unable to run the same pace, later citing tyres as his main concern.
Rolfo was still there and looking secure in front of a battling Biaggi, Corser and Bayliss. Corser then made a mess of the second Lesmo turn, running wide and allowing the other two away. Haga now was stretching a small gap to Toseland as, behind, the pack was a little spread out, a rare thing at Monza! Bayliss was riding his heart out on the Ducati and indeed profited from some bad luck for Max, whose bike stopped momentarily in the chicane, allowing Troy away and clear in fourth.
Up front though it was clear that Toseland was in big trouble. His times dropped away and Rolfo closed the gap - there was an obvious wear band on the rear tyre and James was struggling to get power down. Haga was in a different race by now and stroking it home for the win.
Rolfo was soon into second, but as soon as he got the place his times slowed up as well, and Bayliss was starting to catch the Honda man. Then in a final act of ignominy, the Ten Kate bike ran out of fuel and Rolfo didn't make the finish! Haga took a clear and dominant win, from the superb Bayliss, with Biaggi recovering well for the final podium slot.
Race two and it all went wrong for Lanzi again; the Ducati man stalling on the grid, forcing a restart, and this time Toseland had taken a slightly harder tyre. The Briton led away as a fast starting Josh Brookes came through for third, a great jump from the young Aussie.
Bayliss and Biaggi both made poor starts and were facing a fight through the pack, as Toseland pulled a small gap on the field led by fast starting Régis Laconi on the Kawasaki. Haga was ominously into second place very quickly and doing his usual close up following of riders that has become his forté.
Rolfo again had started well and was in the lead pack as Toseland edged away from Haga, Rolfo, Corser, Biaggi and Bayliss, the latter two lapping quickly but a bit behind the rest. Haga quickly bridged the gap to Toseland and, after setting a lap record on lap six, settled in behind the Honda. Rolfo meantime made a huge mistake in the quick Ascari chicane and allowed his rivals through, going right up the kerb mid corner.
Haga then used the more potent Yamaha to edge past Toseland into Parabolica and make a break for the race win. Toseland was quicker in some areas, but the Yamaha was just better at the right bits and Haga started to eke out an advantage.
Toseland in fact was suffering a slight tyre problem again, and a recovered Rolfo and Biaggi were catching him, as further back Corser and Bayliss were battling. The reigning champion was soon through and onto the Rolfo's tail though, as Corser dropped away with tyre problems yet again.
The main feature of the race now was whether the pack behind could catch the clearly struggling Toseland. They were more than six seconds behind at one point as the Honda man slowed, and Haga yet again just ran away with the race.
Onto the final lap and Biaggi, Rolfo and Bayliss were with James. Biaggi and Bayliss both passed JT into Ascari on the final lap, but Max was trying so hard to get a good exit onto the straight that both he and Bayliss went really wide over the kerb and touched momentarily!
Bayliss had the advantage now and rocketed past Toseland into the Parabolica, but went in far too quick and nearly lost the front, allowing Toseland to nip back past and steal a second place that he must have though unlikely!
Rolfo held it all together for fourth and a bitterly disappointed Biaggi was fifth, now overtaken by the dominant Haga in the points as Nori strengthens his case to be the man to challenge Toseland for the championship.
Standings
1 Toseland 229; 2 Haga 194; 3 Biaggi 191; 4 Bayliss 164; 5 Corser 135; 6 Lanzi 107; 7 Rubén Xaus 106; 8 Max Neukirchner 81; 9 Rolfo 77; 10 Yukio Kagayama 60