Japanese MotoGP win goes to Jorge Lorenzo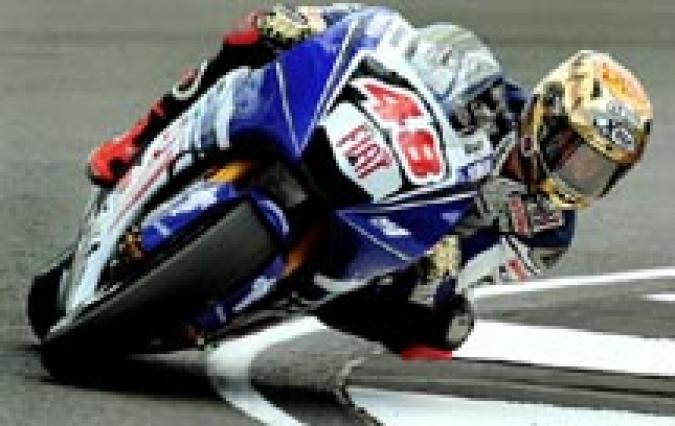 © Empics / PA Photos
By Dan Moakes
April 29 2009
There had been a day's delay for rain at the opening race of the 2009 Motorcycle Grand Prix World Championship, but the Qatar night race had seen Casey Stoner take the new Ducati to victory. The second race of the series was in the home of the other manufacturers, as the teams moved on to the Motegi circuit in Japan. Could Honda or Yamaha turn the tables here?
Following on from the deluge in Qatar, round two was hit by similar conditions on the Saturday, washing out all the sessions including qualifying. There had been a dry practice session on Friday, although at that stage riders were always likely to be working on settings as much as on going fastest, but in the end that was the way grid positions were decided. Mika Kallio, for one, did not benefit from this, as the Finnish rider had crashed during that session.
But despite the unusual circumstances, most of the likely contenders were at the front on the grid, in particular with Valentino Rossi on pole and lap record holder Casey Stoner second. Rossi's Fiat Yamaha team-mate was third, on the circuit where Jorge Lorenzo had been on pole a year earlier. Stoner's Marlboro Ducati team-mate was a bit better off than at Losail, with Nicky Hayden twelfth this time.
Rizla Suzuki's riders both started from row two, with Chris Vermeulen fourth and Loris Capirossi sixth. Chris explained that the bike's front end problems had been sorted out since the first race. These two were split by the Monster Tech 3 Yamaha of Colin Edwards, whose tenth placed team-mate James Toseland had also improved over his previous effort. All of which meant the first Honda was back in seventh.
Repsol Honda's Andrea Dovizioso was in P7, with Dani Pedrosa in eleventh on the other RCV. The Spaniard was still not at 100% fitness, and it was also the case that he was still using the 2008 Honda chassis, feeling that the 2009 version was not ready. Gresini team rider Toní Elías was using the new chassis, but it was apparently not his choice and he wasn't happy with it either. He would start ninth.
Between Dovizioso and Elías was Hayate Kawasaki rider Marco Melandri, with an eighth place start his best since 2007, before he tried racing the works Ducati. Behind Hayden came Yuki Takahashi (Scot Honda), Sete Gibernau (Francisco Hernando Ducati), Alex de Angelis (Gresini Honda), Randy de Puniet (LCR Honda) and the Pramac Ducati pair, Kallio in front of Niccolò Canepa.
There was dry weather again on race day, although with windy conditions, but due to the lack of dry running the tyre choice was going to be a bit of a gamble. Most riders went for the medium compound Bridgestone, rather than the soft. And Rossi made a good start to take the lead, with Stoner dropping a couple of places. Vermeulen went into second, and a Repsol Honda appeared in third, with Dovizioso quickly past the Suzuki, making his pass on the inside at the tight, right-handed turn five, after a short straight. From fifth initially, Lorenzo got ahead of Stoner and then passed Vermeulen at the turns seven and eight left-right esses.
Pedrosa had also done okay out of the start, and he was the next man to challenge Casey. The 90° Corner right-hander is after the long, downhill back straight, and is a heavy braking zone, and he went through on the inside here. This meant that Rossi led Dovizioso, Lorenzo, Vermeulen, Pedrosa and Stoner. Toseland was seventh until Melandri got by, and meanwhile both Hayden and Takahashi went out when the local rider hit the back of his rival. Nicky picked up a minor back injury, and also apparently in trouble was Edwards, who had his hand up as his bike had slowed, although he then continued at the back of the field.
Pedrosa's progress continued as he passed Vermeulen and then also got by Lorenzo on the inside at 90° Corner, just after Dovizioso had fallen behind both Spaniards. However, Jorge returned the compliment on Dani with a move on the brakes at the turn three left-hander. With Melandri passing former team-mate Stoner at this stage, and Casey then battling with compatriot Vermeulen, the top seven was Rossi, Lorenzo, Pedrosa, Dovizioso, Melandri, Vermeulen and Stoner, and with gaps starting to grow in a couple of places.
Stoner tried to re-pass Vermeulen for sixth, but in his first attempt he ran wide and let the Suzuki man back through. Then Chris passed Melandri, with Casey following him through in a turn five move. The Ducati rider then tried to make another pass at 90° Corner, but was not close enough. When he did make it by, he was followed by Melandri passing Vermeulen at turn three. Casey's inability to deal with the other two decisively appeared to have a lot to do with a front grip issue, which meant he was cornering on wider lines.
Fastest lap helped Rossi as he extended his lead, with Lorenzo and Pedrosa now also clear of fourth man Dovizioso. But fastest time then went to Pedrosa, and Lorenzo started to home in on his leading team-mate, helped when Valentino went wide out of the turn ten right-hand Hairpin. Soon Jorge was with the Italian, and Dani was catching them too, with another fastest lap. Dovizioso was on his own in fourth, with a larger gap back to those behind.
Turn nine is the left-handed V-Corner, following the S-Curve, and here Lorenzo got onto the inside of Rossi going in, only for 'the Doctor' to go back ahead on the way out. Then Jorge made it past for certain at 90° Corner. Valentino continued following his team-mate as Pedrosa started to drop back from the Yamaha pair. Stoner was on a charge further back, but Dovizioso took away his fastest lap as the second Repsol Honda moved in on the first one. Lorenzo was the fastest man at half-distance as the Yamaha duo left the Honda duo behind.
The race behind had seen Vermeulen drop back from Stoner and Melandri and lose more places, with Elías and Capirossi both passing Toseland to go seventh and eighth. Toní went off in a lowside crash at the Hairpin, and resumed in last place, but meanwhile Stoner had been moving clear of Melandri and the rest. Indeed, soon he was less than five seconds away from the leaders although still in fifth place.
Rossi now seemed to be dealing with a mid-corner front end problem, so that Lorenzo suddenly had a 1.5s advantage and Pedrosa was catching the champion, as Dovizioso now lost ground again. Dani got near enough to have a go at passing Valentino at 90° Corner, but he went wide and the Yamaha rider went through again. The same thing happened at the right-handed turn one. The swap came with Pedrosa on the inside at 90° Corner, and yet Rossi re-passed round at turn five.
Lorenzo held a two second lead, which now came down fractionally as Rossi at this stage got the better of Pedrosa and grew the gap. Approaching the finish, Jorge's lead was closer to one second, but he was controlling the pace enough to take his second MotoGP race win, in the 700th premier class GP, with Rossi second and Pedrosa third. Stoner had caught Dovizioso with three laps to go, and he went past on the inside at the turn three-four double left-hander. He had salvaged fourth place and would confirm that his front brake had been the problem.
Melandri had been long established in sixth by the finish, with Capirossi also secure in taking P7. Meanwhile, Kallio had put in another good performance as he came through from P13 to claim eighth, in front of Toseland and Vermeulen. Gibernau had been in the mix with those guys, but then he slid out at the Hairpin and was well back by the time he rejoined the race from the pits. Outside the top ten came de Puniet, Edwards, de Angelis, Canepa and Elías.
Jorge Lorenzo made it fifteen wins for Yamaha with the Fiat livery, and he duly planted the 'Lorenzo's land' flag in one of the gravel traps. He was then unable to restart the bike and had to be pushed in to the pits. With Valentino Rossi second, it meant that Yamaha riders had been on the podium 500 times in the top class of Grand Prix racing, the first one had been in May 1972, with Christian Bourgeois. Casey Stoner and Ducati had been in difficulty, but Yamaha had definitely been on top of Honda on this day. Can they sort the 2009 chassis in time to challenge their big rivals this season? Would it be a different story in a GP meeting uninterrupted by rain?
Standings after two races: Lorenzo 41; Rossi 40; Stoner 38; Dovizioso 22; Pedrosa 21; Edwards 17; Kallio 16; Vermeulen 15; de Angelis 13; Melandri 12.
Yamaha 45; Ducati 38; Honda 27; Suzuki 18; Kawasaki 12.