Kiyonari takes first ever BMW win in British Superbikes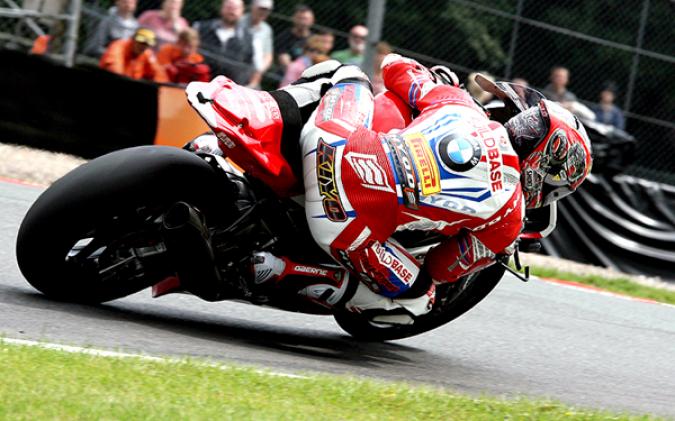 © Glynne Lewis
By Dan Moakes
October 6 2014
Would there be more success for Shane 'Shakey' Byrne at Knockhill, as the 37-year-old arrived for the fourth round of the 2014 British Superbike Championship with a 45-point advantage over his closest rival? The Rapid Solicitors rider certainly seemed on course for another title.
Knockhill was on the schedule at the end of June, and qualifying at the track in Scotland put the series leader, with his Kawasaki, behind machinery from BMW and Yamaha, with Byrne placed third on the grid. The local favourite, Stuart Easton, was just a place behind on the team's sister machine, but it was Ryuichi Kiyonari on pole position, for the first time since 2010. The Buildbase BMW rider headed Josh Brookes on the Milwaukee Yamaha.
James Ellison was fifth for the Lloyds British GBmoto Kawasaki team, with James Westmoreland next for Buildbase BMW. Milwaukee Yamaha's Tommy Bridewell was seventh fastest, but after an engine blow up he was given a three-place penalty, lining up behind Jakub Smrž (Millsport Ducati), Chris Walker (for GBmoto) and Michael Rutter (Bathams BMW). Then came Barry Burrell (WD40 Kawasaki), Dan Linfoot (Quattro Plant Kawasaki) and John Hopkins (Tyco Suzuki).
Knockhill
Form guide: BSB wins
Shane Byrne · 2002, 2003 (x2), 2006, 2012, 2013 (x2)
Ryuichi Kiyonari · 2005 (x2), 2006
Chris Walker · 2000 (x2)
Michael Rutter · 2010
Despite a fall in the warm-up, Kiyonari started race one from pole, but team-mate Westmoreland was out of luck with technical problems, and had to join in from the pits. 'Kiyo' led away, from Brookes, Easton, Ellison, Byrne, Walker, Rutter and Bridewell. Smrž was initially ninth, but got in trouble as Linfoot, Richard Cooper (Anvil Hire TAG Kawasaki) and Josh Waters (Tyco Suzuki) all got past.
With a minimal gap developing between Kiyonari and Brookes at the front, Ellison was soon up to third - but it didn't last for long. The final corner at Knockhill is a rising, right-handed hairpin turn, once named Taylors but more recently called Real Radio, where riders brake after a fast run-in. Easton looked to re-pass his former Swan Honda team-mate on the inside, but instead made contact and James was taken out. This would lead to a grid penalty in the second race for Stuart.
Byrne had no such trouble as he went on to pass Easton on the inside for the same hairpin, then sped off after Brookes ahead, with Walker tagging on behind the fourth-placed Scot. There was a bigger margin back to Bridewell in sixth, who headed Linfoot, Rutter, Waters, Smrž, Burrell, Ben Wilson (Gearlink Kawasaki), Hopkins and Cooper. Before long, at around half-distance, Waters would exit the race as he went down at the hairpin.
Byrne's efforts to improve soon saw him make a move on Brookes at the hairpin, going in deep on the brakes to get past and then beginning to pull away. Josh would go back a further place at the first right-hander, Seat, just moments later, as Easton followed his team leader. After that, Walker would get him at the hairpin, with Bridewell also looking to get in on the act.
However, there was no drama for Kiyonari, who would take the race by 5.0s even as Byrne secured his second position. From fifth, Brookes regrouped and would get past Walker again by braking on the inside for the hairpin. Then he closed in on Easton, but finished just behind the Kawasaki man. Bridewell took sixth, from Linfoot, Burrell, Hopkins, Westmoreland, Cooper, Smrž, Rutter, Peter Hickman (RAF Reserves Honda), Keith Farmer (PR Racing Kawasaki), Wilson and Jon Kirkham (Halsall Kawasaki).
The revised grid for race two saw Byrne heading up Kiyonari and Walker. Easton's three-place penalty left him seventh, behind Brookes, Bridewell and Linfoot. Eighth man Burrell headed Hopkins, Wilson, Rutter and Westmoreland. This time Byrne led from the start, ahead of Kiyonari, Brookes, Easton, Walker, Bridewell, Linfoot, Ellison and Rutter. At the hairpin, two men went down when Westmoreland went for the inside of Burrell and hit the rear of the Kawasaki.
Byrne was on the pace and stretching away, but Kiyonari responded and these two began to drop the contest for third. The hairpin saw both Easton and Walker go inside Brookes and get past, with Chris emerging first, but with lightweight Stuart able to drag past - only for 'the Stalker' to pass again at the Butchers right-hander. Next, Easton went wide at the hairpin and Brookes was back up to fourth. Behind were Bridewell, Linfoot and Ellison, with the latter having got back past Rutter.
The first two were away from the rest, and in the late stages Kiyonari took the inside line for the hairpin to go ahead of Byrne. The same corner would subsequently see Kiyo have a real 'moment' on the way out, when he appeared to miss the correct gear, and Shakey took the place back. The BMW man had the pace to push on and challenge further, but in the end Byrne just held on. Gaps had grown between those following, with Walker third, then Brookes and Easton.
Linfoot got through for sixth, from Bridewell, Ellison, Cooper, Rutter, Hopkins, Smrž, Hickman, Farmer, Ian Hutchinson (FFX Yamaha), Waters, Kirkham and Jenny Tinmouth (TWR Honda).
BMW riders had given the marque a best BSB result of fourth place on no less than 14 occasions, so their first podium in the series proved to be Ryuichi Kiyonari's victory first time out at Knockhill, which he backed up with a second place. It was his first win on a different make of Superbike after all those years with Honda, and his overall score took him into the top six to make him a potential Showdown contender. But meanwhile Shane Byrne was even better off as he extended his lead, with so far no-one consistent enough to really challenge him. Will that change?
Standings after eight races: Byrne 190; Brookes 111; Ellison 108; Bridewell 88; Kiyonari 82; Walker 76; Easton 74; Linfoot 70; Hopkins 51; Cooper 41.
podium credits: Byrne 36, Brookes 14, Ellison and Kiyonari 8, Walker 4, Bridewell and Easton 1.