Ducati resurgent; Valentino Rossi wins in Qatar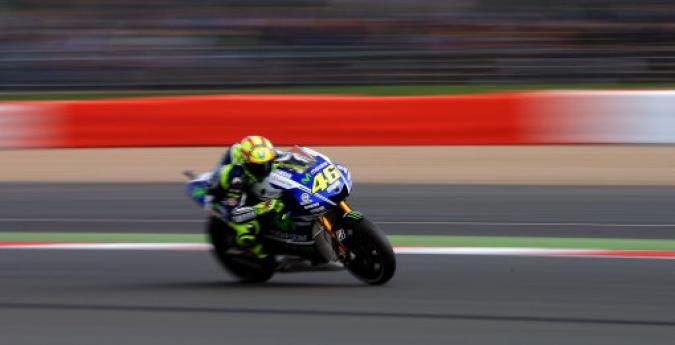 © David Davies/PA Wire
By Dan Moakes
April 9 2015
Would the new season of MotoGP racing highlight any possibility that Marc Márquez could finally be unseated as champion? The Honda man had won the title in his first two seasons in the class, although his Yamaha rivals had got stronger during the second half of 2014.
The Motorcycle Grand Prix campaign got started with the floodlit Qatar race at Losail circuit, with the favourites for success thought likely, once again, to be either one of the Repsol Honda riders - Marc Márquez and Dani Pedrosa - or one of the MoviStar Yamaha riders - Jorge Lorenzo and Valentino Rossi. Hopes were also high for improved fortunes from within the Ducati team, where team leader Andrea Dovizioso was to be joined by Andrea Iannone, graduating from the customer Pramac Ducati squad. For 2015, their Desmosedici motorcycle had been significantly reworked.
There had been a fair number of changes to the line-up of entries for the year ahead. For the 125cc World Champion rider of 1985 and 1987, Fausto Gresini, a major difference was that his MotoGP team had made a notable switch and would now run Aprilia machinery. This came after many years as a Honda customer, a partnership which had yielded fourteen race victories altogether, with riders Sete Gibernau, Toní Elías and Marco Melandri; and Melandri was making a return to MotoGP to ride the new Aprilia for his former team, after four years racing in the Superbike World Championship, where he had been a nineteen-time race winner.
The Suzuki team were also welcomed back into the fold after three years away, no doubt with the aim of getting on terms with the other works outfits. New riders in the premier class would include Suzuki signing Maverick Viñales, a former Moto3 champion graduating from the Moto2 class. There was also Jack Miller, coming straight in from Moto3, where he had just missed out on the 2014 title; and from Superbikes there were race winners Loris Baz and Eugene Laverty, the latter having previously raced Grands Prix in the 250cc class.
Further moves involved Cal Crutchlow, who had experienced a challenging season on the Ducati and so swapped to a Honda ride with the LCR team. Scott Redding also graduated to a Factory class Honda, rejoining his former Moto2 team as the Marc VDS outfit moved up to the premier GP category. Miller was joining LCR Honda on an Open class bike, with Aleix Espargaró the other man joining Suzuki. Stefan Bradl had been dropped by LCR and would race the Open class Forward Yamaha, partnered by Baz, whilst Danilo Petrucci got his chance at Pramac Ducati, replaced by Alex de Angelis at IodaRacing on the ART. Laverty joined Nicky Hayden on the Aspar Honda.
Following off-season testing, practice and qualifying at Losail would give some good clues as to the competitive hierarchy for the 2015 season, which in the event gave plenty of optimism to the Ducati team, whilst good pace from Honda was not a surprise. Pole position went to Dovizioso on the red machine, with Iannone almost as fast in fourth position. The Pramac Ducati of Yonny Hernández was also there in fifth, with Petrucci ninth. For 'Dovi' this was only his third pole position in MotoGP, and only the second for Ducati since 2010. Repsol's rider pairing were second and third, with Pedrosa ahead of Márquez.
Yamaha's leading riders formed the next contingent, with Lorenzo sixth and Rossi eighth, split by Tech 3 rider Bradley Smith. His team-mate, Pol Espargaró, was tenth. Then came Aleix Espargaró (Ecstar Suzuki), Crutchlow (CWM Honda), Viñales (Ecstar Suzuki) and Redding with the Honda. The Gresini-run Aprilias were in amongst the Open class machinery, with Álvaro Bautistá 21st and Melandri 25th and last.
Leading the Open group was Héctor Barberá, in P15 on the Avintia Ducati, from team-mate Mike di Meglio. Then came Hayden, Bradl, Laverty, Karel Abraham (AB Honda) before Bautistá, with Miller, Baz, de Angelis and Melandri bringing up the rear.
Form guide: GP wins at Losail
Lorenzo 5; Rossi 3; Márquez 2; Barberá, Bautistá, Bradl, P.Espargaró, Iannone, Miller & Viñales 1
The start of the race seemed to go well for the HRC duo, with both Pedrosa and Márquez getting away effectively. However, as they crowded down towards the right-handed first corner, Marc was forced wide to the outside and had to move off the circuit and rejoin the field from the run-off area. This left him needing to recover places from beyond the top fifteen, and meanwhile Dani was also quickly swamped by some of the other front runners, dropping to eighth. Dovizioso led, initially from Hernández, but the Colombian also went a bit wide and resumed in fourth position, behind Lorenzo and Iannone.
Smith was running fifth, from Pol Espargaró, then Aleix on the Suzuki, with Pedrosa fending off Petrucci. Rossi was back in tenth, from Crutchlow, Miller, Hayden, Redding, Bradl, Márquez, Abraham, di Meglio, Barberá, Baz, de Angelis, Laverty and the rest. Bautistá had to return to the pits at the end of lap one, and that proved to be the end of his race on the new Aprilia.
Inevitably, the usual suspects started moving through to take up more customary positions. Pedrosa passed Aleix Espargaró for seventh, then got past Pol on the inside for turn one. Rossi also overtook the brothers, with Smith the next victim as Dani and Valentino then battled over fifth position. Rossi got ahead then fought off Pedrosa's response, and soon they both went past fourth man Hernández. Meanwhile, Márquez had been quickly getting past the likes of Miller, Bradl, Hayden, Redding and Petrucci. Crutchlow passed Aleix Espargaró for ninth, with Marc then following suit, and then Pol was also pushed back a couple of places by the two Honda riders.
At the front, Lorenzo had made an early dive inside Dovizioso going for a right-hander, taking over in the lead as the first three, with Iannone behind the two front-row starters, began to move clear of the rest. Meanwhile, Rossi had improved on Jorge's fastest lap and was aiming to bring down the gap, leaving Pedrosa to head Hernández and Smith, with Márquez up to eighth ahead of Crutchlow. Marc was soon past Smith as well, but found that Hernández was able to fight back and re-take sixth position, albeit not for long.
That meant the six leading positions were now shared between the full works bikes from Yamaha, Ducati and Honda, with Dovizioso now ahead after passing Lorenzo on the inside for turn one. Indeed, there was plenty of action involving the first four, with Jorge moving ahead again, then being put back to third before resuming in second position. With the Spaniard passing Dovizioso for the lead, now Rossi joined in, finally getting the better of Iannone for third.
Lorenzo led the race, but more than once Dovizioso showed good straightline speed to get ahead along start-finish, only to end up going a bit wide at turn one and letting the Yamaha through again. When he finally made the move stick, Jorge then had Valentino also going past on the inside for a right-hander. Iannone was still there in fourth, and meanwhile Márquez had passed Pedrosa and was bringing down the gap ahead, as this went from 3.9s to under 2.5s.
With Iannone passing Lorenzo for third along the main straight, the final laps saw their team-mates racing for the victory. Rossi made more than one attempt to overtake Dovizioso, getting the move done at the turn twelve right-hander. However, the Ducati man was able to use the slipstream to get ahead over the line; but in braking for the subsequent corners there were three more changes, with Valentino ultimately back ahead. With a lap and a half left he tried to make the break. Last time into turn one Dovi tried to overtake but was unable to manage it; and this time he was not quite close enough in the final corner to take advantage on the straight. It was Rossi's victory.
Three sets of works teams filled the top six places: Rossi from Dovizioso, Iannone, Lorenzo, Márquez and Pedrosa. Hernández had dropped to tenth, with Crutchlow getting the better or Smith to head the customer runners in seventh. Pol Espargaró finished behind his team-mate in ninth. Suzuki's return saw Aleix home in P11, with Viñales in P14, behind Petrucci and Redding. Then it was Barberá, climbing to the front of the Open group, from Bradl, Hayden, Laverty, di Meglio, de Angelis, Melandri and Baz, after a pit visit. Abraham and Miller were the other non-finishers.
Ducati were looking good once again, apparently now able to go the distance without any obvious cost to the tyres. Perhaps a bigger surprise was the fact that Honda didn't seem to have the usual competitive race pace, despite such promising signs prior to Sunday. Valentino Rossi, meanwhile, retained his recent advantage over team-mate Jorge Lorenzo, with the legendary Italian recording his 109th Grand Prix victory and his 83rd in the premier class. Will it yet turn out to be another season dominated by Marc Márquez, or will the Yamaha and Ducati men now have something to say about it?
Standings after one race: Rossi 25; Dovizioso 20; Iannone 16; Lorenzo 13; Márquez 11; Pedrosa 10; Crutchlow 9; Smith 8; P.Espargaró 7; Hernández 6; A.Espargaró 5; Petrucci 4; Redding 3; Viñales 2; Barberá 1 ·· Open leader: Barberá.
Yamaha 25; Ducati 20; Honda 11; Suzuki 5.