'Even stevens' down the Hatch! · Brands World SBK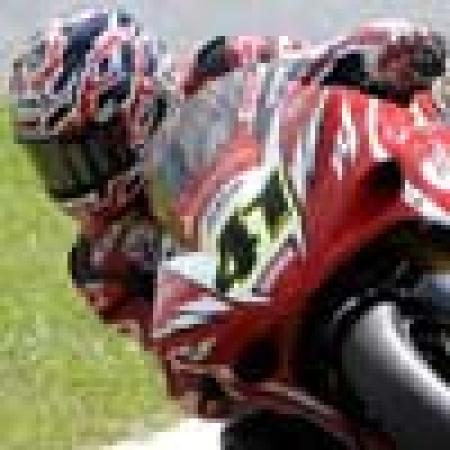 Raceline Photography
By Rob Every
August 6 2006
Superbike World Championship, Brands Hatch: Troy Bayliss got his season back into top gear with a great first and second place result from both Superbike races, but Noriyuki Haga once again showed his mastery of the Kent circuit with a superb second race win on the Sanatander Yamaha. Bayliss started both races from pole position after a dominant display in qualifying, the Xerox Ducati team this weekend adding the Superman logo to bike and leathers in a tie up with the new Superman movie.

It was Haga though that led the field away on the first lap, with Bayliss close behind and the rest of the pack squabbling around behind. Bad starts from Andrew Pitt and James Toseland just left them with too much work to do later in the race, as the pace of the leaders was very hot.

Also out of luck was Karl Muggeridge. The Aussie was on superb form in qually to get third on the grid, and looked to be on the pace in the race until grounding the engine case of the Winston Honda at Dingle Dell. This forced the tyres to leave the road and Muggas was down. Meanwhile his team-mate, James Toseland, was rapidly getting down to business, catching the lead three of Haga, Bayliss and Troy Corser. The world champion having a minor off in the warm up when a gearbox fault forced him to part company with the Alstare Suzuki.

Toseland quickly got past Corser, who then dropped back rapidly with a bad tyre choice that left him sliding everywhere. It looked like the Briton might be able to give the home crowd a win, but Bayliss was simply playing a waiting game behind Haga, and once in front the ex-MotoGP ace upped the pace and the rest simply couldn't hold the gap.

Toseland did eventually get past Haga near the end of the race, indeed getting a small gap as the Japanese struggled with an increased idle speed on the R1 that pushed him into the bends too much. Haga's team mate Andrew Pitt rode a strong race to fourth. Yukio Kagayama (Suzuki) couldn't repeat his Brno form on a track he should really know better, but beat Corser into fifth. And Chris Walker rode a strong race to finish top Kawasaki again in seventh.

Further back there was plenty of girly handbag moments as Fonsi Nieto, Régis Laconi (both Kawasaki) and England's wildcard riding Tommy Hill (Yamaha) had some fun and games, which resulted in Nieto squaring up to both Hill and his team mate Laconi! Maybe in GP he gets away with barging people around eh?! Final piece of trivia, Bayliss' win was Ducati's 250th in World Superbike.

On to race two then, and a much better race for the fans and for the riders as the lead battle was not resolved until the finish line. Bayliss led away from Haga, as Muggeridge this time got a much better start to follow the lead guys. Struggling away again were Toseland and Pitt, as Corser and a few others made good starts.

Then, unbelievably, after making such a good start, Muggeridge made exactly the same mistake again, grounding out the bike and binning it from a strong third place. His place in the team must now be coming under threat! Toseland and Pitt meanwhile were forcing through the pack again, as up front Corser seemed able to hang on a little better after changing his tyre choice.

In the lead battle though, Muggeridge's exit had split the pack slightly, and Haga and Bayliss now got away from the riders behind them. The race between was as good as the race last year here between Corser and Nori, nip and tuck all round the track!

Bayliss led for a bit, then Haga forced under him at Druids. Not long after Haga spun the tyre too much onto the back straight and Troy was through again. Whilst all this was going on, the pack behind of Corser, Toseland and Pitt were gaining. It seemed that with Bayliss in front the gaps lengthened, and then when Haga was leading the gaps closed.

Bayliss though just couldn't get away like he did in the first race. Then with about five to go the Aussie deliberately slowed out of Paddock Hill bend to allow Haga past, whilst a few laps earlier Pitt had really forced past Corser who, along with Toseland, were falling back into the clutches of the flying Régis Laconi who was having a superb ride on the PSG Kawasaki.

Final few laps then up front, and Bayliss was trying everything he knew to pass Haga, but the Japanese was so good on the brakes and into the bends, the championship leader couldn't get through. He levelled with Nori a few times, but the Yamaha rider always seemed to be able to close the door. Great racing though, and a superb first win for Haga.

Also a brilliant ride by Pitt, who showed that once again if he could get the thing off the line, as he did in Misano, he is on form good enough right now to win races. Great ride too also for Laconi, the former 500cc race winner putting one over Corser and Toseland to get fourth.

Points standings:
1 Troy Bayliss 307; 2 Noriyuki Haga 230; 3 James Toseland 219; 4 Troy Corser 193; 5 Alex Barros 166; 6 Andrew Pitt 157; 7 Yukio Kagayama 126; 8 Lorenzo Lanzi 96; 9 Chris Walker 96; 10 Fonsi Nieto 87.