Leon Haslam stars in the wet at Croft in BSB 2006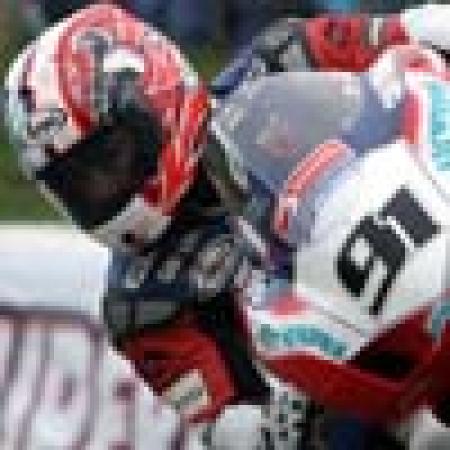 Raceline Photography
By Dan Moakes
August 13 2006
HM Plant Honda's Ryuichi Kiyonari had made it six British Superbike wins from eight starts, with his double at Oulton Park, but Leon Haslam's consistency kept the points margin at just five points. And seven-time winner Gregorio Lavilla was also still in touch.
The Airwaves Ducati team-mates would look to the Croft round to try and take the initiative from their Japanese rival, with Leon after a first win, and Gregorio hoping to make up for a disappointing mid-season. GSE Racing, with the Ducati 999 F06 and Dunlop tyres, would obviously aim to wrest back the initiative from HRC, the FireBlade and Michelin.
Qualifying saw the front row split between Honda and Ducati riders, with the three title contenders all up there. They shared the stage with 19-year-old Red Bull Honda man Jonathan Rea. The Ulsterman was in the top four for the fourth time in five outings, securing his second pole position of the 2006 season. He was followed by Haslam, Kiyonari and Lavilla.
Shane Byrne led row two with the Rizla Suzuki, from HM Plant's second rider, Karl Harris. Tommy Hill was seventh for Virgin Yamaha, with Michael Rutter and his Stobart machine the fourth Honda. Simon Andrews (Jentin Yamaha), Glen Richards (Hydrex Honda), Michael Laverty (Stobart Honda), Billy McConnell (Virgin Yamaha), Ben Wilson (Vivaldi Suzuki), Dean Thomas, Peter Hickman (both Hawk Kawasaki) and Kieran Clarke (Virgin Yamaha) followed on. Scott Smart would not race, due to injuries from a practice crash.
Race one took place in dull conditions, with some damp patches on the track. Rea led them away, from Kiyonari, Haslam, Byrne and Harris, but with 'Kiyo' moving ahead on the outside at the fourth corner, the acute right with heavy braking of Tower Bend. To begin with, the first three seemed to be breaking away from the rest, but with Lavilla emerging to join in behind them. Going into turn three, the right-left chicane onto the back straight, Rea took over from Kiyo again, and immediately Haslam followed through on the inside into Tower. Lavilla also went by Kiyonari rounding the next left-curving Jim Clark Esses.
The first four began to space out a touch as the race settled into motion, with Rea from Haslam, Lavilla and Kiyonari. Hill and Byrne raced for fifth, after a clash between the Yamaha man and Harris. After his quick demotion from first to fourth, Kiyo gathered his wits and got back down to work. He passed Lavilla coming out of the final left-handed hairpin, he then caught up to Haslam as some rain began to fall, getting in front into the left-hander that starts the final Complex of turns.
Leader Rea briefly put up a hand, as conditions became a touch tricky, particularly at Tower. But as the two Ducatis closed in on Kiyo again, Jonathan saw he could maintain a decent pace, and so the race went on. The rain proved fairly short lived, and now Lavilla passed team-mate Haslam for third. Rea's chances of a first BSB win were diminished when he ran wide exiting Hawthorn Bend, the right-hander that leads right into the chicane, and was passed by Kiyonari. The Japanese rider thereby made it a comfortable win, with Jonathan similarly clear of Lavilla and Haslam.
Byrne triumphed over Hill for fifth, as did Rutter for sixth. Hawk Kawasaki's Craig Coxhell was next, from Rizla Suzuki sub Steve Plater, and with Harris getting back into P10. Both McConnell and Richards fell victim to the wet track, whilst Laverty lost ground in the points race with a lowly 13th.
Race two convened in very different conditions, with heavy rain pounding an already wet track. 'Rain master' Rutter took the lead as they went into the first turn, with Lavilla taking second from Hill at the Esses. Kiyonari, Harris, Rea, Hickman, Byrne, Haslam, Laverty, Richards, McConnell, Thomas, Coxhell, Plater and Michael Howarth followed through the spray. The early splashing saw Hill drop to eighth, with Haslam climbing to sixth after a bad start, ahead of Byrne. The first six began to pull away from the remainder.
Fourth placed Harris was on form, as he overtook team-mate Kiyonari and chased up to attack Lavilla. Soon enough he was through and onto the tail of Rutter. At around this time, fifth man Rea slid out at Tower when he lost the front while pushing Kiyo. Harris took the lead with the inside line exiting Hawthorn, leaving Rutter to the attentions of Lavilla. Meanwhile, Haslam was moving in on Kiyonari for fourth, which he took with a move on the inside for turn one, the right-handed Clervaux.
Harris, Haslam and sixth placed Byrne were the fast men now, as Karl rushed on into a good lead and the Ducati pair menaced Rutter. Gregorio went into second with the inside line coming out of Tower, and soon Leon was on the case. Haslam also made his move at Tower, braking on the inside of Rutter but then running wide. Michael was forced out onto the grass in the incident, as Haslam carried on, and was down to sixth as he got back on track.
At half-distance, Harris had around nine seconds in hand over Lavilla and Haslam, with Byrne now up behind Kiyonari, and then Laverty, Rutter, Hickman, Richards, Hill, Coxhell and Plater. Karl was doing a great job, and not under threat, but the positions would change further. Leon went past Gregorio on the inside for the Esses, going wide for the next right at Barcroft, but holding the position. He then sped away from the other Ducati, improving on the lap record to bring the lead down to six seconds.
With three laps remaining, Haslam was taking a second out of the lead on each circuit, and was now 3s away. Once more around and another fastest lap made it 2.6s, but then Harris was slightly delayed by backmarker Craig Sproston at the Complex for the penultimate time. Leon needed 1.4s on the last lap, and he was flying. With three corners to go, he was right with Karl. Immediately he went for the inside under brakes for the left into the Complex, and was ahead! A shocked Harris could do nothing to respond.
Lavilla finished in a clear third, with Byrne having taken fourth from Kiyonari, and Rutter recovering sixth from team-mate Laverty. 19-year-old rookie Hickman used the conditions for a best yet of eighth, from Richards and Coxhell. Hill had crashed out when twelfth, whereas Rea had rejoined to salvage three points.
Karl Harris had put in his best British Superbike ride so far, only to lose a very likely début victory to a determined and inspired Leon Haslam. The Ducati rider made it to the podium for the fifteenth time in the season, but his fifth victory overall was only his first of 2006. Gregorio Lavilla kept in touch with two third places, but Ryuichi Kiyonari's eighth win meant that he stayed just in the points lead. Like Harris, Jonathan Rea equalled his best result of second, but his race two crash dropped him away from Shane Byrne where he just held on to fifth position. Perhaps most unlucky was Michael Rutter, quite likely cost a podium visit when Haslam came through on him. But the racing had been enthralling. Will Cadwell Park provide the same drama?
Standings after eighteen races: Kiyonari 310; Haslam 307; Lavilla 292; Byrne 198; Rea 176; Harris 175; Laverty 139; Rutter 138; Hill 127; Richards 87; Coxhell 83; Smart 82.