Chris Walker's dramatic wet Superbike win at Assen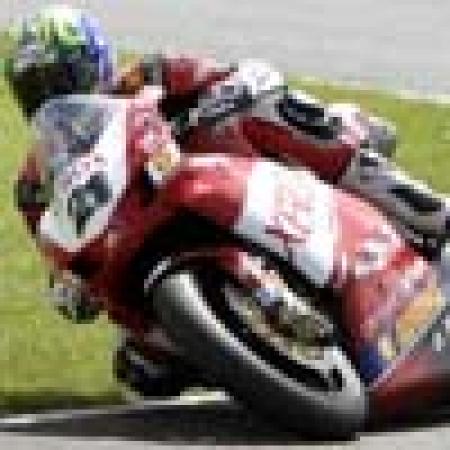 Raceline Photography
By blue2bikes
September 6 2006
The ninth round of the Corona Extra World Superbike Championship, taking place at the world renowned Assen Circuit in Holland, did not disappoint.
Over the qualifying period, Troy Bayliss (Ducati Xerox, pictured above) had dominated proceedings, but during the Superpole it was Troy Corser (Alstare Suzuki) who came out the winner and was to start from the number one position on the grid.
With no wet practice, it was to be a tactical, if not a brave ride by all who took part, as the rain fell come raceday. And the conditions worsened throughout the first race, causing visibility problems.
What was about to unfold during race one nobody could have written or foreseen, with the 'did not finish' group at the end of race looking like a who's who of the World Superbike Championship. In torrential rain it was the British rider Chris Walker, aboard his PSG-1 Kawasaki, who not only won the race but the hearts of all who watched the race unfold - as Chris picked off each rider in front of him in turn.

© Raceline Photography
As the crowded stadium watched Chris, they were shown the true grit of this likeable rider, and were on the edge of their seats every time Chris crossed start-finish line as the conditions worsened nigh on with every lap.
It didn't look as though Chris was even going to finish, with having to start from last position on the grid after pulling into the pits with a misfiring engine. As the race got underway, Chris was then punted off onto the grass at turn one, as another brit Craig Jones (Petronas) crashed out - the lead being taken up by Troy Bayliss, with Troy Corser and Yukio Kagayama (Suzuki) following in close contention.
Lap three saw Frankie Chili (Honda) fall as the weather conditions worsened, sliding off into the gravel. Lap four and it was Troy Corser who took the lead - but it was not to last as 'Nitro' Nori Haga (Yamaha) took the lead. Lap five and it was the turn of Kurtis Roberts (Ducati) to crash out, and Troy Bayliss to retake the lead. Lap six and then Troy Corser was to fall at turn two, leaving Troy Bayliss and Nitro Nori to fight for the lead.
The circuit was a mass of yellow flags as Rubén Xaus (Ducati) crashed on lap seven, with Troy Bayliss taking to the grass on lap eight and Yukio Kagayama crashing out whilst in third place. James Toseland (Honda) also had an excursion onto the grass, but was able to rejoin the race, meanwhile Chris Walker was making steady progress through the field as visibility became worse.
Nitro Nori Haga now held a six-second lead over Troy Bayliss in second place, with Michel Fabrizio (Honda) in third followed by Haga's team-mate Andrew Pitt in fourth. Sébastien Gimbert (Yamaha) fell on lap nine, with Troy Bayliss taking to the grass yet again only to recover and rejoin the circuit - then high-siding just a few corners later. Trying in vain to restart his machine but stalling the engine, his race was finished.
Lap eleven saw Karl Muggeridge (Honda) fall, but manage to restart. Lap twelve and Nitro Nori Haga fell, giving the lead role over to Michel Fabrizio, with Andrew Pitt in close contention and taking the top spot. Chris Walker now on the charge was closing in on the leaders, and overhauled Michel Fabrizio, then made his decisive move on lap 14, leading the race from there on in.
Not only was it a maiden victory for Chris, from 131 starts, but it was his first podium this year, and a first Kawasaki win in the World Superbike series since 2000. It was also Chris' first win since he rode in the British Superbike series during 2000.
Having ridden the race of his life looking like he was on rails, Chris said afterwards, "I asked my asked Rachel, my partner, to marry me this weekend, and she said yes which makes this a double celebration. Unfortunately she has had to attend an interview, and will not be able to celebrate my win with me. I suppose you can say what Craig Jones would call 'Living the Dream'. I had a misfire at the end of the warm up lap, so pulled into the pits and my pit crew told me just stay quiet and do what you do best as it is a long race. When I went off the track on the first corner I thought, this is going to be a long race, and I just watched my pit board and stayed out of trouble."
Not only taking his first win, but also Chris is the first rider to have won a World Superbike race from last position on the grid to first. Only fifteen riders finished out of the 28 starters:
1 Chris Walker
2 Andrew Pitt
3 Michel Fabrizio
4 Fonsi Nieto (Kawasaki)
5 Norick Abe (Yamaha)
6 Max Neukirchner (Suzuki)
7 Lorenzo Lanzi (Ducati)
8 Roberto Rolfo (Ducati)
9 Karl Muggeridge
10 James Toseland
11 Ivan Clementi (Ducati)
12 Steve Martin (Petronas)
13 Shin'ichi Nakatomi (Yamaha)
14 Harry van Beek (Suzuki)
15 Vittorio Iannuzzo (Suzuki)
DNF race one:
Joshua Brookes; Noriyuki Haga; Troy Bayliss; Yukio Kagayama; Sébastien Gimbert; Rubén Xaus; Troy Corser; Régis Laconi; Kurtis Roberts; Pier-Francesco Chili; Marco Borciani; Alex Barros; Craig Jones.
Race two: The drama was to continue, as Nitro Nori Haga collided with champion Troy Corser as the race got underway, damaging Troy's braking, with Corser Haga and Toseland falling on turn one. In the true gritty style that James has, he rejoined the race to finish in ninth position, so adding to his tally of points, taking him into second place in the championship standings.
Troy Bayliss went on to win race two, with over a nine second lead over second placed man Andrew Pitt, with Chris Walker making the wrong tyre choice and taking 14th place.
Top ten finishers:
1 Troy Bayliss
2 Andrew Pitt
3 Fonsi Nieto
4 Yukio Kagayama
5 Rubén Xaus
6 Lorenzo Lanzi
7 Alex Barros (Honda)
8 Régis Laconi (Kawasaki)
9 James Toseland
10 Michel Fabrizio
Championship points:
1 Bayliss 332; 2 Toseland 232; 3 Haga 230; 4 Pitt 197; 5 Corser 193; 6 Barros 175; 7 Kagayama 139; 8 Walker 123; 9 Lanzi 115; 10 Nieto 112
---
Visit the Raceline Photography site.