Rossi and Capirossi fight it out in Malaysian GP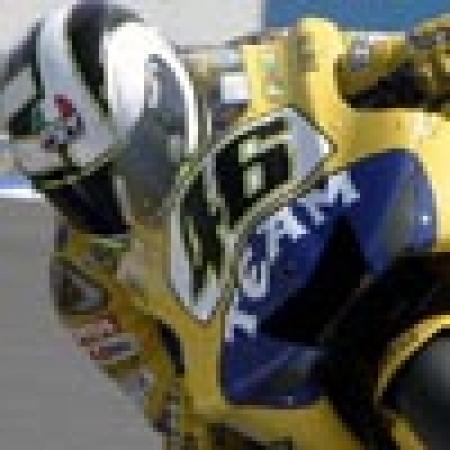 Raceline Photography
By Dan Moakes, blue2bikes
September 11 2006
Loris Capirossi and Ducati were convincing winners in the Czech Republic, whilst Honda's Nicky Hayden lost some of his points lead on a disappointing day. Would the Malaysian MotoGP at Sepang allow the 25-year-old American to fight back, or would it be Europe ahead again?
Round thirteen would see a fascinating and competitive series move on to the humid heat of the Circuit of Sepang, near Kuala Lumpur, and with Hayden looking to get back on top of the challenge from Rossi, Capirossi, and his Repsol Honda team-mate Dani Pedrosa. This year the intervening conditions, on qualifying day at least, were torrential rain storms. The session was therefore cancelled for safety reasons, but grid order for the race then became a controversial issue.
It was decided that the line-up should be determined by the best lap times recorded during the preceding free practice sessions, although past rules have normally called on the championship order. Some riders were not happy with this, because of course the practice periods are not so much about lap times as about bike set-up and tyre choice. With no advanced warning that they would need to go for quick times, those who'd opted to try out their qualifying tyres were better off than those who hadn't. Kawasaki's Shin'ya Nakano, on average the best qualifier of the season to date, was just one to lose out.
But the main World Championship contenders did alright out of the situation. Rossi was fastest, for Camel Yamaha, and would take his third pole position of 2006. Hayden was second, with Pedrosa fifth, and Capirossi completed row one in third for Marlboro Ducati. Kenny Roberts was on form again, with fourth on the sole KR-Honda, and row two was completed by the returning Sete Gibernau, now much closer to full fitness on the second works Ducati.
Randy de Puniet led Kawasaki's assault, in seventh, from John Hopkins (Suzuki), Marco Melandri (Fortuna Honda), Casey Stoner (LCR Honda), Colin Edwards (Camel Yamaha) and Nakano. Makoto Tamada, Toní Elías, Carlos Checa, Chris Vermeulen, Alex Hofmann, James Ellison and José Luís Cardoso completed the 19-man list of starters.
Dry conditions prevailed on race day, but there was no change of fortune for Pedrosa. The Spaniard had taken a big fall on Friday, and was still in quite a lot of pain with a knee injury. He planned to ride, of course. Similarly, Rizla Suzuki's Vermeulen was feeling unwell. But Pedrosa didn't show any weakness with his excellent start, which quickly took him past Capirossi to lead. Rossi, Gibernau and Hayden followed, but with the Yamaha man soon ahead of his Ducati rival and taking the lead from Pedrosa in the heavy braking zone for Langkawai Curve, the sharp right of turn four.
Rossi led Pedrosa, Capirossi, Hayden, Gibernau and Stoner, but with Fortuna Honda man Elías passing this last pair to complete an impressive and rapid rise from 14th to fifth. Melandri, Roberts, Edwards, Hopkins, Tamada, Vermeulen, Checa, Cardoso, Ellison and Hofmann followed on. The right-hander at Kenjir Lake Corner, or turn eleven, had seen a collision between Kawasaki team-mates de Puniet and Nakano. The 25-year-old Frenchman kept upright through the gravel trap, but Shin'ya was down and out on the spot, to complete a miserable weekend.
Gibernau re-passed Stoner on the way to an early fastest lap, but some big action was about to involve the other red Ducati. Capirossi overtook Pedrosa at turn fifteen, the left-handed hairpin linking the long Penang and Kuala Lumpur straights. And Loris soon got to grips with Rossi at the same place. He went to the inside on the brakes, but running late and sending himself onto a wider line. Valentino seemed to be back into the lead rounding the turn, but Capirossi fired out of the corner better, and passed onto the main straight. He then improved the lap record.
At this stage, the first four were getting away from the rest, with Pedrosa still leading Hayden. Stoner overtook Gibernau at turn two, a descending left-hand hairpin called Pangkor Laut, but a bigger gap was opening behind these two, who would stay close enough to make it a six-man group. The glory of Elías had been short lived, with team-mate Melandri now up to seventh. One-third distance saw Rossi on the attack, shadowed by Pedrosa. Hayden was starting to drop back a touch, although still just safe from the next pair.
Rossi took the lead from Capirossi at this stage, and started to pull away. But any thoughts of the game being over were banished when Loris shook off Pedrosa and closed in again with a new fastest lap at around half-distance. In a few laps it was the Ducati man's turn to attack, especially when Valentino got into a twitch on the brakes at turn fifteen. A strongly fought place-swapping duel followed at turns four, five and six - Langkawai and the sweeping left then tighter right of Genting Curve. Capirossi went wide twice under late braking, letting his rival in again each time.
More of the same excitement followed at turns one and two - the first a slow right loop going back into Pangkor Laut. Capirossi out-braked Rossi at first, with 'the Doctor' cutting back going out, and Loris similarly cutting back in for the second apex. With three laps to go there was the hint of a breathing space for Capirossi, but Rossi was back on the case at turn nine, a slow left hairpin with curving upward gradient on exit. Faster out of Kenjir Lake Corner, Valentino took over again on the inside for the left kink turn twelve.
But it was a similar story at turns one and two, which also put Capirossi in front again. They took the lead off one another at turns seven and eight, successive right-handers, the latter being KLIA Curve. And so Loris had moved into a 0.6s lead going into the final lap. But of course Rossi was still ready to respond, and had closed this down by turn seven. At turn nine he was on the inside on the brakes, and ahead again. Both riders braked late for the final turn fifteen, but Capirossi went particularly wide as a result, and the win was Rossi's.
The race will almost certainly go down as one of the best ever at the Sepang round of MotoGP, as Rossi and Capirossi had the crowds standing on their feet during the last three laps. Although the two Italians raced in close proximity, they held their respect for each other throughout, and both riders were beaming with delight at the entertaining race they had just taken part in.
The 'also-rans' had managed to get well spread out behind this titanic tussle, with the remarkable Pedrosa lasting the full distance for a clear third, with Hayden then Gibernau at similar distances back. Stoner and Melandri had lost out to a couple of chargers by the flag. Sixth man Hopkins had overcome the likes of Edwards and Elías to get there, with Roberts able to get the best of four full deal Honda machines on his independently built chassis.
Stoner finished eighth, from Melandri, Edwards, Vermeulen and Checa. Some decent speed had seen de Puniet recover from his early excursion to overhaul Cardoso (17th), Ellison (16th), Hofmann (15th) and Tamada. Meanwhile, Elías had been the second non-finisher, dropping the front end on the brakes at turn one when running ninth.
Taking his fifth win of the year, and with all his main rivals on just two, Valentino Rossi has matched the top class GP podium score of Giacomo Agostini. The Italian legend's 88 rostrum finishes were notched up from 1965 to 1977, and Rossi has matched him over the last seven years. But this day was about a pair of Italians, with the mutual respect of Rossi and Loris Capirossi, plus their daring combat on track, making for some breathtaking viewing. Dani Pedrosa had at least as good a ride with his injury in mind, which meant that Nicky Hayden dropped points to three of his main rivals - Marco Melandri falling down to fifth. The spectacle moves to Australia next.
Standings after thirteen races: Hayden 214; Pedrosa 192; Rossi 188; Capirossi 171; Melandri 168; Stoner 109; Roberts 101; Edwards 96; Hopkins 93; Nakano 75; Tamada and Gibernau 69; Vermeulen 66; Elías 64; Checa 58.
Honda 278; Yamaha 226; Ducati 174; Suzuki 111; Roberts-Proton 101; Kawasaki 86.