The WSBK champ will have to wait to be crowned!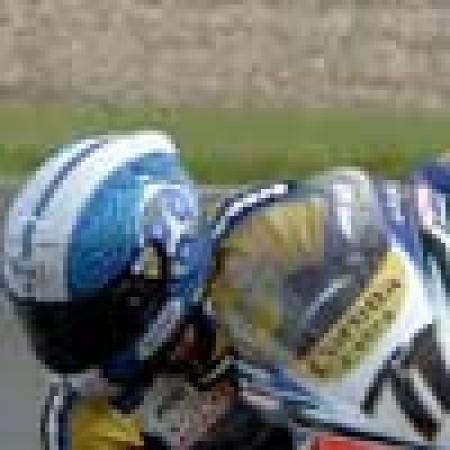 Raceline Photography
By Rob Every
September 12 2006
Troy Bayliss, the man destined to be 2006 Superbike World Champion, will have to wait until his team are on home ground in Italy before he can be crowned - a crash in race one left him sixth, with third in race two. Taking advantage were Yukio Kagayama and James Toseland who scored a win apiece.
Pole sitter and fastest man all weekend, Bayliss (Ducati Xerox) soon barged past holeshot winning Noriyuki Haga (Yamaha Italia) to lead and start pulling away in the first race at the Lausitzring in Germany. Soon to be former champion Troy Corser (Alstare Suzuki) and Haga tried in vain to keep with the Ducati ace, but Bayliss was too strong in the early stages - maybe even too strong anyway coz he binned it in the first tight chicane on lap five after setting record laps the previous two! Somehow the Ducati kept running (they always seem to!!) but Bayliss was way down the field as Haga, Corser and the ever present - since sorting the (Yamaha Italia) bike out - Andrew Pitt filled out the top three.
One man off form was James Toseland, the Brit making a last minute switch to a different tyre under advice from his team boss and really struggling to stay the pace. Hard luck for the former champions then, but one man on the move was Yukio Kagayama (pictured), the Alstare Suzuki ace was embroiled in a scrap out of the three for a few laps before getting his head down to catch the top three runners, he was the quickest man on the circuit.
Corser and Haga were having a good fight, passing each other a few times as Pitt gradually dropped away. The Aussie was soon to be passed by Yukio on lap 11, as further back Bayliss, suffering no ill effects form his crash, stormed through the field, a top ten looked a possibility!
Kagayama was now with Haga and Corser, he looked quicker and was playing a waiting game on this tricky passing circuit. Bayliss meanwhile was in the top ten but whilst with his team-mate Lanzi, he ran straight on again into a tight bend and rejoined the track for a second time. Also having a few excursions was Toseland, the Ten Kate Honda man off track three times as his grip level plummeted.
Up front then and Haga and Corser tried their hardest to keep Kagayama at bay, both suffering from grip problems. Yukio though was not to be denied, got past with a lap left and pulled away to win. Bayliss remarkably was waved past to sixth by his team-mate. He was beaten by a man that went off track twice at a track he dominated the year before!
Race two was a little less for the front runners but actually a closer race. The weather was warmer and the tyre choices easier for the riders, many taking a different choice to the first race.
Haga again led away, but Toseland was in no mood to mess around and passed him very quickly into the lap. They swopped around again on lap two, with James again getting the better of the Yamaha man as Corser and Laconi were harshly given jump start penalties that negated them from the race.
Recent form man Andrew Pitt was a victim of losing the front tyre early on aswell, the Yamaha man sliding off at the tight hairpin on to the back straight.
Kagayama again was battling through the pack to catch the lead bunch of Toseland, Haga and Bayliss. Troy looked really happy sitting in third, not taking any risks this time. Once into clean air Kagayama and a few laps later Alex Barros (Klaffi Honda) caught the lead group, as Toseland was running a very consistent pace but using his bike very cleverly to keep in front. Haga and Bayliss looked quicker but couldn't get through. Bayliss nipped past Nori as the threesome became a foursome as Yukio joined the fray.
Further back Lanzi was in a solitary race behind Karl Muggeridge (Ten Kate Honda), both men with a lot to prove and not really helping their causes here. It was not be Alex Barros' day either, the seven-times GP winner was going well and caught the slightly fading Kagayama with four laps left, but the Brazilian fell at the last turn as up front Bayliss very slightly slowed up to let Haga and Toseland battle for the win.
Into the penultimate lap and Nori nearly skittled the pair fo them off as he nearly lost the front into turn one. He did the same again on the last lap and that was enough for Toseland to get away enough. Haga tried again in the next big stop, running Toseland wide, but the Brit was not to be denied his second win.
Points:
1 Troy Bayliss 357; 2 Noriyuki Haga 270; 3 James Toseland 264; 4 Troy Corser 211; 5 Andrew Pitt 210; 6 Alex Barros 186; 7 Yukio Kagayama 177; 8 Chris Walker 134; 9 Lorenzo Lanzi 133; 10 Fonsi Nieto 127.