Ryuichi Kiyonari's BSB double at Silverstone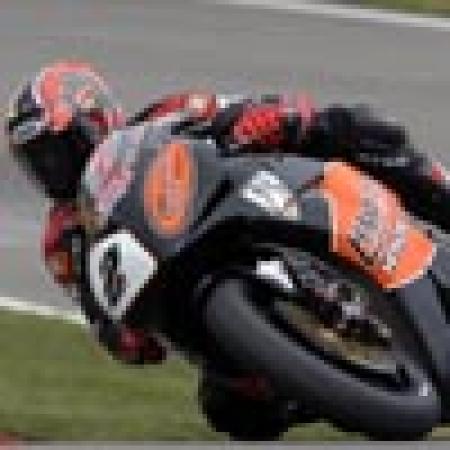 Raceline Photogrpahy
By Dan Moakes
September 19 2006
Leon Haslam led the Bennetts British Superbike Championship for the first time after Cadwell Park, and Ryuichi Kiyonari's race two exit. Leon headed Airwaves Ducati team-mate Gregorio Lavilla by fifteen points, with 'Kiyo' down to third for HM Plant Honda. How would Silverstone treat the trio?
Round twelve took place on the International circuit at Silverstone, as used earlier in the season for the World Championship. This being the penultimate meeting of the series, it was inevitable that stories about next year's rider line-up were emerging. It seems that neither Michael Rutter (now with Stobart Honda) and Karl Harris (HM Plant) are being retained for 2007. Kiyonari is to stay on for a fourth year in Britain, with Red Bull rider Jonathan Rea possibly joining him in the HRC camp. Tommy Hill will stay at Virgin Yamaha, but Lavilla is thought likely as a WSBK returnee.
This event was marked by GSE Racing with a different livery on the Airwaves Ducatis, this time the Black Mint brand. Their title contending riders gave good exposure by securing the top two positions in qualifying, with Lavilla taking his fourth pole of the year, and Haslam keeping up a great record just behind him. Kiyonari was next up, despite a hand injury from a spill in practice. Rea was fourth, perhaps next to his future team-mate.

© Raceline Photography
Harris lined up sixth, behind Hill and ahead of Rutter. Completing the second row was the first of the Rizla Suzukis, piloted by Shane Byrne. James Haydon was back as his partner, having missed the last four meetings through injury, and his GSX-R1000 would start tenth. Michael Laverty took ninth for Stobart, and behind Haydon came Peter Hickman, Billy McConnell, Ben Wilson, Craig Coxhell, Dean Thomas and Simon Andrews.
Rea's Honda carried number 55 stickers in tribute to road racer Darran Lindsay, who had lost his life the previous week. And Chris Martin was back to try and wrap up the privateer Superbike Cup trophy, now running his brother Ashley's number 26 on the PR Branson Honda.
Race one saw Kiyonari get the lead off the line, but Haslam took over on the inside at Abbey, a heavy braking right hairpin at the end of the back straight. Rea was third, from Rutter, and with fifth man Harris about to lose out to Lavilla and Hill. Laverty, Byrne, Wilson, Haydon, Thomas, Glen Richards, Andrews and Coxhell followed. Lavilla's title chances were not helped by running 'only' fifth, and then a big twitch through Ireland, a left kink onto the back straight, let Hill push him back one more place.
Haslam set a fastest lap out front, as he and Kiyonari pulled clear of the pack, but Lavilla did not want to be left out. The Spaniard re-took Hill, then gained fourth from Rutter when the Honda man ran wide at Abbey. If Haslam threatened to take off on his own, Kiyo was equal to the challenge. A new fastest lap kept him on Leon's tail as the gap behind reached three seconds. Meanwhile, Gregorio was attacking Rea's third place, and would end up with the verdict. But the gap to the leaders was almost six seconds when he got through.
However, the position was about to change considerably. Pushing the front into Priory, a left-hander after the dive down through Bridge, Haslam's rear slid out and he ended in the gravel. Unable to continue, the incident put a big dent in his points situation. This left Kiyonari with a safe lead, and he was not challenged again. With a lap remaining he was up to ten seconds clear and he duly took the victory, his ninth of 2006.
Lavilla therefore found himself running second, but would have Rea closing in again. Meanwhile, Harris had passed Hill and got back behind Rutter. Having overtaken at Abbey, Karl tagged on to Rea as they both challenged Lavilla. Jonathan went through on the inside at Priory, but in running wide let Gregorio have the line into the next turn, at Brooklands. The Ducati rider had enough incentive to leave this battle behind, which he did as Rea and Harris raced it out.
At one stage, Harris braked very late for Abbey and had to move wide not to hit Rea. Then the last lap saw all the action. The same corner gave Karl a chance as Jonathan went out wide, letting his rival attack the inside. He would get ahead on the inside for the left of Brooklands, but with Rea trying to take the place back as they switched right for the looping Luffield. He was almost thrown off the Honda in the attempt, which settled the issue in Harris' favour.
Rutter was fifth, and Hill sixth, but two of their likely challengers had gone out early on. Byrne had clipped the back of Laverty at the final tight left-right Woodcote chicane, with both riders crashing. Not far behind at the time had been Haydon, following Wilson, but the second Suzuki would also not finish, James having a clutch problem. Wilson took a best yet of seventh, heading Thomas (Hawk Kawasaki), Richards (Hydrex Honda) and Hickman (also Hawk).
Haslam took to race two on his second Ducati 999, and he led the field away followed by Kiyonari and Rea. Byrne took fourth from Lavilla on the inside at Becketts, the right-hander that takes them onto the cross country back straight. Rutter, Hill and Harris were next. Lavilla didn't want to miss out on the lead battle again, and he re-gained the place along that straight, then attacking Rea at Abbey. Meanwhile, Hill was soon past both Rutter and Byrne.
Kiyonari had a go at Haslam at Luffield, and once again these two were already leaving the rest. But this time Lavilla took less time to get third away from Rea, and he could close in on his two title rivals. Kiyo was into the lead again with a move at Woodcote, turning on the inside of Haslam for the left-handed first part. The Honda rider then started to ease out a leading margin, while the Ducati pair got to grips with one another.
Lavilla had to avoid Haslam when braking late at Abbey, but managed it, and soon he was able to replicate Kiyo's move at the chicane. Once ahead, Gregorio caught up to Ryuichi, but was never quite close enough to try a pass. The Japanese rider ended the threat by once again pulling out a lead, which was three seconds and more in the late stages as he made it a double win. Lavilla took a clear second, to stay ahead of Kiyo on points, and with Haslam similarly unchallenged after half-distance.
Hill's chances of fourth had ended much earlier, in a collision with Rea at Woodcote. The Red Bull man had kept going, with Byrne in pursuit, Harris and Rutter near at hand. Shane made a good pass, getting on the inside as they came out of Luffield, and turning in first for the chicane. But Jonathan was always with him thereafter, getting back ahead at Becketts. Byrne went in too hot at Abbey when he tried for the place again, but on the final lap made it work as he found the inside for the first chicane apex.
Harris had stayed with the pair longest, until he saved a near crash when he came out of the seat. He finished sixth, with Rutter back in seventh. Thomas, Haydon and Wilson were next, with Laverty unable to better eleventh and so dropping to ninth in the points with his earlier no-score. Richards, McConnell, Coxhell and Hickman were the other scorers; and meanwhile Martin was an emotional winner of this year's Cup title.
Following the cancellation of the races at Mondello Park, the forthcoming Brands Hatch finale is worth double the points usually on offer. And the position is finely balanced, with Gregorio Lavilla now just one ahead of Ryuichi Kiyonari. Leon Haslam's first race crash was costly, but still he sits only nine behind his team-mate. If one of them can take both victories at Brands it will seal the championship, but this also means that it will go down to the very last race.
Standings after twenty-two races: Lavilla 377; Kiyonari 376; Haslam 368; Byrne 224; Harris 218; Rea 216; Hill 161; Rutter 158; Laverty 157; Richards 115; Thomas 101; Coxhell 94.
---
Visit the Raceline Photography website.