Capirossi wins Japanese MotoGP, Rossi is second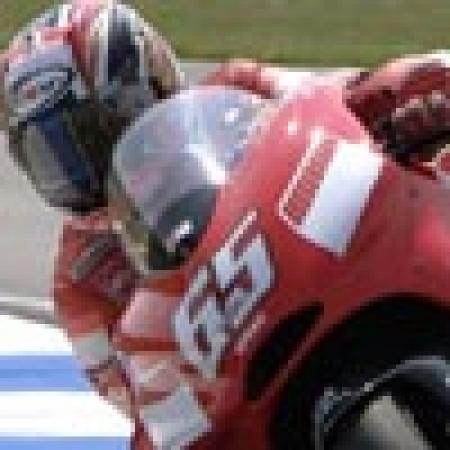 Raceline Photography
By Dan Moakes
September 24 2006
History had been made at the Australian MotoGP, but the championship race was still the main concern this weekend. Valentino Rossi still had 21 points to make up on Nicky Hayden, but the Motegi race in Japan had been scene of a Loris Capirossi and Ducati win in 2005.
There were still three rounds to go in the 2006 series, with Hayden, Rossi, Dani Pedrosa, Marco Melandri and Capirossi all still possible victors. Repsol Honda's Hayden was still in the driving seat, but would need to perform better than in his last three races, with his nine podium visits all coming before that. However, Honda have not had a World Champion in the saddle since Rossi opted to leave for Yamaha at the end of 2003, and they now have a chance for next year, with the announcement of a two-year contract renewal for Nicky.
But there was still the small obstacle of Rossi and the Camel Yamaha, with the Italian rider having scored 61 points to Hayden's 31 since Laguna Seca. The prevailing momentum was bringing the two men closer together, and Motegi could well allow Valentino to get in range for a five-year clean sweep of the 990cc MotoGP era, which ends this season. But Rossi's only real mistake of 2005 came here in Japan, when he crashed into Melandri and broke his own podium run.
There was also the spectre of controvery following on from the Phillip Island. It seems that Hayden, and others, had witnessed a pass by Rossi on Casey Stoner through a yellow flag zone. This was at the Honda hairpin, in the wake of Carlos Checa's crash, and of course is forbidden. However, no penalty had been administered, but the rules for such a situation were gaining added scrutiny.
Qualifying saw a repeat of last year, with Capirossi and the Bridgestone-shod Marlboro Ducati taking pole position. It was only Loris' second of this year, but the 41st of his GP career. He was joined on the first row of the grid by two of his main rivals, compatriots Rossi and Melandri. Last week's winner was just three spots ahead of Fortuna Honda team-mate Toní Elías, only among the top six for the fourth time this year. Sete Gibernau had the second Ducati in fifth, with Shin'ya Nakano fourth for Kawasaki in his home event.
Hayden was therefore third of the Honda riders in seventh, with team-mate Pedrosa on the opposite end of row three. They were split by Randy de Puniet, on the second Kawasaki, and on this occasion a third green machine went to former Yamaha 250 man Naoki Matsudo, 16th. There was another local wildcard, Kousuke Akiyoshi making his GP début for Suzuki, in 12th behind Colin Edwards and Stoner. This made him first of the GSV-R trio, a place ahead of John Hopkins, with Chris Vermeulen in P15.
Kenny Roberts would start from his worst position since round five, this time 14th; and behind Vermeulen and Matsudo were Checa, Makoto Tamada, James Ellison, Alex Hofmann, and José Luís Cardoso. For Tamada, 18th position represented his worst qualification at home since his one and only 250 GP at Suzuka in 1998; and he had been top four at all his Motegi starts in MotoGP.
In hot conditions, quite possibly to the advantage of anyone on Bridgestone tyres, Capirossi made his usual good start to lead away. Melandri was second, ahead of Gibernau, Rossi, Nakano, Stoner, Elías, de Puniet, Hayden, Roberts, Tamada and Edwards. Hayden made an early pass to take eighth, but it was further forward where the lap one action caught the eye. Capirossi had to fight off the determined attentions of Melandri, but did so, whilst Rossi overtook Gibernau for third. Stoner got by Nakano at the '90' corner, a right-hander at the end of the fast, downhill back straight.
Indeed, Casey had soon got from his start position of 11th into fourth, passing Gibernau at the acute right-handed turn five, setting fastest lap to close in on Rossi. Meanwhile, as the first six started to pull away from the rest, back marker Cardoso crashed out. And before long Hopkins took a trip through the gravel trap at turn five.
Capirossi improved the lap record up front, but Melandri went with him and Rossi was also in touch. With eight laps gone, or one-third race distance, this trio had a 2.3s advantage over the group with Stoner, Gibernau and Nakano, who had 1.3s to the rest. Loris started to ease a margin over Marco, only for the Honda man to respond and close this again, as Valentino lost some ground. But Melandri made a mistake at turn five, running wide. He got back up to speed just ahead of Rossi and was soon over a second behind the leader.
By this stage, Stoner's pace had started to diminish. Gibernau and Nakano had successively overtaken, with Hayden also joining the party. Following Melandri's mistake, Sete was in a clear fourth, but almost four seconds behind his Italian rivals. At half-distance, Hayden and Elías had also passed Stoner, and he would then crash out when the front went down on him in a left-hander. A crash had also accounted for de Puniet, with Matsudo having gone out even earlier.
Capirossi had 1.8s in hand, but Rossi was now pushing Melandri. Not wanting to be left behind, 'the Doctor' pulled off a good move coming out of the fast 130R right-hand curve, and braking on the inside for the next left of the Esses section. Now the lead margin went back to 1.5s, and to 1.16s with a new Rossi fastest lap at two-thirds distance. But Loris, with a harder compound front Bridgestone to the hard rear Michelin of Valentino, was able to respond.
Capirossi's lead went progressively from 1.2s to 1.35s, 1.4s, and was at 2.3s with five laps to go. He deservedly claimed his third win of the season by over four seconds, this being the first time he'd taken as many victories since his last 250 season in 1999. Rossi could not beat his countryman on the day, but had certainly got clear of Melandri to claim twenty vital points. The late stages had seen a battle for fourth, with Nakano clearing Hayden to home in on Gibernau. But his effort came to grief on the final lap, clipping the rear of the Ducati as he tried on the inside at 90 and crashing into the gravel. Sete held the position to the flag.
Hayden therefore inherited fifth, and took home eleven points instead of ten, with Elías following his practice form to get sixth. Pedrosa had dealt with Tamada, Edwards and Roberts to take seventh, with Colin, then Kenny, then Makoto the next finishers. Behind came the trio of Suzukis, with Vermeulen, Hopkins then Akiyoshi, and Checa, Ellison, Hofmann the last men home. All three of the Kawasakis were among the five non-finishers.
As in the Czech Republic, Loris Capirossi was undisputed 'man of the match'; and both he and third man Marco Melandri therefore overtook Dani Pedrosa in the points race. But yet another podium placing for Valentino Rossi meant a further narrowing of the margin to leader Nicky Hayden. The 25-year-old Honda rider is now just twelve ahead. All five riders are still in it, but the realistic money has to be on the first two. Hayden can seal it by finishing second twice to Rossi, but the other guys will be right in there and so he still has cause for anxiety. The final two European races will obviously be vital.
Standings after fifteen races: Hayden 236; Rossi 224; Melandri 209; Capirossi 205; Pedrosa 202; Stoner 119; Roberts 110; Edwards 104; Hopkins 101; Gibernau 95; Vermeulen 91; Nakano 83; Tamada and Elías 81; Checa 60.
Honda 319; Yamaha 262; Ducati 212; Suzuki 136; Roberts-Proton 110; Kawasaki 94.