Ryuichi Kiyonari wins 2006 British Superbike title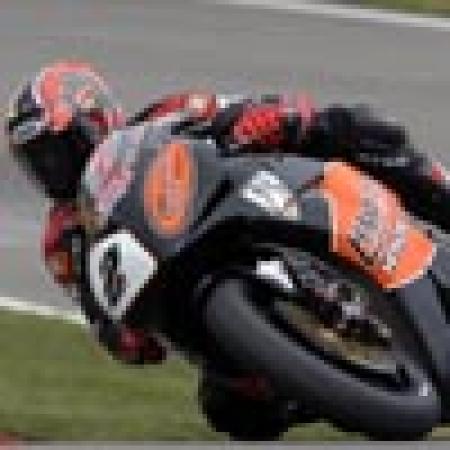 Raceline Photography
By Dan Moakes
October 1 2006
The vital race weekend was upon us, with the 2006 British Superbike title to be decided in the final round at Brands Hatch. Three riders were still in the hunt and, with double the points being on offer, the permutations were many. But two wins for any one of them would do the trick.
For Airwaves Ducati, reigning champion Gregorio Lavilla had 377. HM Plant Honda's Ryuichi Kiyonari was right with him on 376, and Leon Haslam was on 368 with the other Airwaves-backed machine - although with the 999s again in Black Mint livery. The usual 25-20-16-13 scoring system was converted to 50-40-32-26, and so on, as a one-off to make up for the cancelled races at Mondello Park in Ireland, making victories for the challengers more important. Equally, anyone lagging down the championship table had a golden opportunity to leap up in the final rankings.
Round thirteen made use of the full Grand Prix circuit at Brands Hatch, with the fast back section in among the trees. But the other challenge would be the weather, which made its first intervention during the qualifying session. Late rain spoiled the chances of Kiyonari or Lavilla improving to challenge Haslam, who duly recorded his fifth pole position of the season - and won the prize of an Audi road car for his form as the best qualifier all year. His two rivals would start from the second row of the grid, Kiyonari fifth and Lavilla sixth.
Leon did have two Honda challengers on row one with him, behind the second placed Rizla Suzuki of Shane Byrne. These were the Stobart machine of Michael Rutter, and Red Bull Honda's Jonathan Rea. Rutter's third was his best effort of the season, with Byrne also matching his best. And row two was completed by Shane's team-mate James Haydon, and the other HM Plant Honda of Karl Harris.
Ninth went to Ben Wilson, with the Vivaldi Suzuki, from Glen Richards (Hydrex Honda), Tommy Hill (Virgin Yamaha) and Jon Kirkham (Stellare Suzuki). Dean Thomas led row four, having swapped from Hawk Kawasaki to Hydrex Honda, and he led Billy McConnell (Virgin Yamaha), Craig Coxhell (Hawk) and Michael Laverty (Stobart Honda). From this group, Wilson was the one recording his best performance to date.
Race day threw up some dramatic developments, but not all of these involved the action on the track. Race one began with Byrne taking the lead, pursued by Haslam and Kiyonari. Leon had already taken over in front when rain arrived, and the race was stopped with him leading 'Kiyo' and 'Shakey'. But the back-dated position, from the lap before, meant that Byrne would restart from pole in the second part of the race.
The next attempt would involve a damp but trying track surface, and again it was Byrne away in the lead, but this time he would lose out to both Haslam and Kiyonari at Surtees, the uphill left-hander onto the back straight. Kiyo was looking to attack Leon as they braked for Hawthorn Bend, at the top of the Hill, but Lavilla was in trouble behind. Having to avoid Byrne, the Spaniard was hit by Harris and soon found out that his brake lever had broken as he slid off at high speed at the corner.
Lavilla's race was over, and his title defence effectively went with it, especially with his two rivals leading the field. The treacherous conditions also accounted for Laverty, another crasher; and soon Harris would end up in the gravel at the Druids hairpin, as he ran on when on the outside of third man Byrne for that looping right-hander. Haslam seemed to be building a lead initially, but Kiyonari was able to reel him in, leaving Byrne and Rutter in a race for third.
Kiyo passed Haslam down the hill from Druids, at the Graham Hill Bend left-hander, but now the rain was coming again. Leon regained the lead in one of the right-handers at the back of the circuit, and looked to be pulling away again. But as the rain increased, Ryuichi was able to go with him. As the rain pounded down and the sun shone, the Honda man re-took the lead with a move at Hawthorn.
Meanwhile, Rutter had passed Byrne in the driest part of the race, but the Suzuki was ahead again in the wet. Exiting the downhill dive from right-handed first turn, Paddock Hill Bend, Shane's rear wheel slid onto the slippery white line at the edge of the track. He was pitched into an instant crash up Hailwood Hill, coming to rest unconscious. The red flag was the only response, and the race was stopped. Shane was later returned from his medical assessment with nothing worse than concussion, but would not start the second race.
Kiyonari therefore won the race, with Haslam second. But the unexpected early finish meant that Leon's plan to really go for victory in the final laps went unexecuted. Kiyo led with 426 points to 408, and Lavilla now 49 behind the Japanese rider. There are never any guarantees until the final flag, but Ryuichi was in a very strong position - he now needed only to finish the last race in third, whatever Haslam did.
Rutter was third in race one, thereby matching his best result from the opener at Brands as the season got started. Hill was fourth, and the conditions also helped Richards to his best result of the season in fifth. Scott Smart was back with sixth for Vivaldi Racing, ahead of team-mate Wilson. Rea and Coxhell joined the non-scoring list.
Brands Hatch was hit by a hail storm in between the two Superbike races, with the second therefore declared a wet race. Heavy rain was breaking out again at the start, and all the main players opted for the appropriate full wet tyres. Rea led away, from Haslam, but with Kiyonari making up both positions into Druids for the first time, on the inside line. Haslam also passed Rea in the shuffle, and Harris was fourth. This made it three Hondas versus the one Ducati, especially as Lavilla was the first retirement with a broken gearbox.
Kiyo and Haslam were pulling away in no time, with Rea and Harris a little clear of Hill, and then Rutter, Laverty, Richards, Haydon, McConnell, Wilson and the rest. Leon set a fastest lap early on, and meanwhile Harris overtook Rea at Surtees, after which the Red Bull rider started to lose ground. Karl stayed roughly in touch as Jonathan drifted out of range.
The rain stopped, but the track remained wet. Kiyo ran wide at Graham Hill, allowing Haslam to pass, and then the three leaders began to get spaced out, with Leon pulling away at a faster rate than Kiyo on Karl. The surface began to dry out a touch, and the Ducati was over five seconds clear at half-distance. From here he was never challenged, and this went out to 9s and beyond.
Kiyo's place was always going to be safe with his team-mate following, and indeed it was now Harris that lost ground as Rea was able to move in again. The 19-year-old was soon to get ahead of his HM Plant colleague, and make certain of third place. Richards had dropped away from his earlier eighth position, as Rutter had from sixth, and now Laverty had got fifth away from Hill, with Haydon, Rutter and Richards next.
However, for the third time there now followed a premature stoppage. Hill had crashed on the Cooper Straight, between Graham Hill and Surtees, and the race was red-flagged. No Superbike rider had got to race past the chequered flag all day, and it meant the season, and the title itself, came to an end in slightly anti-climatic circumstances. Haslam won the race, as he'd promised he would, but Kiyonari was second, and the new champion by eight points.
Rea made his fourth podium visit with third in the race, from Harris, then Laverty and Haydon. Rookie rider McConnell made his way up to take seventh, having threatened a good wet weather result all year, and then came Rutter, Richards, Wilson, Peter Hickman, Ollie Bridewell, and Thomas. Hill's demise was unfortunate, as he'd been strong all day.
It was a terrible way for Gregorio Lavilla's reign as champion to end, having led the series coming in and then exiting both races through no fault of his own. And it wasn't ideal for the two races to have ended the way they did, possibly denying Leon Haslam the chance of a double that would have given him the championship crown. But Leon admitted that it wasn't just the Brands Hatch meeting that decided the title race, and he remembered the two crashes he'd had as he congratulated the new champion.
For Ryuichi Kiyonari has won 23 races in two years, which is impressive in anyone's book, and beats next man Lavilla by eight across the same period. Kiyo has finally been rewarded for three years of effort with HRC in Britain, and no little pressure at times, as the works team secured their first Superbike title in the UK - and the first for Honda since the five-race Supercup series of 1989. With 39 rostrum results in three years, Kiyonari is a deserving champion.
Elsewhere, fortunes deserted Shane 'Shakey' Byrne. He was again going very well until the crash in race one, and a double blank at a double points meeting meant that he slipped from fourth to sixth position, even with just one result on the board each for Jonathan Rea and Karl Harris. For Michael Rutter, the double points allowed a move up to seventh, ahead of Tommy Hill, but it was in fact the 34-year-old rider's worst overall result in six years.
Final standings, after twenty-four races:
1 Ryuichi Kiyonari, Honda · 466
2 Leon Haslam, Ducati · 458
3 Gregorio Lavilla, Ducati · 377
4 Jonathan Rea, Honda · 248
5 Karl Harris, Honda · 244
6 Shane Byrne, Suzuki · 224
7 Michael Rutter, Honda · 206
8 Tommy Hill, Yamaha · 187
9 Michael Laverty, Honda · 179
10 Glen Richards, Honda · 151
11 Dean Thomas, Kawasaki/Honda · 117
12 Ben Wilson, Suzuki · 113
A review of the season will follow in due course.
In the meantime, news for 2007: Honda Racing UK are reportedly going to run four full works bikes next year. Kiyonari will apparently defend his title, with Rea likely as his new HM Plant team-mate. Harris may yet stay on a FireBlade, and the fourth man could turn out to be 20-year-old Supersport rider Leon Camier. Laverty joins Rutter in having been dropped by Paul Bird's Stobart Honda team, and some other good rides may open up if Lavilla does indeed return to World Superbikes, and with Haslam reported as a possible for a MotoGP ride.