Bayliss wins, Rossi falls, and Hayden is GP champ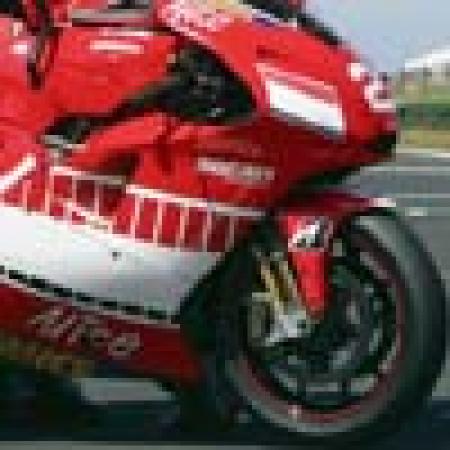 © Getty Images
By Dan Moakes
October 29 2006
In the top class of motorcycle Grand Prix racing, Yamaha's reigning champion had been closing down the points advantage of his main Honda-mounted rival - a man without a world title to his name as yet. Both men had experienced changing fortunes in a dramatic season. It made for a good spectacle.
That may sound familiar to MotoGP viewers in 2006, but equally applies to the contest between Wayne Rainey and Mick Doohan in 1992. Yamaha's Rainey clawed back the advantage from injured Doohan on that occasion, and the 500cc title was to be decided at the final race. This year's 990cc championship race represented the first time that there would be another 'down to the wire' finish since, with Valentino Rossi (Camel Yamaha) just eight points clear of Nicky Hayden (Repsol Honda) as they arrived for the GP of Valencia.
Rossi's position came in the aftermath of Hayden's early retirement at Estoril, Portugal, as the result of a serious misjudgement from team-mate Dani Pedrosa. And this clash of Hondas meant that the Italian had successfully closed down a deficit that had been at 51 points with six races left to run. If Valentino went on to win it, this would go down as perhaps the best recovery in GP history. Either way, it made for the closest title race in a long time.
The signs were good for Rossi when he qualified in pole position, for the fourth time in six attempts. Hayden maintained his good form with a second row grid placing, but this saw him four slots adrift of his rival. Nicky had to beat Valentino in the race of course, but being just one place ahead would be no good, so he had to rely on the intervention of others. Apart from his colleagues among the Honda RC211V ranks, likely candidates would seem to be the on-form Ducati works pair. The red bikes joined Rossi on row one.
But Sete Gibernau, injured in Casey Stoner's crash in Portugal, was missing his fourth GP of the year. In his place was the team's 2003-04 rider, and the Ducati-mounted Superbike World Champion - Troy Bayliss. At a circuit where he had taken a double SBK victory in April, the Australian matched his best GP qualifying to date with second. Team-mate Loris Capirossi was third, and before Hayden was the lead Kawasaki of Shin'ya Nakano. The Hondas of Pedrosa and Stoner were next.
Row three was completed by the two Rizla-backed Suzuki GSV-R bikes, with Chris Vermeulen in front of John Hopkins. Rossi's most likely helper, should he need one, would be tenth-placed team-mate Colin Edwards. The remaining Hondas followed on - Marco Melandri, Toní Elías (both Fortuna/Gresini), Kenny Roberts (Team KR) and Makoto Tamada (JiR). Carlos Checa, Alex Hofmann, José Luís Cardoso and James Ellison headed up 800cc Ilmor rider Garry McCoy.
The race start saw Bayliss and Capirossi lead away for Ducati, with Rossi dropping a few places and even getting a touch from Hayden as they approached the turn one braking zone. Honda had places three to five, with Pedrosa, Stoner and Hayden. Rossi then headed Melandri and Nakano, but early place gainers were Pedrosa (second) and Melandri (sixth). Bayliss was already easing away as the early shuffle saw both Hayden and Melandri pass Stoner, with Nicky quickly ahead of Capirossi, too, to run third behind his team-mate.
Not wanting to cause more heartache for Hayden, Pedrosa left room for the Kentucky rider to pass at the tight left-hander of turn two. Melandri also overtook the Spaniard at this stage, as both Bayliss and Hayden built cushions over the nearest man behind. Rossi was still well and truly part of the group racing round for third - with Melandri, Pedrosa, Capirossi and Stoner ahead of him, and Vermeulen looking threatening behind. Indeed, Rossi seemed to be riding in a more hesitant mode than usual, in the wake of a subdued warm-up session - during which he tried out apparently slower Michelin tyres in less warm conditions.
The big moment of the race was about to shock everybody. Riding in seventh place, Rossi's Yamaha slid down and around on the lowside, ending up in the gravel trap on the outside of turn two. His M1 was still running, and so 'the Doctor' got it back onto the track to continue. He was now in 20th and last place, though, and would need to get back up into the top six to defeat Hayden. Could he do it?
By now, Hayden had closed on leader Bayliss, whilst Capirossi set a new fastest lap as he sought to be involved in the fight ahead. Loris passed Melandri at the left-handed turn one, and was soon in attacking mode behind Nicky. Honda riders Pedrosa and Stoner made it a five man race for second, as Bayliss moved clear again. Capirossi converted to a Ducati one-two with a move on Hayden at turn two, and the gaps between the first three, and to the rest, started to grow now. At one-third distance, Vermeulen had dropped away from the leaders, being followed by Nakano, Hopkins, Edwards, Elías, Roberts, Tamada, Checa, Cardoso and then Rossi. Already crashed out were de Puniet and Hofmann.
The main battle was now between the Honda riders contesting fourth. Pedrosa passed Melandri for the position, but took himself very wide in the move, and also lost out to Stoner. With Cardoso stopping, Rossi was up to 15th, and another place gain came with Vermeulen crashing in the gravel at the final turn 14. Approaching half-distance, Valentino was 27s in arrears of his rival Hayden, and the third-placed Honda man was not under threat from behind. The points position now had Hayden ahead by six.
Things did not seem right with Rossi or his Yamaha, though, and he was not achieving the pace that might move him up the order in good time. At two-thirds distance, eyes were mostly on second man Capirossi and his shadow Hayden. With pit boards keeping him apprised of the situation, Nicky seemed happy to ease his pace in the later stages, and Rossi was not making headway as he looked to get on terms with Tamada and Checa. In fact, Valentino now started to fade.
Capirossi got closer to leader Bayliss at this stage, and with the Ducati team keeping track of Melandri's progress. The two Italians were in opposition for the final third place overall, and Loris' employers may well have had team orders in reserve, if necessary. However, Pedrosa took two points from Marco with a pass at turn two, and the 21-year-old Spaniard then proceeded to up the pace and move clear. Stoner took another place from Melandri, but the final fifth place was decided when Casey crashed out yet again.
Capirossi was now safe, so Bayliss sped up again on the final lap and took his first GP win in his 45th race. It was an impressive performance in his one and only MotoGP appearance of the season, especially as he had not raced the Desmosedici since the end of 2004, and never with Bridgestone tyres. Capirossi was a comfortable second, to secure his position from Melandri by one point. A jubilant Hayden was third home, completing an amazing turnaround after the low of two weeks earlier. His success meant that Rossi failed to take every single 990cc MotoGP title.
Behind Pedrosa and Melandri came the fourth Honda of Elías. His ride didn't match the winning form from Estoril, but still Toní had moved through convincingly from outside the top ten. On the way, he'd passed Edwards, Hopkins and Nakano, and then he lost out again to the Japanese rider and to Roberts, before getting through again and closing in to his team-mate.
Hopkins had faded from an early ninth, so that he ended up behind Roberts, Edwards and Checa. Tamada was the last Honda finisher in twelfth, with Rossi still a place behind him at the flag. Ellison survived for P14, whilst McCoy made it to the end - after a long stop to change his rear tyre - and so the Ilmor recorded its second point in its second outing. Stoner, Vermeulen, Cardoso, Hofmann and de Puniet were, of course, the non-finishers.
Having made a phenomenally successful 2006 return to Superbikes, 37-year-old Troy Bayliss, the oldest man in the field, had added a first GP win with a start-to-finish run up front. But the story was all about Valentino Rossi's failure, and therefore Nicky Hayden's almost surprising last gasp victory in the MotoGP World Championship. Rossi – who was gracious in his handshake with Hayden on the slow down lap - had still won more races that anyone else and, in truth, the loss of his title was more about earlier technical failures. But a run of good results in the early races had put Hayden in the best position for most of the way.
After five seasons, the 990cc four-stroke MotoGP era ended with a works Honda rider taking the top honours - as had been the case at the start. From 82 races, 45 had been won by Valentino Rossi, and the next highest total was the eight of Sete Gibernau. Troy Bayliss became the twelfth and last man to win on one of these machines, and he took Ducati's tally to seven. Only Honda (48) and Yamaha (27) had also taken victory. Next year it will be the 800cc bikes taking over, and the shape of things to come has yet to be determined.
Final standings, after seventeen races:
1 Nicky Hayden, Honda · 252
2 Valentino Rossi, Yamaha · 247
3 Loris Capirossi, Ducati · 229
4 Marco Melandri, Honda · 228
5 Dani Pedrosa, Honda · 215
6 Kenny Roberts, KR-Honda · 134
7 Colin Edwards, Yamaha · 124
8 Casey Stoner, Honda · 119
9 John Hopkins, Suzuki · 116
= Toní Elías, Honda · 116
11 Chris Vermeulen, Suzuki · 98
12 Makoto Tamada, Honda · 96
A review of the season will follow in due course.
In the meantime, news for 2007: Alex Barros, with his twenty years of GP experience, will return from World Superbikes. The 36-year-old Brazilian joins the Pramac d'Antín team for his 17th season in the top class. Stoner apparently replaces Gibernau at Ducati, although they might want to think twice about letting go of Bayliss after today. Checa moves to the LCR team, and Olivier Jacque will return for Kawasaki, as Nakano exits to the Konica Minolta set-up. Tamada therefore finds himself headed to Tech 3.