WSBK: The champ is back, well both of them are!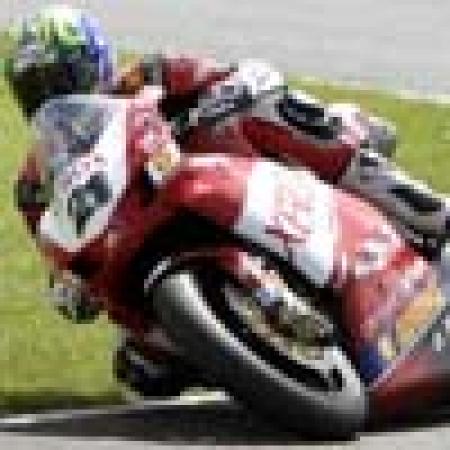 Raceline Photography
By Rob Every
March 6 2007
Australia: The Phillip Island weekend of World Superbike racing was all about two champions. One reigning champion coming back from the blip that was Qatar, and another former champion showing the kind of form that could win him a second title. The two were of course Troy Bayliss and James Toseland, respectively taking a win apiece at the stunning Australian venue.

Race one was all about the leading pair of riders, as first round sensation Max Biaggi led the field away into the daunting turn one. Bayliss and Toslenad were right there from the off, as Biaggi yet again failed to capitalise on his holeshot and opening corner pace. It seems the Italian is struggling to get the right feel from the Pirellis (remember he has never used them before) and needs a lap or two to feel really confident in the tyres.

Toseland did exactly the same as last week in Qatar, running at the front from the off and dictating the pace of the pack behind - as Bayliss muscled his way between the Yamaha riders Noriyuki Haga and Troy Corser into second. Biaggi had fallen away as usual, and was now having to make up a small gap but did so relatively easily. In front of him were Haga and Bayliss, who had been passed early on by Corser, looking impressive again on the Yamaha.

As in Qatar though, Corser was having tyre troubles, and the Yamaha showed its propensity for chewing the rubber more than the Ducati, Honda and Suzuki bikes - this is a problem that the Italian team will have to sort out as it seems Haga and Corser have enough pace in the bike to run with the front men, then their tyres just die rather than letting go easily.

So, Toseland was still up front controlling the race as he did at Qatar, the Honda quick on the straights, but surprisingly Bayliss was able to slipstream the CBR here and the champ looked very stable and easy in second. Biaggi now was battling with Haga and was soon past, but the Yamaha wouldn't let go and Biaggi was forced to battle with them rather than get away.

Toseland's days as leader were numbered though. Bayliss tried an outside pass into the hairpin that worked, but James shoved the Honda back under the V-twin machine, the pair exchanging paint in the move. Next time round though Bayliss dived up the inside, was through and quickly away. He had managed to save up a bit of tyre life and used this to gap Toseland by a second. James was able to ride over the limits, and indeed caught Troy a bit on the last two laps, but the gap was too much and the Aussie took a well deserved and classy win.

Haga and Corser faded badly to fourth and fifth as Lorenzo Lanzi bagged sixth. Rubén Xaus rode well for seventh as did Max Neukirchner again in eighth.

The same old problem for Biaggi in the second race - yet again the Suzuki was the quickest bike out of the traps, and got the Italian where he needed to be, out front. But yet again Max was simply unable or unwilling to ride really hard in the first few laps. He must change this if he is going to win races one thinks, as he obviously has the race pace.

The Italian again fell back to fifth place in the first few corners as Corser took the lead, the R1 looking even better here that in Qatar, as Haga was on the case also, with Bayliss and Toseland the usual suspects in the four rider gaggle up front. Corser managed to stay in front for a few laps before Toseland took up the running, but this time, instead of dropping his lap times the Briton kept a little in reserve every lap. Either he was hoping for Bayliss (who was his obvious rival) to make a break and try and catch him up, or he was just riding a little way back from the limit to preserve his tyres for later on.

Biaggi again had to bridge a gap to get to the leading pack, a job he did very quickly as that pack was now dropping away. Missing from it was Yukio Kagayama, who crashed heavily in practice and missed the race - as did Aussie Karl Muggeridge. In that group though were Lanzi again, the fast starting Kawasakis who, with Nieto and Laconi aboard, seem to drop like stones late in the race after showing good pace early on. Most impressive here though was Rubén Xaus, who ran with Lanzi for a long time.

Up front then and Biaggi had caught the group containing Haga and Croser. Troy had been passed by his namesake for second earlier, and Toseland and Bayliss now upped the pace slightly but not too much, thereby allowing the Yamahas and Biaggi to stay nearby.

Bayliss actually took the lead momentarily before looking over his shoulder and just as quickly dropping into line again. Toseland was showing his maturity and race sense and not going 'til he had to - unlike Bayliss in race one, who only just got away with his bolt for the door!

It happened with a couple of laps to go - Toseland dropped three quarters of a second in a lap and broke Bayliss, the Honda man timed it to perfection. Further back the Yamahas and Biaggi were battling hugely, and Corser was on the grass on one lap coming onto the start straight.

Haga eventually won the battle, and deserved his podium after a strong race and beating Biaggi into the bargain. The slower pace helped the Yamahas really though, and their race pace is still hampered by tyre woes. Biaggi was a little deflated off the podium, and needs to sort early lap pace, while further back Lanzi scored well but miles off Bayliss' pace, and Xaus was a superb sixth.

Toseland though was imperious and is showing great ability and race craft under pressure from massive names - like Bayliss and Biaggi. Troy has shown us all that you should never write him off, and he is going to defend his title well. Could that bad round in Qatar yet haunt him?!

Points: Toseland 90; Biaggi 74; Bayliss 64; Haga 50; Corser 45; Lanzi 44; Xaus 32; Neukirchner 31; Kagayama 23; Nieto and Rolfo 20.