Casey Stoner and Ducati win first in 800cc MotoGP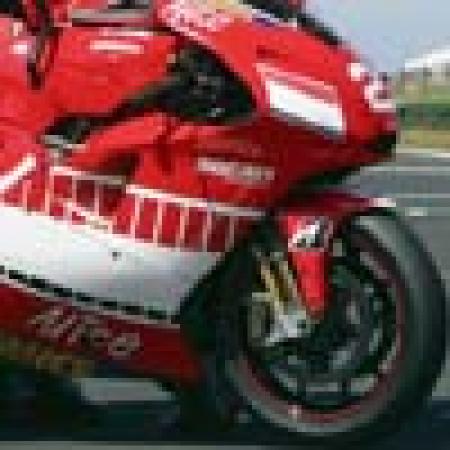 © Getty Images
By Dan Moakes
March 10 2007
The last ever two-stroke 500cc Grand Prix victory went to Valentino Rossi on the 3rd November 2001. After five years and 82 races for the 990cc four-strokes, times have changed again for the 2007 season. With an almost 20% capacity reduction, MotoGP is now an 800cc formula.
Winter testing had gone ahead as usual, but the questions about what we would see under racing conditions centred not only on the relative merits of the new motorcycles, but also on how they would suit their different riders. But there was no wondering as to whether the changes had made for slower and therefore safer bikes. It quickly became apparent that the new breed would be circulating more rapidly than the old.
As ever, the performance of a racing motorbike is about the balance between power, handling, and tyre grip. The 990 bikes had more power than their tyres could usefully transmit to the race track, making them somewhat challenging creatures to navigate. The new 800s apparently have the advantage with their better use of the engine's power, and more effective steering response. The upshot of which is that the current bikes both accelerate in a more rider-friendly manner, and they corner faster. The changed formula does not look to have made the riders more safe.
But who would benefit from the technical alterations? More rideable machinery should be to the advantage of all, even if faster cornering should play to the strengths of those men with the skill to get closest to the limit of performance. A good 2007 bike would play into the hands of those whose preceding machinery had been tricky to handle, such as at Yamaha. However, to be remembered is that there are competitors in the GP field with much experience racing smaller capacity bikes, such as the rapid-cornering 250cc machines. A few of the others have a background mostly with Superbikes - reigning World Champion Nicky Hayden included. Would they adapt as readily?
Practice for the Qatar Grand Prix had seen Rossi's Yamaha team-mate (and former 250 US Champion) Colin Edwards set the pace (see separate stories), with both of the factory's riders most closely challenged in qualifying by Ducati's new signing, 21-year-old Casey Stoner. As we would see in the race, the reduction of fuel loads from 22 litres to 21 was not as much of a limiting factor at the Losail circuit as it might be elsewhere, which allowed the Italian bikes to make full use of a strong accelerative trait.
Seven-time GP champion Rossi secured the 46th pole position of his career, with Stoner fractions behind, and Edwards therefore pushed down to third. The works Yamahas appeared in blue Fiat livery, after Camel's withdrawal from the fray at the end of last season. Casey's contract with Marlboro Ducati had led to the retirement of nine-time GP winner Sete Gibernau, with experienced Loris Capirossi retained as the factory's leading rider for the fifth year. The Italian qualified in P7.
The first Honda riders appeared on the second row of the grid. Fausto Gresini team rider Toní Elías was fourth, with established team-mate Marco Melandri tenth. There were equally no rider changes in the works Repsol team, with Dani Pedrosa fifth, and partner Hayden back in ninth. The champion had needed a shoulder operation in the off-season, and was now still looking to get a good feel with the new breed of Honda, the V4-engined RC212V.
Honda was also represented by three other riders. Shin'ya Nakano (Konica Minolta) and Carlos Checa (LCR) lined up right behind Hayden and Melandri, with the Honda-powered Team Roberts KR212V piloted by Kenny Jr into P18. Nakano was a long term Yamaha man coming in after three seasons with Kawasaki, whilst Checa made a return to Honda for the first time since 1998, the year of his most recent GP victory.
The other Japanese manufacturers were well represented by John Hopkins and Randy de Puniet. Rizla Suzuki retained Hopkins and Chris Vermeulen, with John sixth despite recent wrist injuries, and Chris in P13. Kawasaki had kept 26-year-old de Puniet, eighth here, and promoted former test rider Olivier Jacque (14th) in an all-French rider selection.
15th went to GP veteran Alex Barros, back after a year in Superbikes and now with a Pramac d'Antín Ducati. His team-mate was Alex Hofmann in P17. Between these two was Sylvain Guintoli, a former 250 pilot with just one GP on a 500cc Yamaha under his belt. He shared the Dunlop Tech 3 Yamaha garage with former Honda star Makoto Tamada, qualifying in P19.
The newest team on the grid was also the slowest. The Ilmor outfit had replaced Garry McCoy with another pair of riders without much GP time in the last couple of years. Andrew Pitt had gone from Kawasaki and Moriwaki into Superbike success; and 42-year-old Jeremy McWilliams was a man with twelve full Grand Prix seasons. 'Jezza' was the faster of the two, despite breaking a leg and losing a finger in a winter testing crash; but he also crashed after setting his grid time, and would not make the start. Pitt moved up to P20.
The first race start of 2007 saw Rossi and Stoner lead the field towards the right-handed first turn. Elías sneaked into third as Edwards and Pedrosa jostled for fourth, with Colin getting through. Hopkins was next, from Melandri, Hayden, de Puniet and Capirossi - the last two about to swap positions - then Nakano, Checa, Vermeulen, Guintoli and Tamada. It didn't take long to see the true form of the GP7 Desmosedici Ducati, with Stoner easily powering in front of Rossi on the first visit back to the main straight. Behind, Pedrosa passed Elías, and Hopkins overtook Edwards.
Rossi didn't look like he was going to have it easy, as Pedrosa used the slipstream along the straight to attack for second position. The Yamaha rider took back the place on the brakes for turn one, but behind Melandri had got past team-mate Elías. Before the leading quintet could get away from the trio of Hopkins, Edwards and Capirossi, the Suzuki rider also relegated Elías. Loris was the fourth man (after Pedrosa, Hopkins and Melandri) to overtake front row man Edwards.
Rossi set the fastest lap so far as he kept up the challenge to leader Stoner, with Pedrosa, Melandri and Hopkins tagging on as a gap started to open to Elías, Capirossi and Edwards. The second Ducati man moved forward another place as he looked to get after his team-mate and the leading group, and sure enough he started to home in. This left Colin to get to grips with Toní again, and the Spaniard's choice of the softest of the Bridgestone tyre compounds was starting to prove costly.
The lead was up for dispute, despite the deficit of top speed for Rossi's Yamaha. His riding skills kept 'the Doctor' in the fight with Stoner, even though the young Australian was apparently untouchable along the start-finish straight. Valentino passed Casey at a left-handed turn, but ran in too hot and gave his rival the line to recover the spot going out of the corner. Rossi made a successful move at the left-handed turn fifteen, but then lost the lead along the straight, with Pedrosa again trying to go through at turn one, but again failing.
Hopkins and then Capirossi improved the best lap time, and both took turns to overtake Melandri. As the Italian began to drop back, a five man leading group was established - only for Capirossi to lose the front end and crash out at one-third distance. Rossi had now got in front, and he led Stoner, Pedrosa and Hopkins. Dani continued trying to make up a place at turn one and, with a fastest lap from Stoner taking him back in front, the Repsol rider's next try almost got him past Rossi - until the braking zone.
A new lap record now went to Valentino Rossi, winner of the last two Qatar GPs, and this helped him keep up the pressure on Stoner, the pole position man from last year. The close attentions of Pedrosa and Hopkins now dissipated, thanks to a mistake from the Spanish rider. Dani ran wide at turn sixteen, the final right-hander, losing the place as 'Hopper' powered onto the straight. The Suzuki rider also defended his rival's attack at turn one, and by the time Pedrosa got back into third the tow of the leading pair was lost. It was now half-distance.
Stoner sped on to another new lap record, but with Rossi's riding through the many corners keeping him right on the Ducati's tail. As two-thirds distance approached, the gap back to Pedrosa and Hopkins was getting towards three seconds, and it would grow further. Casey kept going faster, but with four laps to go Valentino found a way past on the inside for a left-hander. It wasn't much of a surprise to see the Ducati resume its position as they crossed the line that time, with Stoner ahead before the timing beam.
There were now six seconds back to the next pair, and with two laps remaining it looked like Stoner was easing away from Rossi. On the final circuit his lap record pace told, and suddenly his Yamaha-mounted pursuer was losing touch. There would be no last minute strategy from Valentino, and he had to accept second as Stoner took his first MotoGP class win, and his eighth in Grands Prix.
Third place was Pedrosa's, but with Hopkins still right behind as the crossed the finishing line. This made it four different bikes in the top four positions. The closing stages had seen Melandri close back up to Edwards, and re-take his fifth position by the finish. Colin was sixth at the flag. Seventh place might have been between Elías, Hayden, de Puniet, Checa and Vermeulen. But the tyre struggle for early front runner Elías surely caused his run off track into a gravel trap, which lost him many places. By this time, both de Puniet and Checa had crashed.
Vermeulen and Hayden had already passed Elías before his excursion, with the Australian having come from fourteenth to go in front of the champion. They finished in this order, with Nicky a lowly eighth. Barros had done a good job with his Ducati to catch and pass Nakano, and they were followed home by Hofmann, Jacque, Roberts, Elías, Guintoli and Tamada. Pitt joined the three crashers when he parked the Ilmor X³ in the pitlane.
It was an historic day for MotoGP. Despite the early appearance of the Ilmor at the close of 2006, this was the first race of the 800cc era, and it gave us plenty to look forward to. It was also the first top class victory for Casey Stoner, who had been fast but accident prone on a 990cc Honda, and was therefore perhaps a bit of a gamble for Ducati. In fact, this meant to back-to-back race wins for the Italian concern, with the last 990 race having gone to their 'other' Australian, Troy Bayliss. Today's victory was only the fifth in class for an Aussie since Mick Doohan's last in 1998. And if anyone is interested, this was also the 80th win for a Marlboro-liveried bike, just one ahead of Repsol in the top class.
For likely title challengers Valentino Rossi and Dani Pedrosa, the Qatar Grand Prix marked a good start, unlike for potential rival Loris Capirossi. But if Nicky Hayden wants to defend his crown, he will want to have better races from now on, and similarly Edwards will want to maintain his early pace. But full marks to John Hopkins, whose right wrist injury saw him in considerable pain after finishing right behind Pedrosa in fourth. It bodes well for Suzuki, with Chris Vermeulen also going well, and John's chances of getting onto the podium for the first time this year look good. Who is your money on at this stage?
Standings after one race: Stoner 25; Rossi 20; Pedrosa 16; Hopkins 13; Melandri 11; Edwards 10; Vermeulen 9; Hayden 8; Barros 7; Nakano 6.
Ducati 25; Yamaha 20; Honda 16; Suzuki 13; Kawasaki 4; KR-Honda 3.