Valentino Rossi back on top in MotoGP round two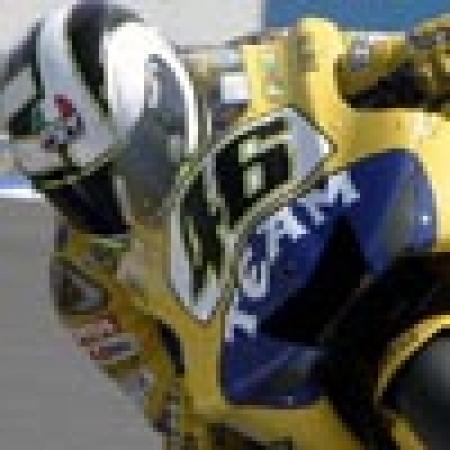 Raceline Photography
By Dan Moakes
March 26 2007
There had been a good start for the rapid new 800cc Ducati in Qatar, with 21-year-old Casey Stoner a first time MotoGP class winner. But the more technical Jérez circuit faced the riders for round two of the world championship in Spain. The usual huge crowds had three of their countrymen to cheer this year, not least likely title challenger Dani Pedrosa. The Repsol Honda man put his bike on pole position - no mean feat in a very close field with the top twelve split by just half a second. Honda's RC212V was also piloted by the other pair of Spaniards, with experienced Carlos Checa qualifying third for LCR, and Gresini's rider Toní Elías in eighth position.

Indeed, the entire third row was Honda-mounted, with Elías behind Konica Minolta's Shin'ya Nakano, and ahead of his own team-mate, Marco Melandri. The KR-Honda of former champion Kenny Roberts was next, in tenth, and number one plate holder Nicky Hayden was eleventh on the other Repsol machine, and last of the Hondas. Without a background riding 250cc two-strokes, Hayden was still trying to adapt his style from the preceding 990s.

Pedrosa and Checa were joined on the front row by Yamaha team leader Valentino Rossi (pictured in 2006), in second, with the other Fiat-liveried machine of Colin Edwards also well up in P4. Mixed fortunes befell the Ducati and Suzuki boys, with Stoner fifth on the red machine. Team-mate Loris Capirossi, for his 250th Grand Prix, would start ten places back. John Hopkins was sixth for Suzuki, even with a continuing wrist injury, but his partner Chris Vermeulen was just one ahead of Capirossi. Factory man Kousuke Akiyoshi was a wildcard, and nineteenth on a third GSV-R.

Kawasaki rider Randy de Puniet was the last of the top twelve, four slots in front of countryman and team-mate Olivier Jacque. The d'Antín Ducati of Alex Barros would start thirteenth, and in front of the Marlboro works bike of Capirossi. Behind Jacque came Makoto Tamada (Tech 3 Yamaha), Alex Hofmann (d'Antín), Akiyoshi, and Sylvain Guintoli (Tech 3).

Not in action were the Ilmor X³ riders, Andrew Pitt and Jeremy McWilliams. The team had arrived in Jérez, but opted to suspend their racing activities until further sponsorship monies had been secured, and therefore to concentrate on motorcycle development.

The race got underway in fine weather, with the first three qualifiers in the same order until Edwards made it past Checa. The 34-year-old then lost out to both Hayden and Stoner. Nakano had shown in sixth, but was quickly pushed back by Hopkins, Melandri and Elías. Pedrosa led through the first four corners, with the last of these being the fast Curva Sito Pons right-hander, on to the back straight. This leads to the tighter right Curva Dry Sack, and this was where Rossi overtook, braking on the inside of his Honda rival.

Rossi led Pedrosa, Edwards, Hayden, Stoner, Checa, Hopkins, Melandri, Elías, Nakano, Roberts, Barros, de Puniet, Vermeulen, Capirossi, Jacque, Akiyoshi, Guintoli and Tamada. Hopkins looked on form again, even with a harder compound rear Bridgestone tyre, attacking Checa and making the pass on his second attempt at Dry Sack. This put him in place to get by Stoner, on the inside at the tight final left-hander Curva Ducados. Checa followed through with a move at the righ-handed turn two, Curva Michelin.

Fastest laps in the early stages came from Edwards and then Rossi, as the first three soon established a margin over the next riders. Hopkins had also done a quick one as he tracked fourth man Hayden, leaving a larger battle over P6, between Checa, Melandri, Stoner and Elías. Meanwhile, Hofmann was called into the pits with a black flag, following an illegal change to his second bike after the first lap.

The pattern of racing settled with the gap between Rossi and Pedrosa staying at around 0.5s, and with Edwards a little further from Dani. The leaders made consistent laps on their medium Michelins, the gap at the front edging to 0.6 or 0.7s. With fifteen laps remaining it was 0.9s, but then Rossi pushed on, taking it out to 1.3s, and suddenly to 2.3s and beyond. Pedrosa could not quite match this pace, putting his rear wheel in the dirt at Turn Seven as he tried, but maintained enough of a comfortable margin over Edwards - all of which decided the podium finishers.

The battle for the best of the rest had seen Hopkins attacking Hayden and eventually getting the verdict, but soon after he lost control of the front and crashed. The Suzuki folded under John in a right-hander, and spun away into a gravel trap. He managed to get the damaged bike up and carry on, but by then was back in last position.

The race behind Hayden had seen Melandri pass Checa at Dry Sack, with Elías catching Stoner after running wide at Michelin. Casey's progress seemed to stall as Elías passed at Dry Sack, with Toní getting by Checa at the right-hand Curva Angel Nieto as he tried to get after his charging team-mate Melandri. But Marco then began to lose his pace, getting overtaken in turn by Elías, Checa and Stoner. The Ducati man also passed his former team's rider, Checa, and he and Toní became the quick men.

Indeed, Elías had also just passed Hayden before Hopkins' incident, and the Gresini rider would go on to take fourth. Stoner also overtook Hayden, at Angel Nieto, leaving him to the attention of Checa and coming home not far behind Toní. Carlos made the same pass on Nicky to secure a good sixth. Melandri was behind the champion in eighth.

There had also been some action to decide ninth, with Barros having passed Nakano and Roberts to lead the bunch, which also included de Puniet and Capirossi. Then Vermeulen got in on the act, moving through to race behind the tenth man Roberts. Chris had got in front before Kenny's machine hit problems and limped home just outside the points. At the flag, Vermeulen got there before Nakano and Barros, who was still second home for Ducati.

Capirossi and de Puniet were followed into lowly points scores by the yellow machines of Tamada and Guintoli, with Roberts beating only Akiyoshi, Jacque and former team-mate Hopkins. Hofmann was the sole rider not still running at the finish, and meanwhile a clearly delighted Rossi celebrated a determined victory with a staged ten pin bowling knock down - with supporters dressed as the skittles.

Machine speed had been a factor in Qatar, but the victory at Jérez had been more to do with manoeuvrability and rider skill. Valentino Rossi, Dani Pedrosa and Colin Edwards had shown no shortage of the latter, and for Colin the result had made up for a disappointing round one. But in the championship chase it was Valentino and Dani who were getting the biggest benefit, with Casey Stoner doing enough to stay in contention. Toní Elías and Carlos Checa both did well in heading the second works Honda, with Nicky Hayden clearly not having the best start to a title defence. Will he turn it around?

Points standings after two races: Rossi 45; Stoner and Pedrosa 36; Edwards 26; Melandri 19; Hayden 17; Vermeulen 16; Elías 15; Hopkins 13; Barros and Nakano 12.
Yamaha 45; Ducati and Honda 36; Suzuki 20; Kawasaki 7; Team KR 3; Ilmor 0.