Gregorio Lavilla adds Thruxton BSB double win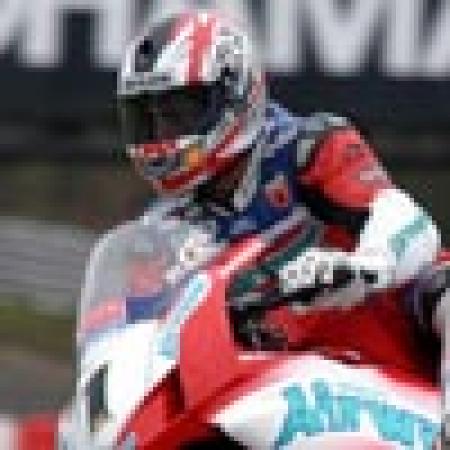 Raceline Photography
By Dan Moakes
April 16 2007
The other riders would be shooting for Airwaves Ducati's Gregorio Lavilla at Thruxton, for round two of the 2007 Bennetts British Superbike Championship, after a double success for the Spanish rider at Brands Hatch. Honda's 'young guns' were looking most likely.
The men for Lavilla to watch after round one had to be Leon Camier and Jonathan Rea, with two more Honda pilots Ryuichi Kiyonari and Shane Byrne also capable of threatening; along with Rizla Suzuki's Chris Walker; plus his own team-mate Leon Haslam. But in fact none of these riders, or indeed those makes of bike, would emerge as quickest in qualifying on the fast and curvy, but bumpy Thruxton circuit.
Lavilla secured second on the grid, but pole position went to Virgin Yamaha's Tommy Hill. The last time a Yamaha had taken pole in BSB was in April 2000, with Steve Hislop aboard the same team's R7 model at Donington Park. Hill had been top qualifier as a World Championship wildcard at Silverstone in 2006, but this was his first such honour in the domestic series, and it looked to make the Thruxton races even more open.
Honda riders crowded in behind Lavilla, with the Stobart team's Byrne (third) and Tom Sykes (fifth) split by Rea with the first HM Plant works machine. Camier's yellow bikeanimal Honda was sixth, with Kiyonari and the other HM bike eighth. Walker put the GSX-R1000 into P7, and his blue-clad partner Cal Crutchlow was ninth, from Haslam, Michael Rutter (MSS Kawasaki) and Karl Harris (Hydrex Honda).
Following disappointment at Brands, Rea got his start right for race one here, taking the lead from Byrne, Walker, Hill, Lavilla and Camier. The slipstreaming blasts of Thruxton were going to provide plenty of overtaking, especially where the fast Brooklands/Woodham Hill section gives way to the heavy braking Club Chicane, and the action started early. Hill quickly re-passed Walker, then moved into second on the outside of Byrne at the right-hander of Club.
Rea was looking to put distance between himself and his pursuers, whilst Walker was going the other way as he lost out to Lavilla, then Camier (braking on the inside for Club), then Haslam. Dramatic racing was brewing between Hill, Byrne and Lavilla for second, in front of Camier, Haslam, Walker, Kiyonari, Sykes, Crutchlow, Harris, Peter Hickman, Rutter, Dean Thomas, Scott Smart, Tommy Bridewell and Steve Plater.
Byrne attacked Hill as they rushed along the left curving Brooklands section, but with Lavilla using the slipstream effect to nip by the pair on the inside for the next corner - at which point Hill overtook him again on the brakes, with Byrne back to fourth now. Gregorio wasn't deterred, and soon dealt with Tommy and got after Rea. Hill's glory was on the wane as he now faded back into the pack, his Pirelli tyres affected by the abrasive tarmac, and compromising front end grip.
Lavilla left Rea and Byrne to race it out behind him, but the 20-year-old Ulsterman also fell foul of the surface. Byrne took over second at Club, and soon Jonathan had to call it a day. His early pace had taken its toll on his rear Michelin tyre, whilst team-mate 'Kiyo' had played it in a touch more cautiously. The champion had got by Walker, who was fading; and Haslam, who had a 'moment' and clipped the grass. Kiyo overtook Camier at Brooklands, and Byrne next to go second.
Camier passed Byrne at the left-handed Cobb corner, in the right-left-right complex, then joined battle again with Kiyonari. Leon had won at Thruxton in the Supersport class during 2005, finishing second the year before, and was taking a particularly tight and effective line at the right Goodwood curve. He used this to get ahead of Ryuichi again, setting fastest lap as he left the 2006 champion to race for third with his 2003 predecessor.
Lavilla duly won by a useful margin from Camier, with Kiyonari winning a battle at Brooklands-Club that saw Byrne braking late and needing to cut the chicane on the left. Kiyo was third, therefore, and Byrne missed out on the podium this time. Sykes had emerged for fifth ahead of Haslam, with Crutchlow getting the better of both Hill and Walker, and the next places going to Harris and Rutter.
Camier made a less than perfect start in race two, which had a similar opening to the first, as Rea led Byrne, Lavilla, Walker and Hill. Indeed, 'the Stalker' was quickly past the Ducati for third, and with Haslam taking sixth from Rutter, ahead of Kiyo and Sykes. Byrne was able to get the lead from an apparently more circumspect Rea at Club, and Lavilla tagged on as the first three made a bit of a break from the rest.
The new fastest lap went to Lavilla as he eased up to the exhaust of Byrne, after Rea had re-passed the Stobart rider at the right-handed Church Corner. Kiyo took the accolade away from his Spanish rival, after moving up and then making it into a four man group. Hill had taken that place away from Walker before that, making his move at the right-handed Campbell, before Cobb, but Chris' spell behind Kiyo and Hill was short lived, as telltale engine smoke was emitted at Brooklands, his day done.
Byrne took the lead from Rea, who would then get pressure from Lavilla. The Spaniard overtook on the brakes at Club, then seemed to let the younger man get back in front for some reason. Jonathan went ahead of Shane at Brooklands, with Gregorio also taking a place at Club. Lavilla then went to the front, ahead of Rea, where he proceeded to build another useful lead as the other three battled on.
In the meantime, Camier had been pushing to pass Hill for fifth. A mistake from the Yamaha man let both Camier and Sykes get by, and Haslam would be the next to do so. Camier would now home in on Rea, Byrne and Kiyonari, with Shane again going across the Club chicane and to the back of the trio. But at half-distance, the safety car was sent out, due to some damaged crash barriers giving cause for safety concern.
Lavilla's lead was negated again, as at Brands, and as the racing restart loomed, he led Rea, Kiyonari, Byrne, Camier, Sykes, Haslam, Hill, Rutter, Crutchlow, Harris, Hickman, Smart, Plater and Haydon. But again Lavilla was able to stretch out a lead, helped by an excellent getaway. This left the biggest contest between Byrne and Camier, for fourth. Leon went ahead at Campbell, then Shane at Club, before a new fastest lap took him back to Rea and Kiyonari.
This threesome embarked on a fierce scrap, and at one stage the complex saw some dramatic shuffling. Kiyo passed Rea at Campbell, Byrne passed Rea at Cobb, and Byrne passed Kiyo at Seagrave, all in a few seconds. Ryuichi's advantage was restored through Brooklands, although Shane fought again at Club and once more ran on through the chicane. Camier was still in touch at this stage, but then he lost ground as the other three started to catch the leader.
Lavilla's pace eased in the last two laps, and in fact it seemed he was no longer able to respond to the surging Honda group. Kiyonari was in place to challenge in the final moments, and he tried to overtake the last time at Club Chicane. Gregorio held onto the lead on the brakes for the corner, threading through the right-left-right to take the flag first. Kiyo, Byrne and Rea were right with him, in that order.
Camier was on his own in fifth, and Haslam had already passed Sykes to secure sixth. Rutter was next home, but a late crash for Crutchlow had taken him out of ninth, which then went to Harris, from Hill. Ducati may have won, and come sixth, but Honda had taken all the other top seven results, plus P9. The two Rizla Suzuki men were out of course, but Yamaha's pole man had again failed to convert.
Honda may have strength in numbers, but four races in there has only been one winner, and that is Gregorio Lavilla with the Airwaves Ducati 999. Thruxton's second race had been a closer call than the first, but the 2005 champion is looking determined about regaining his crown, and will be tough to stop unless things change. But of course they can do, and the Honda young guns are ready to take him on. Leon Camier now has three Superbike podium results from four attempts, and the works boys, Ryuichi Kiyonari and Jonathan Rea, have both shown good form. Can Suzuki, Yamaha and Kawasaki even get a look in?
Standings after four races: Lavilla 100; Camier 67; Rea and Kiyonari 49; Byrne 45; Haslam 43; Sykes 40; Rutter 28; Walker 26; Harris 25.