The turn of Ryuichi Kiyonari at Silverstone BSB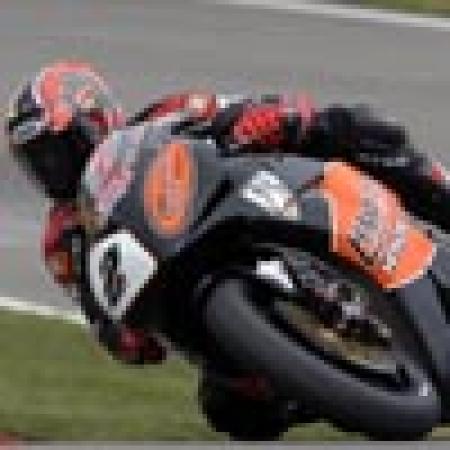 Raceline Photography
By Dan Moakes
April 30 2007
The 2007 British Superbike battle moved on to Silverstone, where the leading Ducati and Honda riders would continue their quest for supremacy. Gregorio Lavilla was the man to beat, on the Italian V-twin motorcycle, after winning all four races for his GSE/Airwaves team.
The 2005 champion would again be joined up front by team-mate Leon Haslam, but four of the top seven in qualifying were Honda-mounted, which meant three on the front row of the grid. Pole position went to the reigning title holder, Ryuichi Kiyonari, and his HM Plant Honda partner, Jonathan Rea, was fourth. Haslam secured P2, despite an accident in Friday practice, and the other Honda at the front was that of Shane Byrne, third for Stobart.
The second Airwaves Ducati, of Lavilla (sixth), and the Bike Animal Honda of Leon Camier (seventh), were sandwiched by the Rizla Suzuki pair. The blue GSX-R1000 of Chris Walker was fifth, and Cal Crutchlow was eighth with the other. Camier was seen receiving advice from Terry Rymer, former multiple race winner in the series, and 1990 champion - both men are pretty tall for motorcycle racers. Tom Sykes (Stobart Honda), Michael Rutter (MSS Kawasaki), Karl Harris (Hydrex Honda) and Tommy Hill (Virgin Yamaha) made up the third row.
For late April, race day provided relatively dull and cold conditions. The HM Plant pair got it right at the start of race one, with Rea and Kiyonari leading Haslam, Byrne, Walker, Camier, Lavilla and Sykes. Haslam moved into second with a pass on 'Kiyo' at the right swinging Becketts corner, and indeed Leon was to take the lead fairly quickly. He made his move on Rea at Abbey, the heavy braking tight right-hander at the end of the back straight. It was the classic Superbike pass on the Silverstone International Circuit.
Having managed no better than fourth so far this year, Haslam meant business as he started to open a lead over the rest. Walker was quickly past Byrne and Kiyo, followed by Camier; and then Chris moved into second, braking on the left of Rea for the first apex of the slow and awkward left-right Woodcote chicane. Behind, Kiyo now fought with Camier for fourth, with the Japanese rider getting the verdict at this early stage.
Walker was making second his own behind Haslam, with the race on for third between a group of riders. Honda's Rea, Kiyonari, Camier and Byrne led the way, but the last of these was first to lose out to Lavilla's Ducati, the pass coming into the Brooklands left-hander. Sykes, Harris and Crutchlow followed. The lead of the bunch went to Kiyo at the chicane, but Byrne's seventh went astray when he got out wide at Abbey and tipped it over. A push start did not get him going again.
Walker had closed Haslam's lead somewhat by the time the Suzuki man came under attack from Kiyonari. The Honda leader was all over 'the Stalker' at the chicane, then made the pass by getting on the inside as they exited the right-hander onto the straight. Chris had an attempt to get back at the same complex, using an unconventional move on the inside for the right-handed part of the chicane, but with momentum taking him wide where Kiyo could re-take him.
By now Lavilla had climbed to fourth, and he set a new fastest lap as he closed in on the first three. At this stage, Kiyo was in place to challenge Haslam's lead. He used a favourite move on the inside for the first part of the chicane, which was also the place where Leon would next fall victim to Walker. Ryuichi was soon into an unchallenged lead, with Walker, Haslam and Lavilla now not far in front of Camier and Rea.
Jonathan was on his way back to the front, first swapping back and forth with Camier. Rea took fifth on the inside for the Priory left-hander, but two corners later the yellow machine was ahead on the inside for the looping Luffield right. The chicane was next, where Rea got in front again. Next for him to target were the Ducatis, and he passed Haslam, then Lavilla on the inside through the fast descending Bridge right-hander.
The Airwaves pair looked to be in some minor difficulty, and Camier passed Haslam at Priory, holding off his reply at Luffield. Priory would also be the scene of his overtake on Lavilla, and this came after Rea had gone into second from Walker, on the inside for the turn one right-hander of Copse. Kiyonari's victory was won, and in the latter stages Rea left Walker to the attentions of Camier.
The final lap saw series rookie Camier pushing hard on the experienced Walker. The younger man overtook at Priory, but ran wide. Chris took back the place and was able to fend off further attacks through Brooklands, Luffield, Woodcote and to the flag. Lavilla and Haslam held on to fifth and sixth, both with tyre problems late in the race, from Sykes, Hill, Harris and Rutter. Lavilla had lost only two points to Camier, whose consistency kept him ahead of latest race winner Kiyonari.
Conditions were rather warmer for race two, which would surely mean less wear and tear to the tyre rubber. This time Kiyonari went straight into the lead, with Haslam taking second from Byrne at the Abbey hairpin. Walker was fourth, with an early gap to Rea, after a 'moment', who led Lavilla, Camier, Rutter, Hill, Sykes, Harris, Tommy Bridewell, Ollie Bridewell and Crutchlow. Walker got into third at Brooklands, pushing Byrne wide to get through, but going wide later at Abbey let the Honda man back in.
Lavilla had work to do again, and would pass Rea before putting pressure on Walker. Kiyonari was threatening to clear off in the lead once more, but a fastest lap from Haslam enabled the Ducati rider to also stretch away from the rest. Gregorio overtook Chris at Abbey, and a number of new fastest laps for the Spaniard would soon enough see him improve the lap record a couple of times. The race for second now resolved with Haslam just ahead of Byrne and Lavilla, and with Walker tagging along.
But drama was about to hit this group, and it came with Byrne braking for Luffield. He managed to clip the rear of Haslam's bike, and the green Honda crashed. Leon was sent wide, but resumed on his way in a slightly distant fifth position at around one-third distance. Kiyo now had more than three seconds in hand, with Lavilla, Walker, Camier and Rea into the next positions. For the second time, Byrne's race was over early.
At half-distance, Lavilla's pace had put him into a clear second behind Kiyonari, with the race on for third again between Walker and Camier. Leon dived through on the inside at Abbey, when Chris went just wide, and before long he was getting away too - with Rea catching Walker. But Camier's hold on second in the points was lost for now, when he then crashed out, losing the front at Priory. Another podium could have beckoned for Walker, but Rea took this away with his pass at Bridge.
The first four places were virtually resolved at this stage, and Haslam was fifth, with Sykes close in sixth and Crutchlow back into P7 after an earlier mistake. But there would be no opportunity to see how this tussle might turn out. Privateer Paul Barron had crashed spectacularly at Copse after Steve Plater's AIM Yamaha had blown up there and dropped oil. Barron was joined by Tom Tunstall, and the red flag came out to stop the race. 13 of 20 laps had been run, or 65% race distance, and these positions were given as the final result.
Plater's recent luck at the Le Mans 24-Hour race, where he'd been third for Kawasaki France, had not held on his return to his home circuits. But Kiyonari was happy to make it five consecutive wins at the Silverstone track, and behind him were Lavilla, Rea, Walker, Haslam, Sykes, Crutchlow, Hill, Rutter and Tommy Bridewell on the first Team NB Suzuki.
Ryuichi Kiyonari's double on the day moved him into second in the points, gaining nineteen on Gregorio Lavilla. Kiyonari has now secured 27 BSB wins, and is therefore now ahead of Michael Rutter and triple champion Niall Mackenzie. Second and third places for Jonathan Rea made it a very good day for HM Plant Honda, and the Michelin tyre concern, and it fact it was the team's best overall result since Knockhill in the middle of 2005.
Airwaves Ducati therefore were second best, but Lavilla had made the most of his second row qualifying and still holds the advantage. Leon Haslam moved past the 1000-point mark in BSB at Silverstone, and team-mate Lavilla is now just two away from the same milestone. Chris Walker and Rizla Suzuki were 'back' with third and fourth places, but of course Honda men Leon Camier and Shane Byrne lost out with their non-finishers, and Camier would surely have been close to Kiyo without his crash.
Standings after six races: Lavilla 131; Kiyonari 99; Rea 85; Camier 80; Haslam 64; Sykes 59; Walker 55; Byrne 45; Rutter 41; Hill 37; Harris 36.