Ryuichi Kiyonari goes ahead with Snetterton double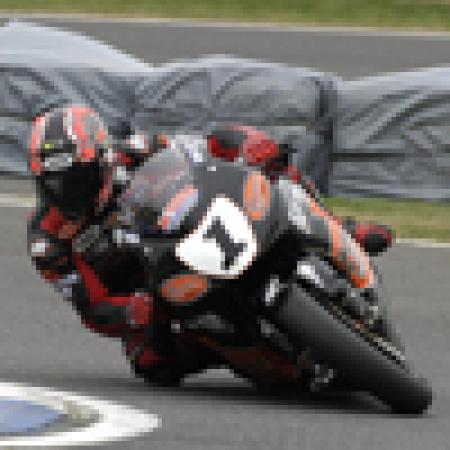 Raceline Photography
By Dan Moakes
May 21 2007
Ryuichi Kiyonari's challenge to Gregorio Lavilla, in the 2007 Bennetts British Superbike Championship, was coming alive after round four at Oulton Park. Round five was to be held at Snetterton, where Honda rider Kiyo had taken his first double success of 2006.
Snetterton is a fast and mostly flat circuit, and as such was expected to favour the full works Honda riders Kiyonari and Jonathan Rea, in their HM Plant colours and with Michelin tyres. Where top speeds were concerned, Lavilla and Airwaves Ducati team-mate Leon Haslam would be at a disadvantage, although not when it came to rider skill in the turns.
Qualifying again saw the Ducati pair in among the Hondas at the front, as these two makes filled the top six places on the grid. Lavilla and Haslam were between Rea and Kiyonari, with the Ulsterman, the Spaniard, the Englishman and the Japanese in that order. But Rea would start second, as this entire group were sandwiched by another pair of Hondas, in the Stobart Vent-Axia colours of Paul Bird's team. Shane Byrne secured pole position, with partner Tom Sykes in sixth.
The 'best of the rest' was Tommy Hill, on the Virgin Optoma Yamaha, followed by the first of the Rizla Suzuki bikes, that of Chris Walker. Then came Simon Andrews (Jentin Yamaha), Karl Harris (Hydrex Honda), Cal Crutchlow (Rizla) and Michael Rutter (MSS Kawasaki). Three-time podium finisher Leon Camier, on the Bike Animal Honda, had problems and managed only one lap in qualifying, so he would start from the very back in 29th place.
Privateer Neil Faulkner managed to crash at the start of race one, but up front it was Rea and Haslam that led away, with Kiyonari quickly past fast starter Walker, then Byrne, Sykes and Lavilla. Shane set an early fast lap as he looked to make up his lost places, but on the lengthy Revett Straight his bike died and he had to pull out. It was later found that a rear wheel sensor had been knocked off, causing havoc with the electronic systems.
Lavilla also had some work ahead of him, after losing places at the start, which left Rea, Kiyonari and Haslam free to stretch away from the rest of the pack in the early stages. Behind Sykes, Gregorio passed Hill for fifth, the pair in front of Crutchlow. Walker had already dropped to eighth, but before long this put him just ahead of Camier, who was making excellent progress through the field. Tommy Bridewell's Team NB Suzuki was tenth at this stage, but Dean Thomas and the Samsung Suzuki got into a big off-track excursion into the fields.
The race settled into a three man leading group, and with Sykes and Lavilla battling over fourth. Gregorio tried to muscle past on the left as they sped along the start-finish Senna straight, and the pair clashed elbows. The Ducati man got the advantage for the Riches Corner right-hander, but with Tom attempting a comeback at the end of Revett back straight, at the heavy braking zone for the left-right Esses. However, Gregorio fended him off and was able to establish a clear advantage.
Meanwhile, Kiyonari had overtaken Rea for the lead - the younger man looked to have good mid-corner momentum, but Kiyo seemed to make his speed pay on the way into a straight. At Sear Corner, the roughly 90-degree second turn on to Revett, Jonathan came very close to the rear of his team-mate, and had to take avoiding action. But all was well, and Rea stayed in touch as the HM Plant pair managed to pull well clear of Haslam and finish in the same order.
Camier had made his way past the Rizla pair, Walker then Crutchlow, and then overtook Hill at Riches. Lavilla's quest to join the leaders was dented by an off-track moment as he went wide at the same right-hander. He came back on behind fifth man Leon, which gave Sykes a clear fourth behind Haslam. Lavilla challenged Camier in the closing stages, and they were close across the finish line, but the yellow Honda took the flag first. Gregorio later cited problems with his front brake.
Hill, Crutchlow, Walker, Tommy Bridewell and Rutter were the next finishers, and meanwhile substitute THR Honda rider Tristan Palmer had an unfortunate end to his race. The 24-year-old was leading the privateer Cup contest, but crashed at the final right-left Russell Bend chicane, giving the win to Yamaha rider Marty Nutt.
For race two, Crutchlow had to start from the pit lane on his spare Suzuki, putting him at even more of a disadvantage than back row Camier. Rea led away, with Byrne into second after a better start, until Haslam took over the position. Kiyonari, Sykes, Walker, Lavilla, Hill and Tommy Bridewell followed, but Harris ended up heading straight on into the barley field as the rest turned right at Riches. Andrews crashed at the second part of the Esses, apparently after contact with Camier.
Early on, the fastest lap time was traded between Kiyonari, Haslam and Lavilla. The first four, with Rea leading Haslam, Byrne and Kiyo, started to ease away from Sykes. Lavilla took sixth from Walker, and pulled away, with Hill also passing the Suzuki rider. Before Gregorio could home in on Sykes and challenge the Stobart rider again, he slowed and pulled off as his Ducati quit on him. The early stages saw Camier already up to 15th, with Crutchlow up to 20th.
Rea started to build a lead over Haslam, which prompted Kiyo to pass the remaining Ducati rider on the inside braking for the Esses. He then sped right back onto the tail of his team-mate, and at around half-distance he made a similar move to take over the lead. Byrne was in attack mode behind Haslam, with Sykes circulating in a solitary fifth.
Hill was sixth at this stage, but Camier made great progress again and was soon catching the Yamaha rider. With Kiyo now leading, Camier's Honda was looking almost as good as he made his pass at the Esses, and chased down Sykes with Tommy in tow. Walker, Tommy Bridewell, Rutter, Smart, Aaron Zanotti (on Tommy Hill's 2006 Yamaha), Ollie Bridewell, Steve Plater and Crutchlow were next.
Kiyo's control of the race extended as far as letting the rear of the Honda slide into Russell chicane, but this skill didn't deter Rea from looking to attack. At two-thirds distance, Byrne passed Haslam for third at the Esses, and the order behind now read Sykes, Camier, Hill, Walker, Smart, Rutter, Zanotti, Ollie Bridewell, Hudson Kennaugh, Peter Hickman, Thomas, Guy Martin, Nutt and James Buckingham. Tommy Bridewell and Crutchlow seemed to have gone missing.
But with five laps to go, Rutter exited the race dramatically at Russell, where a rear slide and grip highside dumped him off the Isilon MSS Kawasaki, which promptly caught alight. The safety car was sent onto the circuit, and when the incident was cleared they would race on with the full distance extended by two laps. The pace car and restart process allowed the field to close up, which would benefit all the pursuers of the HM Plant duo.
Sure enough, Byrne managed to hang on to the first two from the restart, and although the order did not change the leading trio stayed close to the finish. Kiyo took the double, and Rea a double second. Sykes also felt the effect of the restart, and was in place to challenge Haslam on the final lap, which resulted in a successful move at the Esses. Camier, Hill, Smart, Walker, Ollie Bridewell and Zanotti followed on, with Nutt winning the Cup battle again.
It was a day of contrasts, with Ryuichi Kiyonari, Jonathan Rea and HM Plant Honda dominant, and with points leader Gregorio Lavilla out of luck on the Airwaves Ducati. For Rea, these results represented his best BSB meeting to date. But ten points for Lavilla, to fifty for Kiyo, meant that the positions changed, and Gregorio now had a deficit of eleven. Leon Haslam was consistent and retained fourth overall, whilst fifth and sixth for Leon Camier represented a good day's work after starting so far back. For Shane Byrne, again it was a mixed day.
The last time Honda had monopolised a BSB podium was at Knockhill in 2005, when Kiyonari, Rutter and Michael Laverty were the first three. But this time CBR FireBlade riders had filled the top four in race two, and it is surely a long time since Honda has had this kind of result in such a competitive series. But wins for Kiyonari are far from a surprise by now, and the Snetterton double took him to an impressive tally of thirty. With the pace of his Honda looking so useful, will the Ducatis have the handling to come back at him when they move to some of the more technical circuits?
Standings after ten races: Kiyonari 190; Lavilla 179; Rea 149; Haslam 131; Camier 117; Sykes 106; Byrne 87; Walker 76; Hill 70; Rutter 50.