Wet weather no obstacle to Stoner in Britain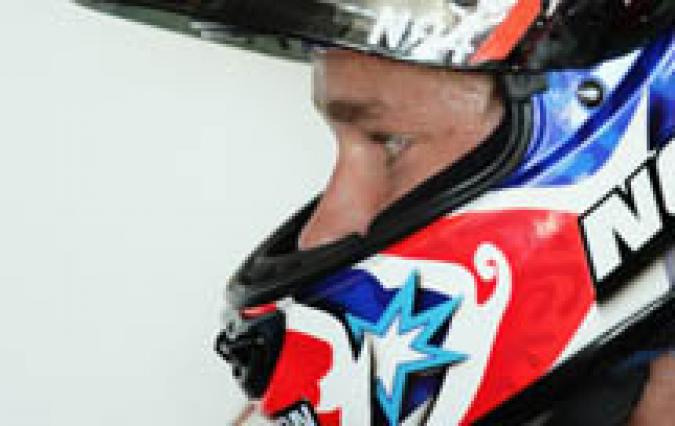 © Getty Images
By Dan Moakes
June 25 2007
Donington Park in Great Britain hosts the MotoGP World Championship in the middle part of the year, but the term 'summer' can quite easily prove to be less than accurate. This time the conditions were hardly inviting to fans, but the 800cc action was always likely to make up for that, with the contest between Casey Stoner and Valentino Rossi in full flow.
Stoner was in the best position, following four wins for the Marlboro Ducati team; and Rossi's success tally was at two for Fiat Yamaha. The Italian rider had been defeated in a straight fight at the recent Catalan race, and was now sixteen points behind his 21-year-old rival. The British Grand Prix would be round eight, and had been won last year by Honda and rider Dani Pedrosa. The Spanish pilot would also be out to do well, then, and indeed take his first win of the current season.
Judging from the results of qualifying alone, Yamaha were in with the greatest chance. The Fiat team made it six pole positions from eight, but for the second time it was Colin Edwards who was quickest. Rossi lined up right next to him, despite a couple of minor falls during the wet practice sessions, and in fact his opponent Stoner was 'only' fifth. The two Repsol Honda men had got in ahead of him, with Pedrosa third and champion Nicky Hayden managing fourth for his best start to date on the RC212V 800. Pedrosa had a big wobble 'moment' in practice, but kept going without letting it become an incident.
The fourth make of bike at the front of the grid belonged to John Hopkins of the Rizla Suzuki team. He would start sixth, with team-mate Chris Vermeulen in P12. Seventh went to Carlos Checa and LCR Honda, and the spread of machines saw Randy de Puniet next on the leading Kawasaki. In P17 was the other green machine, with new boy Anthony West at the helm. The 25-year-old Australian was making a GP return after just over 100 previous appearances, mostly in the 250cc class. He had been successful as a World Supersport substitute rider during 2007, and was now taking over from the not so effective Olivier Jacque, who had withdrawn.
Ninth had gone to Gresini Honda rider Marco Melandri, who was making his 150th GP appearance. His team-mate Toní Elías was in the next slot, with the final Honda being that of Shin'ya Nakano (Konica Minolta), in P11. Beyond Vermeulen came a group of Ducati riders, with Stoner's team-mate Loris Capirossi just in front of the Pramac d'Antín customer machines of Alex Hofmann and Alex Barros.
Dunlop Tech 3 Yamaha were represented in the final placings by Sylvain Guintoli (16th) and Makoto Tamada (18th), either side of West. Lastly came the sole KR-Honda of Team Roberts. The proposed guest ride for new British Superbike winner Jonathan Rea did not materialise, so that Kurtis Roberts was the man back in P19, in his third outing with the KR212V.
800 rookie West may have been near the tail of the grid, but many of his most notable GP rides have come in wet conditions, and in fact the former 250 winner went fastest in the rain-affected warm-up session on the day. The race would take place in similar conditions - cold, wet, and with some rain falling as they lined up; with Pedrosa on his number two bike.
In contrast to the Le Mans race, where the situation was similarly tricky, Edwards made a good start from pole, to lead from Pedrosa and Hayden. The fourth corner is the Old Hairpin, where they turn right at the bottom of the fast descent from the Craner Curves, and this was where Nicky was shuffled backwards by Rossi and Hopkins, and Vermeulen soon after. This put him sixth, in front of Melandri, Checa, de Puniet and Stoner. Checa would soon drop back, just as Stoner advanced, and West also got in front of de Puniet.
The fast and flowing sequence of bends at Donington gives way to the newer 'loop' section at the end of the lap, which takes riders down to the right-handed Melbourne Hairpin and back again. This corner saw Pedrosa take the lead away from Edwards with a pass, and they finished the lap with Rossi, then Hopkins, Vermeulen, Hayden, Stoner, Melandri, West, de Puniet, Checa, Capirossi, Nakano and Hofmann next.
The Suzuki riders were looking handy, and Vermeulen soon overtook Hopkins - followed by Hayden at the Old Hairpin. Chris passed Rossi at Melbourne, with John attacking on the inside as Nicky cornered right behind the other pair. West had made some more progress at the expense of Melandri, but meanwhile Stoner was getting involved as he set fastest lap to close down the gap that had already begun to develop behind the first six.
The Suzuki riders went three-four thanks to the opportunistic Hopkins. Hayden passed Rossi at Melbourne, but John got ahead of them both at the same moment. There was the briefest of breathing spaces behind Pedrosa, Edwards and Vermeulen, with Hayden quick to go back into fourth. Rossi attacked Hopkins at the Old Hairpin, but laid himself vulnerable to Stoner and West, who both got past the Italian. Hopkins was therefore able to regain fourth from Hayden at Melbourne.
The first eight were getting clear of de Puniet in ninth, but the race was on for positions within the group. Stoner's advance went further as he passed Hayden at the left-looping hairpin of Goddards, after the Melbourne loop and before the Wheatcroft start-finish straight. He also dealt with Hopkins at the Redgate first right-hander, and John then felt the presence of Hayden in pursuit. The Old Hairpin then saw Casey brake on the inside to pass Vermeulen, just as Edwards had taken the lead back from Pedrosa.
This put Colin in front of the two 21-year-olds, Dani and Casey, who would soon change positions. Hayden's spell amongst the top six would come to an end at the double apex right Coppice Corner, somewhat uphill and going onto the fast Starkeys Straight. A front end crash here put Nicky out, although he would manage to get going again, make a pit visit, and carry on circulating a couple of laps down. After Starkeys, Stoner's move on Pedrosa came on the brakes for the left-right Fogarty Esses chicane, before the run in to Melbourne.
Edwards and Stoner now showed the pace to get clear of Pedrosa, although Casey had the edge to the extent that he reduced Colin's lead at the same time. Indeed, the Suzuki pair had also quickly dealt with Dani, with Hopkins making a forceful pass at Melbourne and Vermeulen also getting through. Pedrosa's skills in wet conditions are not as highly rated as some of the other GP men, and it now looked like his shot at a repeat win here might have seriously diminished.
As Hopkins and Vermeulen moved clear, the race for fifth now involved Pedrosa, Rossi, West and de Puniet. Anthony emerged at the front of this gaggle, as Dani was also passed by Valentino. The pace of West on the Kawasaki echoed Jacque's first race for the team, in China during 2005, and he soon brought Rossi back onto the tail of the two Suzukis, passing Vermeulen at the Old Hairpin. Rossi also made the pass, through the following left-curving Schwantz bend.
Edwards led Stoner, with the bigger gap being back to third placed Hopkins. But the progress of West into fourth place was halted as he managed to lose control and go off track heading towards Coppice. He kept upright through the gravel trap and reduced speed, only dropping the Kawasaki as he avoided the barrier. He was alert enough to keep the thing going and get it up and moving without real delay, but obviously not before others had sped past. He was back on track in P15.
Fastest laps now went to Stoner then Rossi. Casey still sat behind leader Edwards, with Valentino closing in behind third man Hopkins as he got clear of Vermeulen. By now a large margin had opened up back to the next pair, de Puniet and Pedrosa. Capirossi and Barros had emerged ahead of the field to battle for eighth. The situation for the two works Yamahas was interesting in that Edwards was using a softer rear Michelin tyre to that of Rossi for the conditions. Durability would be the key, as there was no longer any rain and the track was starting dry on the racing line.
Rossi attacked Hopkins at the Hollywood curve, going down to Craner Curves from Redgate. He made the pass at the Old Hairpin and immediately looked to be pushing on after the first two. But he then clipped the slippery outside kerb at Coppice, getting out onto the grass. He kept control and rejoined in fourth, now mid-way between Hopkins and Vermeulen. 'The Doctor' was not to be denied though, and he caught and re-passed, this time with a move at Coppice. He went on to move clear equally effectively.
The lead of almost a second between Edwards and Stoner started to come down, perhaps with the Bridgestone tyres on the Ducati standing up better as the road got drier on line. Colin ran wide at the second apex at Melbourne Hairpin, and Casey slipped through to complete his journey up into the lead. It was half race distance, and the youngster started to pull away almost at once. Indeed, Stoner would soon build a margin of more than three seconds, setting a new fastest lap as he went.
Stoner made the lead go beyond eight seconds as he once again demonstrated his championship leading form, and headed for yet another victory. Edwards found himself in an equally solitary and secure second, but third man Rossi looked to have worn tyres as the following Suzuki homed in. This was now Vermeulen, the French race winner having got the better of team-mate Hopkins and left him behind. Chris was having no such problem with the Bridgestones, and he passed Valentino on the inside for the Esses, and pulled away in third.
The drying conditions meant that the riders had to go off line in the later stages, keeping their tyres cool in wet patches along the straights. But the first four spots were now established to the chequered flag, with the margin first to second the largest. Stoner made it five wins, Edwards equalled his best GP result, Vermeulen made his third podium visit, and Rossi had to make do with fourth. Hopkins retained fifth, but by the end was more closely tailed by de Puniet, with the next few also close.
The race for seventh had developed as Capirossi and Barros caught Pedrosa, and both quickly passed him. Dani got back through on Alex at Redgate, but the Old Hairpin saw the new order restored, whilst Loris got clear and caught up to de Puniet. The Italian tried his move at Redgate, passing on the way into Hollywood, and setting a new fastest lap to take himself into a race with Hopkins. Capirossi was able to force a way by, but his fifth place was gone with a late front end crash at Redgate.
Hofmann joined in behind Pedrosa and Barros in a close group, with the Brazilian veteran getting ahead of the Honda rider as they finished not far behind Hopkins and de Puniet. Melandri made a faster lap than anyone towards the end, but was no better than tenth after an anonymous ride. West recovered to P11, helped by a grassy off-track excursion for Elías a bit earlier. Toní was next, from Roberts, Nakano, Tamada, Guintoli and the delayed Hayden. Checa had been an early disappearance, joined only by Capirossi.
More difficult track conditions were no handicap to the assured series leader, Casey Stoner, and his Bridgestone-shod Ducati. (Although of course a combination of brighter weather, with maybe a return of the rain, looked on as the race ended.) Valentino Rossi was fourth, with Dani Pedrosa eighth, so Stoner's latest win meant an improved points lead of 26. Colin Edwards beat his Yamaha team leader with his best result of the year so far, matching his Donington performance of 2004; and Rizla Suzuki looked good with third and fifth places, even if podium man Chris Vermeulen cited some visor problems in the early spray.
Rossi's result took him three points beyond the 2300 mark in the top GP class, and therefore five ahead of multiple champion Mick Doohan. And of course team-mate Edwards' big score helped him jump up to seventh in the points table. In contrast, Marco Melandri took just six on the day, and thereby dropped from fourth to sixth, behind the handily ridden Suzukis. The promising form of Anthony West with the Kawasaki was not disguised by his one mistake. The result of eleventh was in fact one better than he'd managed in his 2001 season on a 500cc Honda; and it also meant he matched Fonsi Nieto's run for the team in France.
And it was not Honda's day this time. The 2007 Chinese race had already seen a rare Honda-free podium, with Pedrosa in P4, but today he was their best man and only eighth. Melandri, Elías and Nakano all finished ahead of the troubled Nicky Hayden. Honda has been the top manufacturer for a generation, even with the odd title going elsewhere. Tyres and the conditions were as much at play as machinery at Donington, but you have to go back a long way for a similarly uninspired Honda result. Go back almost exactly 25 years, in fact, to the 1982 Dutch TT at Assen. That day saw Freddie Spencer non-finish, and Takazumi Katayama take eighth for Honda behind Suzuki, Yamaha and Kawasaki riders...
Standings after eight races: Stoner 165; Rossi 139; Pedrosa 106; Vermeulen 88; Hopkins 83; Melandri 81; Edwards 65; Barros 60; Capirossi 57; Elías 49; Hofmann 45; Hayden 41; de Puniet 40.
Ducati 168; Yamaha 146; Honda 133; Suzuki 111; Kawasaki 49; Team KR 7; Ilmor 0
Notes for 2008: Stoner and Rossi are to remain in their respective teams for next season, but the inevitable changes might involve Capirossi and James Toseland. The Italian is possibly on his way to Kawasaki, whilst Superbike championship points leader Toseland may be in talks with Gresini Honda and/or Tech 3 Yamaha for a MotoGP ride. Stay tuned.