Valentino Rossi has the advantage at Dutch TT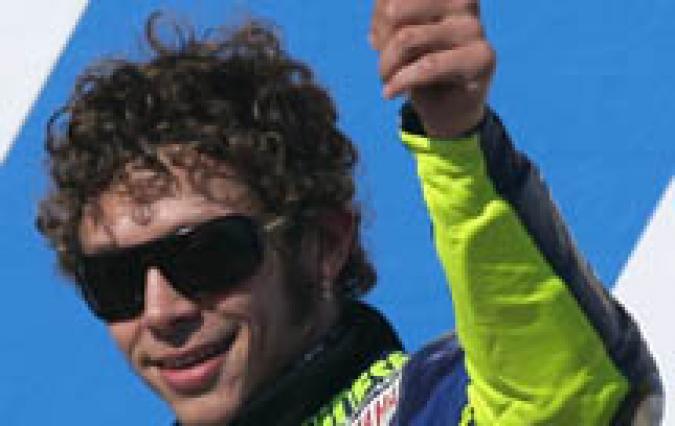 © Getty Images
By Dan Moakes
July 1 2007
Five wins from eight races had been more than enough to give Ducati rider Casey Stoner the top position in the 2007 MotoGP World Championship, but with Yamaha and Valentino Rossi of course the primary challengers. Round nine, the Dutch TT at Assen, would surely pit these two contenders against one another again, but perhaps with a Honda challenge too.
The most traditional of all current motorcycle Grand Prix races is the Dutch TT at Circuit van Drenthe, Assen. Track modifications have been many here, but a good amount of the original roads are used, and it remains a lengthy and challenging lap. This race pre-dates the World Championship, and it has hosted the 'Continental Circus' every year since the official series began in 1949. No other venue comes close to this pedigree.
Plenty of the riders have therefore tasted success at Assen, with the list of former winners including Loris Capirossi, Rossi, Marco Melandri, Alex Barros, Toní Elías, Dani Pedrosa, Anthony West, Nicky Hayden; and, in Superbikes, Colin Edwards and Chris Vermeulen. The line-up of competitors for this event remained the same as at the preceding British round, but Elías would miss the race due to a broken leg sustained from a crash in a practice session on Thursday.
The picture for qualifying on Friday had seen wet weather, with the accompanying change to the final grid order as rider skill and engine power were re-balanced in the equation for good lap times. Wet track specialist, and French GP winner, Chris Vermeulen emerged with pole position. It was the first for Rizla Suzuki this season, but the third in the Australian's short GP career. Team-mate John Hopkins kept up his usual form for fifth.
Stoner was also equal to his usual standard, taking second, with Marlboro team partner Capirossi slightly better than usual in tenth. For Kawasaki, this was the second chance with a rider on the front row, as Randy de Puniet achieved third. He had also showed well in the wet race at Le Mans, as had new partner West at Donington. The 25-year-old Australian started seventh this time.
Honda's riders did not qualify so well in the wet, with Gresini team rider Melandri best in fourth. Works Repsol riders Pedrosa and Hayden had positions nine and thirteen, with Shin'ya Nakano (Konica Minolta, 15th) and Carlos Checa (LCR, 16th) trailing on the other RC212V 800cc Hondas.
Yamaha made an impact visually, with Fiat team riders Edwards and Rossi on M1 machines with multi-coloured liveries. The scheme was based on Italian colours - red, white and green - with some blue mixed in. Edwards was sixth, and Rossi had more to do from P11. Customer machines were mixed in with the factory guys, and Alex Hofmann recorded a best yet of eighth with the d'Antín Pramac Ducati, and Alex Barros was four places back on the other bike.
Conditions seemed to have helped Kurtis Roberts on the KR-Honda, as the 28-year-old rider achieved his best GP qualifying position in 14th, ahead of the last two Honda men. And at the back came the Dunlop Tech 3 Yamaha riders, with Sylvain Guintoli ahead in P16. Makoto Tamada technically failed to qualify, but was not barred from the race under the circumstances.
Race day was different again, with dull but dry conditions, and the sun starting to break through as the afternoon developed. Stoner went straight into the lead, ahead of Vermeulen, but with Hopkins quickly getting by his Suzuki partner. Melandri and Edwards were next, but Hayden found an outside line for the first right-hander, Haarbocht, and was already up to sixth. Pedrosa, Hofmann, Capirossi and Rossi were next, with Loris soon into eighth.
Stoner made a powerful start and had got some way clear of the rest during the first lap. The two Suzukis followed, but Hopkins had superior pace and was able to stretch a gap of his own to Vermeulen. Hayden passed Edwards, followed at Haarbocht by Pedrosa, and Nicky also relegated Melandri at Mandeveen, a right-hander where the bikes begin on their way back towards the start and finish area. Rossi also overtook Hofmann.
Stoner and Hopkins both moved into clear space, with John setting fastest lap early on. Melandri was soon in trouble, and Pedrosa passed him at Haarbocht, then Edwards passed him on the outside of the looping right just before de Strubben, a long left-hander into the back stretch. Before long, Marco had also lost out to Rossi, Capirossi and de Puniet. The start of Valentino's challenge had seen him get into a tussle with Loris, winning that, then tag on behind team-mate Edwards.
Hayden was looking more like his 2006 self, while Vermeulen had more of a struggle in the dry. Nicky passed Chris with the rear sliding under brakes, to move into a podium slot, and Pedrosa followed suit at the Suzuki man's expense. Rossi had dealt with Edwards, and now overtook Vermeulen at Mandeveen, setting two new fastest laps in fifth as he put himself onto the tail of the two Repsol Hondas.
Hopkins had begun to reduce the lead held by Stoner, while Rossi took fourth with a move on Pedrosa. He then set about Hayden, getting through on the inside of the Duikersloot right-hander, straight after Mandeveen. Vermeulen and Edwards dropped back a bit, and now the Yamaha rider made another pass just before de Strubben, leaving Chris to the advances of de Puniet.
The gaps between the first five were being reduced, with Rossi again fastest among them, and closing on second man Hopkins. He took over the position with a move on the inside, coming out of de Strubben, and then set about chasing leader Stoner. John led Hayden and Pedrosa, but they both got ahead as they all crossed the start-finish line at one stage.
The championship battle was once again on at the front of the field, with Rossi closing in on Stoner. At one point he took back a second in a single lap, making up for the Ducati's great acceleration with his machine's better corner speed capacity, and at another point he had to run wide to avoid the rear of his rival. A few times the Italian tried an attack just before the final Geert Timmer Bocht chicane, where a right-hander precedes the left-right complex.
These moves from Rossi did not succeed, but brought him right onto the tail of Stoner for the last few laps. With three to go, Valentino was fast out of the double left at Ramshoek, powering onto the inside for the right before the chicane. This got the move done, and he was now able to pull away from Casey. Rossi had a margin of 1.5s by the last lap, and was clearly delighted in taking his third win of 2007. And Stoner was well clear of the rest.
The pace of Hayden and Pedrosa had got them away from Hopkins, and at one stage closer to the two leaders. Then Dani fell away from his team-mate, with Nicky also losing ground to the men ahead. They were each solitary runners as they settled for third and fourth places, with gaps back to Hopkins and to Edwards, completing the top six.
The race for seventh had ended in a bad way for Vermeulen and de Puniet, with the French rider tagging the rear of his Australian rival when trying for a pass on the inside for a right-hander. Randy went down right away, with Chris forced out into the gravel trap. He got back on again, but in a lowly 16th, and he therefore failed to score any points.
Barros emerged into P7, having got by West, Hofmann, Capirossi and Melandri on the way, with the latter putting up strong resistance. A frenzied four-way tussle for eighth developed between Melandri, West, Hofmann and Checa, with Alex following his team-mate and namesake's example to get ahead of the other three. Anthony passed Marco into the chicane to get ninth, and behind Carlos came Nakano, Tamada, Guintoli, Roberts and Vermeulen.
Capirossi had dropped to the tail end of the points before disappearing altogether, the only non-finisher besides de Puniet. Whilst Rossi's celebrations included sitting in the middle of a huge painted target on the slow down lap, both Stoner and Hayden ran out of fuel, which was clearly better than before the end, but showed how marginal it had been.
Valentino Rossi was back where he wanted to be, showing both his patience and his talent as he advanced through the field. With the apparent Ducati advantage of late, he was clearly very happy to have ridden to a straight defeat of Casey Stoner. The younger man spoke about having had tyre wear on his medium compound front Bridgestone, not helped by the wind's affect on the Ducati, and indeed Michelin men filled the other top four slots. The points margin for the Australian falls to 21 now.
Nicky Hayden may well have been happier still than Rossi, with his first podium result on the Honda 800, after a difficult start with no top six results. It also counted as his first defeat of Dani Pedrosa this year. John Hopkins maintained his record of top six results, even if he couldn't stay in the leading group, and his team-mate's misfortune meant that John moved up to fourth in the table. Melandri, Edwards and Capirossi were again disappointing, but d'Antín riders Barros and Hofmann did well. And in finishing ninth in the dry, Anthony West confirmed his promise as a Kawasaki pilot, improving on his best GP result away from the 250cc class.
The lastest win for Rossi provided a landmark for the Yamaha marque. The top class in Grands Prix has changed from the 500cc limit, to the 990cc limit for five years, and is now at 800cc. But these different rules have all counted as the pinnacle of Moto Grand Prix competition, and now Yamaha has reached a total of 150 race wins in the main GP class. The first one went to Chas Mortimer, at the Spanish 500 race in September 1972, and Yamaha is second only to Honda in the overall statistics. How will they all fair at the Sachsenring?
Standings after nine races: Stoner 185; Rossi 164; Pedrosa 119; Hopkins 94; Vermeulen 88; Melandri 87; Edwards 75; Barros 69; Capirossi and Hayden 57; Hofmann 53; Elías 49; de Puniet 40.
Ducati 188; Yamaha 171; Honda 149; Suzuki 122; Kawasaki 56; Team KR 8; Ilmor 0