Ryuichi Kiyonari takes second BSB title at Brands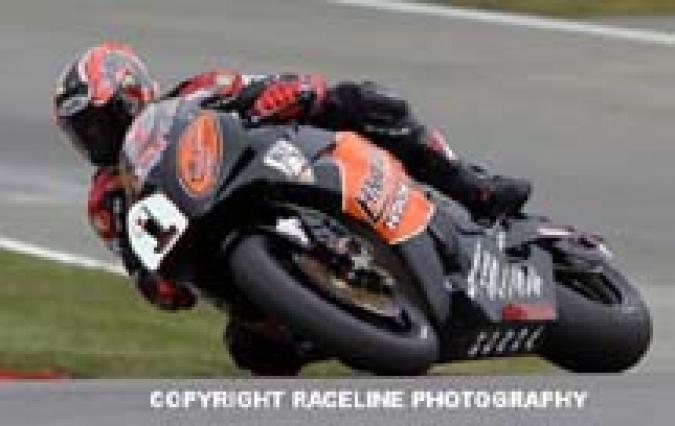 © Raceline Photography
By Dan Moakes
October 14 2007
Points-leading Japanese rider Ryuichi Kiyonari went into the final round of the 2007 Bennetts British Superbike Championship, at Brands Hatch, needing just a fourth place finish from the two races. The HM Plant Honda rider would be on his way to the World Championship for 2008, after four years in Britain, and was odds-on to make it two BSB titles in a row.
The two men who could still deny 'Kiyo' were Jonathan Rea (HM Plant Honda) and Leon Haslam (Airwaves Ducati). Rea was 37 points adrift, with Haslam another four behind that. Even if one of them could manage the double win, Kiyo would need to have a non-finish and miss the podium - or finish at the back end of the top ten each time - to be unlucky enough to lose out.
The Brands Hatch Indy circuit is a short and almost constantly curving one, falling and then climbing again more than once, and with only one really heavy braking corner. Qualifying saw only one of the three title prospects reach the front row of the grid, with Kiyonari (fifth) and Haslam (seventh) on row two. Rea would start third, with a Stobart Honda rider on either side - Tom Sykes was second, with Shane Byrne fourth.
Gregorio Lavilla was a potential spoiler, therefore, in pole position on the other Airwaves Ducati 999 F06. It marked his first pole since back in round four, which was also the last time he had won a race. Cal Crutchlow put his Rizla Suzuki sixth, with the fifth of the Honda FireBlades being that of Hydrex rider Karl Harris, in eighth.
James Haydon was ninth for Hawk Kawasaki, and then came Bike Animal Honda substitute rider Ian Hutchinson on the Leon Camier bike. Chris Walker managed eleventh for Rizla Suzuki, but he was in pain after a practice crash on the GSX-R1000 at Graham Hill Bend. Michael Rutter (MSS Kawasaki), Steve Plater (AIM Yamaha), Dean Thomas (Samsung Suzuki) and Tristan Palmer (THR Honda) were next, then two Virgin Yamaha men. Tommy Hill was headed by the newly added regular Cup rider Marty Nutt.
Race one started well for HM Plant Honda's riders, with Rea getting away in the lead, followed by Kiyonari. Sykes and Lavilla held onto the next two places, from Haslam, Crutchlow and Rutter, who would soon lose out to Harris. Byrne dropped to ninth, from Walker, Haydon, Plater, Simon Andrews, Hill, Hutchinson and Nutt.
Kiyo was quickest early on, but in fact both the works Hondas were quickly pulling away from the rest. Lavilla got by Sykes and improved the fastest lap as he got into pursuit mode. But Tom got into trouble on the Cooper Straight, behind the pits complex. The Stobart Honda's rear end slid out from the exit of the left-handed descent at Graham Hill Bend, with the 22-year-old thereby crashing out. The dark green machine caught light before Sykes could get back to it, and the whole incident led to the pace car being deployed.
The restart of the race saw Rea leading Kiyo, Lavilla, Haslam, Crutchlow, Harris, Byrne, Walker, Rutter, Andrews, Hill, Plater, Hutchinson, Scott Smart, Thomas, Nutt and Aaron Zanotti. Byrne moved past Harris to join the leading group, with Karl and the rest being left trailing. Lavilla passed Kiyonari inside on the brakes for Paddock Hill Bend, the steeply descending first right-hander, and a new fastest lap helped the Spaniard to catch up to leader Rea.
Lavilla looked to have found his best form again, after only one podium visit in the previous twelve races - with that having been for third. The looping, right-handed McLaren bend, which leads right into the final, banked Clark Curve, saw Gregorio go tight to the inside of Jonathan and find enough room to make the pass. From here he was able to extend the leading margin and, with Kiyo still third, Rea's title hopes looked pretty much gone.
Jonathan was clear of the rest in second, but Ryuichi was feeling the attentions of Haslam, Crutchlow and Byrne still. Leon went wide out of Graham Hill Bend, but he regained the lost ground almost straight away. He was right behind the Honda for Paddock, but so much that he had to go a touch wide there to avoid a collision. Again he recovered to tail Kiyo, and on the penultimate lap this foursome came up on backmarkers.
There was the chance for Haslam, Crutchlow or Byrne to take advantage of Kiyonari through the traffic in these late stages. But even when newcomer Kenny Gilbertson crashed his Kawasaki on the last lap, the order amongst this secondary group did not change. Behind Lavilla, with a new lap record, and second man Rea, Kiyonari held onto third, and his second title was won. Haslam, Crutchlow and Byrne were close behind, then Walker, Rutter, Andrews and Plater.
Kiyonari commemorated his achievement, in part, by going into race two with a crash helmet in silver and gold. Meanwhile, Sykes was back out, but this time on his spare Stobart Honda. And once again it was Rea and Kiyo that darted straight to the front, with Byrne in third and attacking the man ahead on the brakes for the right-handed Druids hairpin. Lavilla soon took fourth from Sykes, with Haslam, Crutchlow, Rutter, Walker, Harris, Hutchinson, Haydon, Plater, Smart, Hill, Nutt, Andrews and Palmer next. Tristan had earlier secured the privateers' Superbike Cup title.
Fastest laps were traded by Lavilla and Byrne as the first four stretched out an advantage over Sykes and the rest. A couple of early changes involved Crutchlow passing his rookie rival for fifth; and Lavilla revisited his earlier move at McLaren to get in front of Byrne. But moments earlier, Quay Garage Honda rider James Buckingham had come to grief. The 23-year-old had gone down at Paddock, when oil from his hugely smoking machine caused him to crash in the dip after the turn. The bike had left oil some distance back through the bend, and the safety car was quickly replaced by a red flag race stoppage.
The second part would be a new race once cement dust had been put down to soak up the hazardous oil, with twenty laps to be run after the two warm-up laps. The new grid would be in the order of race positions on the completed lap before the stoppage, with Rea from Kiyo, Byrne, Lavilla, Crutchlow, Sykes, Haslam, Walker, Harris, Rutter, Hutchinson, Haydon, Plater, Hill, Smart and Andrews.
Following a long hold, they were away again. Sykes and Lavilla managed to drop behind Haslam this time, but with Gregorio soon passing Tom for sixth. He joined on to the lead group, behind Rea, Kiyo, Byrne, Crutchlow and Haslam; with Harris passing Walker to run behind Sykes, but this group being dropped by those out front.
Kiyonari set a new fastest lap chasing Rea, taken from him by Byrne, then Lavilla - who was now ahead of team-mate Haslam. Gregorio moved up again with his trademark inside pass at McLaren, this time on Crutchlow. Byrne took his turn by braking on the inside at Druids to pass Kiyo, to get second. Lavilla could now get to work on Kiyonari, but the collision of two backmarkers, and therefore yellow flags, meant he had to back out of a move at Paddock.
Lavilla was not behind Kiyonari for long, though, and so found himself behind only Rea and Byrne. The lead came into question at McLaren bend, where Shane went inside Jonathan to pass, but he went wide and got into a slide on the way out, which let the black and orange Honda fight back past through Clark. The upshot was that Lavilla got past Byrne on the inside for Paddock, and was then in place to take the lead at McLaren.
Lavilla led Rea and the rest, and was threatening to pull away as in the earlier race. Before he could get far, the picture changed behind him. Byrne crashed out of third when the rear went round on him on the way down Paddock, and this caused a gap from Rea back to new third man Crutchlow. Kiyo and Haslam were tailing the Suzuki man now, with Walker and Sykes now heading the next group.
The final laps saw Lavilla stretching his lead over Rea, with Crutchlow in sight of a first BSB podium, and even closing on the Honda. Kiyonari and Haslam fell back further as the first five finished in that order, with a bigger gap back to Walker, then Sykes, Harris, Haydon, Rutter, Plater, Smart, Hill and Hutchinson.
Gregorio Lavilla had won the day on his Airwaves Ducati, in a belated return to form, but it was really all about Ryuichi Kiyonari's second consecutive British Superbike title on the HM Plant Honda. Jonathan Rea crept a touch closer in the points, with two second places, but had clearly only had a slim hope of defeating Kiyo. Leon Haslam was behind both the Honda men in both races, which meant that his reasonable hopes of second overall were not realised.
Behind the 'big four', the best of the rest at Brands had been Cal Crutchlow, who finally booked a podium place in the last race of the season. This followed four fifths and two fourths, and in fact marked only the third rostrum for Suzuki all year - with the others having gone to team-mate Chris Walker. Overall, it was Tom Sykes that won the race to secure 'rookie of the year' status, even with a disappointing Brands, but he might have had closer competition if not for the injury to Leon Camier.
The hierarchy in BSB 2008 is yet to be established. Kiyonari graduates to a World Championship Honda ride, with Rea going to World Supersport. Walker might join the Ulsterman, with Rizla Suzuki set to replace him with a Japanese rider. The plans of GSE Racing/Airwaves Ducati are not yet clear, which could mean that both Lavilla and Haslam will be moving on - and therefore the top four guys could leave some tasty pickings for the men who do remain in the series. We will enjoy finding out.
Final standings after twenty-six races:
1 Ryuichi Kiyonari (Honda), 433
2 Jonathan Rea (Honda), 407
3 Leon Haslam (Ducati), 387
4 Gregorio Lavilla (Ducati), 368
5 Shane Byrne (Honda), 293
6 Tom Sykes (Honda), 279
7 Chris Walker (Suzuki), 225
8 Leon Camier (Honda), 199
9 Cal Crutchlow (Suzuki), 152
10 Tommy Hill (Yamaha), 138
This site will provide a full season review in due course, but readers should feel free to share their views of another great season on the message board.