Biographical rider entry list for MotoGP in 2015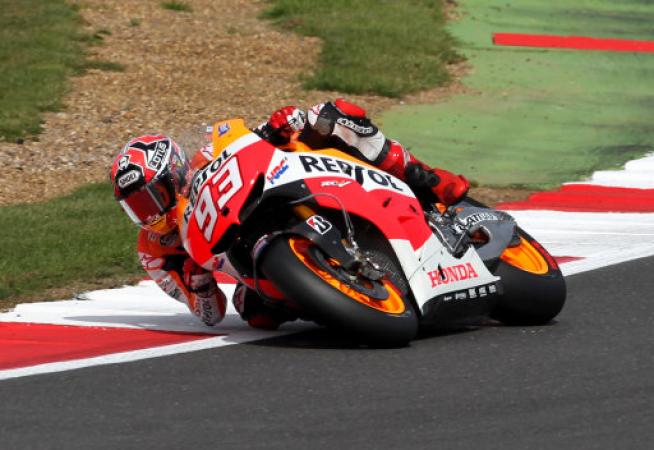 By Dan Moakes
March 28 2015
The 2015 FIM MotoGP World Championship series: The new season of racing starts this weekend with the Qatar night race, where Honda factory rider Marc Márquez, from Spain, will start the defence of his second MotoGP title, having won his first as a rookie in 2013. Here are the essential details on who's who among the riders this year.
The 2015 FIM MotoGP World Championship:
MotoGP's 1000cc four-stroke engine formula continues for the year ahead, with Grand Prix motorcycle racing's premier class seeing a second season with the division between Factory works prototype machinery and the more affordable Open category of bikes.
As ever, there is no shortage of experience and talent amongst the latest contingent of riders, with once again four previous MotoGP champions on the grid: Valentino Rossi, Nicky Hayden, Jorge Lorenzo and 22-year-old defending title holder Marc Márquez. Further MotoGP race winners within the field are led by regular title contender Dani Pedrosa, along with Andrea Dovizioso and the experienced Marco Melandri, who returns after four years as a contender in World Superbikes.
Also back in GP racing, after an absence of three years, are the Suzuki team with their new GSX-RR bike. The marque's last victory was in 2007, one high point in a dry spell dating back to 2002. Their Spanish duo will be looking to build towards glory days once again. And, in all, the rider line-up includes nineteen Grand Prix winners and thirteen World Champions, with graduates to the premier class this year including Maverick Viñales (with Suzuki) and Jack Miller from the lower GP classes, Loris Baz from World Superbikes, and Eugene Laverty via the roundabout route from the 250cc class through Supersport and Superbike. Here is a biographical rundown for all the contenders.
Valentino Rossi, Italy
age 36 · first GP 1996
racing number: 46
GP entries: 314, total points: 5093
GP wins: 108 (125cc, 250cc, 500cc, 990cc, 800cc, 1000cc)
GP podium results: 196
World Champion: 125cc 1997 · 250cc 1999 · 500cc 2001 · MotoGP 2002, 2003, 2004, 2005, 2008, 2009
National Champion*: Italian 125cc 1995
also: a race winner in World Endurance
Marco Melandri, Italy
age 32 · first GP 1997
racing number: 33
GP entries: 213, total points: 2096
GP wins: 22 (125cc, 250cc, 990cc)
GP podium results: 62
World Champion: 250cc 2002
best season in MotoGP: 2nd 2005
National Champion*: Italian 125cc 1997
also: race wins in World Superbike
Alex de Angelis, San Marino
age 31 · first GP 1999
racing number: 15
GP entries: 250, total points: 1789
GP wins: 4 (250cc, 600cc)
GP podium results: 40
best MotoGP result: 2nd
best season in MotoGP: 8th 2009
best season in GPs: 2nd 2003 125cc
Hiroshi Aoyama, Japan
age 33 · first GP 2000
racing number: 7
GP entries: 172, total points: 1347
GP wins: 9 (250cc)
GP podium results: 27
best MotoGP result: 4th
World Champion: 250cc 2009
best season in MotoGP: 10th 2011
National Champion*: All-Japan 250cc 2003
Dani Pedrosa, Spain
age 29 · first GP 2001
racing number: 26
GP entries: 235, total points: 3474
GP wins: 49 (125cc, 250cc, 990cc, 800cc, 1000cc)
GP podium results: 135
World Champion: 125cc 2003 · 250cc 2004, 2005
best season in MotoGP: 2nd 2007, 2010, 2012
Andrea Dovizioso, Italy
age 29 · first GP 2001
racing number: 4
GP entries: 223, total points: 2528
GP wins: 10 (125cc, 250cc, 800cc)
GP podium results: 65
World Champion: 125cc 2004
best season in MotoGP: 3rd 2011
European Champion: 125cc 2001
Jorge Lorenzo, Spain
age 27 · first GP 2002
racing number: 99
GP entries: 217, total points: 3084
GP wins: 54 (125cc, 250cc, 800cc, 1000cc)
GP podium results: 123
World Champion: 250cc 2006, 2007 · MotoGP 2010, 2012
Héctor Barberá, Spain
age 28 · first GP 2002
racing number: 8
GP entries: 211, total points: 1562
GP wins: 10 (125cc, 250cc)
GP podium results: 32
best MotoGP result: 5th
best season in MotoGP: 11th 2011, 2012
best season in GPs: 2nd 2004 125cc & 2009 250cc
National Champion*: Spanish 125cc 2002
Álvaro Bautistá, Spain
age 30 · first GP 2002
racing number: 19
GP entries: 206, total points: 1778
GP wins: 16 (125cc, 250cc)
GP podium results: 49
best MotoGP result: 3rd
World Champion: 125cc 2006
best season in MotoGP: 5th 2012
National Champion*: Spanish 125cc 2003
Nicky Hayden, United States
age 33 · first GP 2003
racing number: 69
GP entries: 202, total points: 1681
GP wins: 3 (990cc)
GP podium results: 28
World Champion: MotoGP 2006
National Champion*: AMA Supersport 600cc 1999 · AMA Superbike 2002
Mike di Meglio, France
age 27 · first GP 2003
racing number: 63
GP entries: 187, total points: 676
GP wins: 5 (125cc)
GP podium results: 13
best MotoGP result: 12th
best season in MotoGP: 23rd= 2014
World Champion: 125cc 2008
National Champion*: French 50cc 2000
Aleix Espargaró, Spain
age 25 · first GP 2004
racing number: 41
GP entries: 161, total points: 667
GP podium results: 2
best MotoGP result: 2nd
best season in MotoGP: 7th 2014
National Champion*: Spanish 125cc 2004
Eugene Laverty, Northern Ireland
age 28 · first GP 2004
racing number: 50
GP entries: 31, total points: 14
best GP result: 13th (250cc)
best season in GPs: 21st 2008 250cc
also: race wins in World Superbike and World Supersport, runner-up overall in each series
Andrea Iannone, Italy
age 25 · first GP 2005
racing number: 29
GP entries: 163, total points: 1020.5
GP wins: 12 (125cc, 600cc)
GP podium results: 24
best MotoGP result: 5th
best season in MotoGP: 10th 2014
best season in GPs: 3rd 2010, 2011, 2012 Moto2
Karel Abraham, Czech Republic
age 25 · first GP 2005
racing number: 17
GP entries: 160, total points: 410
GP wins: 1 (600cc)
GP podium results: 2
best MotoGP result: 7th
best season in MotoGP: 14th 2011, 2012
best season in GPs: 10th 2010 Moto2
Stefan Bradl, Germany
age 25 · first GP 2005
racing number: 6
GP entries: 143, total points: 1095
GP wins: 7 (125cc, 600cc)
GP podium results: 19
best MotoGP result: 2nd
World Champion: Moto2 2011
best season in MotoGP: 7th 2013
National Champion*: German 125cc 2005
Bradley Smith, England
age 24 · first GP 2006
racing number: 38
GP entries: 151, total points: 1184.5
GP wins: 3 (125cc)
GP podium results: 24
best MotoGP result: 3rd
best season in MotoGP: 8th 2014
best season in GPs: 2nd 2009 125cc
Pol Espargaró, Spain
age 23 · first GP 2006
racing number: 44
GP entries: 141, total points: 1452.5
GP wins: 15 (125cc, 600cc)
GP podium results: 44
best MotoGP result: 4th
World Champion: Moto2 2013
best season in MotoGP: 6th 2014
National Champion*: Spanish 125cc 2006
Scott Redding, England
age 22 · first GP 2008
racing number: 45
GP entries: 119, total points: 787.5
GP wins: 4 (125cc, 600cc)
GP podium results: 15
best MotoGP result: 7th
best season in MotoGP: 12th 2014
best season in GPs: 2nd 2013 Moto2
Marc Márquez, Spain
age 22 · first GP 2008
racing number: 93
GP entries: 116, total points: 1738
GP wins: 45 (125cc, 600cc, 1000cc)
GP podium results: 69
World Champion: 125cc 2010 · Moto2 2012 · MotoGP 2013, 2014
Yonny Hernández, Colombia
age 26 · first GP 2010
racing number: 68
GP entries: 83, total points: 177
best MotoGP result: 7th
best GP result: 6th (Moto2)
best season in MotoGP: 15th 2014
Cal Crutchlow, England
age 29 · first GP 2011
racing number: 35
GP entries: 71, total points: 483
GP podium results: 7
best MotoGP result: 2nd
World Champion: Supersport 2009
best season in MotoGP: 5th 2013
National Champion*: British Supersport 2006
also: race wins in World Superbike
Maverick Viñales, Spain
age 20 · first GP 2011
racing number: 25
GP entries: 69, total points: 1052
GP wins: 16 (125cc, 250cc (Moto3), 600cc)
GP podium results: 40
World Champion: Moto3 2013
European Champion: 125cc 2010
National Champion*: Spanish 125cc 2010
Danilo Petrucci, Italy
age 24 · first GP 2012
racing number: 9
GP entries: 51, total points: 70
best MotoGP result: 8th
best season in MotoGP: 17th 2013
also: a race winner in European Stocksport 600
Jack Miller, Australia
age 20 · first GP 2012
racing number: 43
GP entries: 49, total points: 403
GP wins: 6 (250cc (Moto3))
GP podium results: 10
best season in GPs: 2nd 2014 Moto3
Loris Baz, France
age 22 · first GP n/a
racing number: 76
GP rookie in 2015
European Champion: Superstock 600cc 2008 · Junior Superstock 1000cc 2011
also: race wins in World Superbike and in World Endurance
---
* Winner of a national championship title at the most senior level
Possible substitute or wildcard riders:
Randy de Puniet, France
age 34 · first GP 1998
racing number: 14
GP entries: 255, total points: 1380
GP wins: 5 (250cc)
GP podium results: 24
best MotoGP result: 2nd
best season in MotoGP: 9th 2010
best season in GPs: 3rd 2004 250cc
National Champion*: French 125cc 1998
Katsuyuki Nakasuga, Japan
age 33 · first GP 2002
racing number: 21
GP entries: 9, total points: 50
GP podium results: 1
best MotoGP result: 2nd
best season in MotoGP: 18th 2011, 2012
National Champion*: All-Japan Superbike 2008, 2009
Michele Pirro, Italy
age 28 · first GP 2003
racing number: 51
GP entries: 81, total points: 206
GP wins: 1 (600cc)
GP podium results: 2
best MotoGP result: 5th
best season in MotoGP: 13th 2013
best season in GPs: 9th 2011 Moto2
European Champion: 125cc 2004
National Champion*: Italian Superstock 2007, 2008
also: a race winner in World Supersport and in FIM Superstock 1000 Cup
Michael Laverty, Northern Ireland
age 33 · first GP 2013
racing number: 70
GP entries: 36, total points: 12
best MotoGP result: 12th
best season in MotoGP: 23rd= 2014
National Champion*: British Supersport 2007
also: a race winner in European Superstock