Racing legend Geoff Duke has died at the age of 92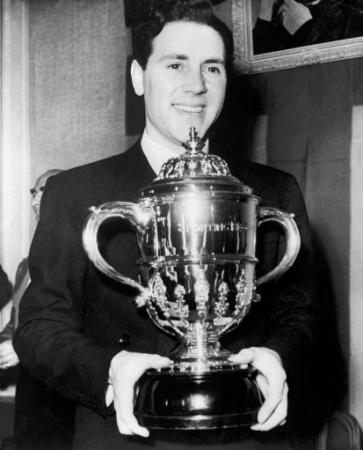 By Dan Moakes
May 15 2015
There is sad news for the world of motorcycle racing as legendary rider Geoff Duke OBE has passed away at the age of 92, following a long illness. Six times a motorcycle Grand Prix world champion, Duke was the man to beat in the early 1950s, one of the early serial champions.
Geoff Duke was the man who pioneered the one-piece leather racing suit, and as a rider he set the standards as a perfect stylist, with a neat cornering ability that appeared effortless and was faster than what had gone before. After a glittering road-racing career, he retired in 1960, living on the Isle of Man and maintaining his place as a fine ambassador for his sport.
A former despatch rider in the Royal Signals, Duke's competition career began post-war in the off-road disciplines: trials, motocross and scrambling. Joining Norton, he soon realised his ambition of racing on the roads, beginning a successful association with the fearsome Isle of Man TT course, then further afield within the 'Continental Circus'.
Just missing out on the 500cc title in 1950, he went on to earn three championships for Norton before turning to the Italian marque Gilera, when he saw that the British machinery was getting left behind on pace. His title charge was halted in 1956, courtesy of a six-month suspension from the FIM after supporting privateer riders who went on strike at Assen over pay; and then came injury and the withdrawal of Gilera. His best days were over, but Geoff Duke's achievements and status remain firmly established - only seven men have won more world championship titles.
Geoffrey Duke: born St Helens, Lancashire
29th March 1923 to 1st May 2015
World Championship titles:
1951 500cc (Norton) · 4 wins
1951 350cc (Norton) · 5 wins
1952 350cc (Norton) · 4 wins
1953 500cc (Gilera) · 4 wins
1954 500cc (Gilera) · 5 wins
1955 500cc (Gilera) · 4 wins
Grand Prix wins in total: 33 (1950-58)
Norton 350cc 11; Norton 500cc 8; Gilera 500cc 14
Grand Prix podium total: 50 (1950-59)
Isle of Man TT wins:
1949 Clubman's Senior (Norton)
1950 Senior (Norton)
1951 Junior (Norton)
1951 Senior (Norton)
1952 Junior (Norton)
1955 Senior (Gilera)
TT podium results: 8 (1949-55)
TT fastest laps: 7 (1949-55)
Other major race wins:
Manx Grand Prix 1949 Senior (Norton)
Scarborough Gold Cup 1953, 1954, 1955, 1956