Four in a row for Jorge Lorenzo with win in Catalunya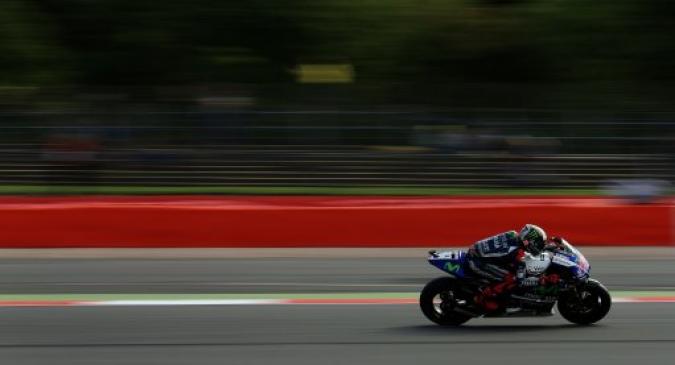 © David Davies/PA Wire
By Dan Moakes
June 19 2015
Yamaha rider Jorge Lorenzo was the man on form in the 2015 FIM MotoGP World Championship, winning the races in Spain, France and Italy to close in on team-mate Valentino Rossi after six rounds of the series. And Jorge would be on home ground for round six.
The Grand Prix of Catalunya, held at the Barcelona circuit, is still remembered for the dramatic final lap between 2009 works Yamaha riders Rossi and Lorenzo, with the more experienced Italian sealing victory in an audacious last corner overtaking move. More recently it has been Jorge in the ascendancy, but with Valentino revitalised lately and leading the way in this year's title race.
Qualifying for the 2015 Catalan GP once again saw Lorenzo fastest of the MoviStar Yamaha duo, taking third spot on the grid, with Rossi back in seventh. Their frequent rivals, the Repsol Honda pairing, were nearby: Marc Márquez was fourth and Dani Pedrosa was sixth. Between them was the leading Ducati of Andrea Dovizioso, with partner Andrea Iannone only in P12. Up front were the two men on the new Suzuki, with Aleix Espargaró earning his second pole position in MotoGP and class rookie Maverick Viñales second. The last pole for Suzuki had been taken by Chris Vermeulen at Assen in 2007; whilst the last one-two for Suzuki was back in May 1993 at Jeréz, with Kevin Schwantz heading Alex Barros.
Eighth place went to Bradley Smith (Tech 3 Yamaha), then came Cal Crutchlow (LCR Honda), Yonny Hernández (Pramac Ducati), Pol Espargaró (Tech 3 Yamaha) and Iannone. The leader of the Open class was once again Héctor Barberá, in P13 for Avintia Ducati, and he was followed by Scott Redding (Marc VDS Honda), Stefan Bradl (Forward Yamaha), Danilo Petrucci (Pramac Ducati), Mike di Meglio (Avintia Ducati), Nicky Hayden (Aspar Honda), Loris Baz (Forward Yamaha), Álvaro Bautistá (Gresini Aprilia), Jack Miller (LCR Honda), Eugene Laverty (Aspar Honda), Alex de Angelis (Ioda ART) and Marco Melandri (Gresini Aprilia).
Form guide: GP wins at Barcelona
Rossi 9; Lorenzo 4; Pedrosa 3; Bautistá, Iannone & Márquez 2; Barberá, Bradl, Dovizioso, P.Espargaró, di Meglio, Melandri & Viñales 1
The start of the race did not go so well for the two Suzuki men at the head of the grid, with Lorenzo getting away in the lead, then Dovizioso and Márquez, and with Pol Espargaró trying to go around the outside of the Honda man in the right-handed first corner, Elf. Rossi was fifth, with Aleix battling Smith and Hernández behind the Italian. Following the Elf turn there is an immediate left at Abolafio, then the long right at Curvone Renault. It was here that Crutchlow's race effectively ended when he was forced wide on the way in, going into the gravel and down.
Viñales was back in P13, behind Iannone, Pedrosa, Redding and Petrucci. He was followed by Bautistá, then Bradl, Miller, di Meglio, Baz, Laverty, de Angelis and Barberá. The early shuffles saw Rossi pass Pol Espargaró to go fourth, with Aleix Espargaró getting ahead of Hernández and then passing Smith for sixth at Revolt Seat, a tight downhill left-hander. Meanwhile, it was all about two Spaniards at the front, with Márquez setting fastest lap as he looked to pressure leader Lorenzo. Dovizioso and Rossi were not too far off in the next two positions.
However, the challenge from Márquez proved short lived. The back straight leads to the braking zone for the left-handed Revolt la Caixa, and Marc was pushing as the two leaders approached the corner. So much so that he got a bit out of shape and then ran wide, getting out into the gravel trap and going down as the rear of the Honda got away from him. He was able to get going again, but only in order to cruise back to the pits and retire. Crutchlow had also rejoined but had been lapped and he would also return to his garage permanently.
This left Lorenzo in the lead and with a handy margin over the next rider. When Rossi passed Dovizioso at Seat, who then began to lose ground, it meant a works Yamaha one-two: with Jorge on his way to a two-second advantage by the time there were eleven laps left to run. Pol Espargaró was the man in fifth, then Aleix Espargaró, Hernández, Smith, Iannone and Pedrosa. But the order in this group was changing, firstly when Hernández disappeared early on. Pol then began to go backwards, losing three places before he suffered a lowside crash at Renault.
Aleix was therefore up to fourth, with Pedrosa passing Smith on the inside at la Caixa to go fifth. The next man to go down was podium bound Dovizioso, at the looping right called Revolt Repsol, turn four. He slid out and tried to get going again but was another non-finisher. So when Pedrosa overtook Espargaró's Suzuki on the approach to turn one, Elf, it meant the Honda rider was into third place from tenth on the first lap. Smith was holding fifth position, with Iannone not far behind and Redding just about hanging on to them in seventh. Melandri made it six non-finishers at this stage.
With seven laps remaining, Rossi had started to bring down Lorenzo's lead, the margin now 1.7s. Next time round it was 1.4s, but Jorge was able to respond. It was around 1.3s with five to go, then stayed somewhere around 1.3s or 1.2s until they went onto the last lap. The gap was down at around 1.0s on that lap, but Lorenzo had enough in hand to take his fourth win in succession, with Rossi next and Yamaha earning a comfortable one-two. Pedrosa took third but was way out of reach.
Aleix Espargaró missed out on taking fourth place. Having already taken a trip down the escape road at Elf he went on to crash at Seat. Iannone had pressurised Smith before successfully overtaking at la Caixa, these two taking fourth and fifth positions. Viñales had got past Petrucci, and the various retirements meant he ran eighth, closing in on Redding. They both managed to run on at Elf when Maverick made his move on the inside, crossing the escape road tarmac. The Suzuki man gave back the place in case of a possible penalty but was able to make it past moments later and took sixth, after his team-mate's exit, for his best MotoGP result to date.
Hayden had also crashed out, and the high retirement rate contributed to several riders taking their best finish of the season so far. Eight men failed to get to the flag, whilst Barberá rejoined a lap down after a pit stop to finish at the back in P16. Seventh was Redding's best of 2015, likewise Bradl in eighth. Behind ninth man Petrucci, also improved were the results of Bautistá (tenth), Miller (eleventh) and Laverty (twelfth), with Baz next and more improved placings for di Meglio and de Angelis.
Jorge Lorenzo closed right up onto the heels of Yamaha team-mate Valentino Rossi in the championship contest, finding himself just a point behind despite missing the podium in the first three rounds of 2015. Jorge's win was his 37th in the GP premier class, which equals the 500cc tally of former superstar Mike Hailwood. He remains behind Mike's overall victory total but is now ahead of the likes of Mick Doohan and Phil Read. Meanwhile, Marc Márquez finds himself well in arrears after a third no-score, with Ducati's runners looking better off than Honda's team leader. But who will be ahead after the next round?
Standings after seven races: Rossi 138; Lorenzo 137; Iannone 94; Dovizioso 83; Márquez 69; Smith 68; Crutchlow 47; Viñales 46; P.Espargaró 45; Petrucci and Pedrosa 39 ·· Open leader: Barberá.
Yamaha 166; Ducati 119; Honda 114; Suzuki 57; Forward Yamaha 18; Aprilia 11; ART 1.