Tribute to David Jefferies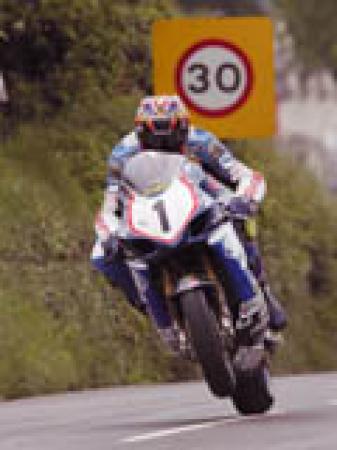 Careva Photography
By Carly Rathmell
July 17 2003
Thursday the 29th of May saw the tragic loss of one of the current era's most famous motorcycle racers. David Jefferies, DJ, Big Dave, was involved in a tragic accident at the Isle of Man TT practice on Thursday. His injuries were fatal and he died at the scene.
Big DJ was an inspiration to the whole motorcycling industry. Not only was he superbly fast on a bike, but he was also one of the most likeable and loveable blokes in the paddock. The 30-year-old burly Yorkshireman came from a famous motorcycling family. The National Allan Jefferies Trial is named after his Grandfather, and both his Father and his Uncle were famous in their own right.
A former Trials and Motocross rider, there were not many motorcycle sports that DJ had not tried to master. Starting his career, as most riders do, on a Yamaha TY80 at the age of seven, trials weren't really DJ's style - too slow for Dave!! But combine Dave with speed and you had the perfect combination. Determined to win everything he did, and being successful on the majority of occasions, Dave will be missed by everyone.
Turning to Moto-X at the age of fourteen, he was super quick and it wasn't long before Dave needed more power. In 1990 Dave hit the road-racing scene in a big way; David Jefferies wrote his name in the history books. A nine times TT winner, fastest man around the Isle of Man course, winner of the North West 200, Ulster GP, plus the British Superstock title, DJ was simply a legend.
More recently he competed in the British Winter Supermoto series. Again it was DJ who put the pressure on, making an impact on the field as only DJ knew how to. Stamping his authority, DJ made sure his fellow competitors knew he was there at every given opportunity.
He died in the sport he loved and at a place where he was so famous. The TT has taken many lives but this is one that will have a massive impact on so many people. The TT was DJ, DJ was the TT, and it will never be the same without him.
The impact he made in motorcycling could not have been shown more than it was last Sunday. Graham Jarvis winning the Japanese World Round, James Toseland winning the World Superbike round and Warren Steele winning the National Supermoto Championship in the Isle of Man. All three riders dedicated their wins to the Big Man.
A true friend, character and a simply astounding man, DJ has gone but will never, ever be forgotten by anyone who knew him, or who met him. Our thoughts and love are with your family, Tony, Pauline and Louise, to whom you were so close, plus your thousands of friends and fans at this sad time.
Every person that knew you, DJ, will have their own stories and memories of you, and that is something that can never be taken away. There was never a dull moment with you, you were an original! Dave you were my brother and best mate rolled into one - you are irreplaceable. I will always miss you.
Gone but never ever forgotten. Rest in peace Big Man.
Love always Carly
The funeral is this Friday, 13 June. More details can be found at www.DavidJefferiesRacing.com