Steve Hislop killed in a helicopter accident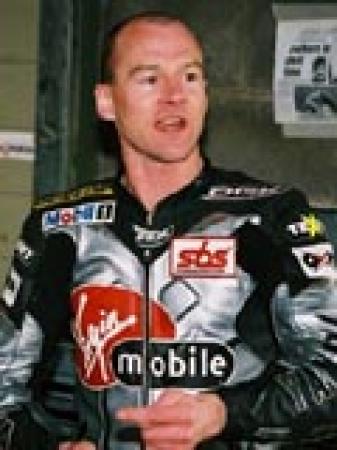 Pic: Carly Rathmell
By Dan Moakes
April 14 2004
Steve Hislop was perhaps best known as a double British Superbike champion, having won the title in 1995 (with Devimead Ducati) and 2002 (for MonsterMob Ducati). However, he was also one of the most successful riders in the history of the Isle of Man TT races, with eleven wins between 1987 and 1994.
But, sadly, 'Hizzy' was killed yesterday (30th July) when the helicopter he was piloting crashed in Scotland, near his home town of Hawick. For the world of motorcycle racing, this is another huge shock. It comes in the wake of the untimely deaths of Barry Sheene, Daijiro Kato and David Jefferies this year.
Steve rode for Ducati, Kawasaki and Yamaha in the British Superbike series, with most of his 31 victories achieved on the Italian bikes. He also appeared in the World Championship as a wildcard, finishing fourth with a Honda at Donington in 1989, and third at the same venue in 2001, having started from pole.
Unlike many riders, Hizzy seemed to get faster as he got older. Despite breaking his neck at Brands Hatch, in a tumble at the start of the 2000 WSB event, he came back even stronger in 2001. For his two years with MonsterMob, Steve was often the fastest man in the field. In his second title year, he had five poles and thirteen fastest lap. And his qualifying lap at Donington eclipsed the mark set by Valentino Rossi on the best bike in Grands Prix.
A greatly talent rider, Steve Hislop will be sadly missed.
Steve Hislop's Isle of Man TT summary
11 wins, 20 rostrums, 14 fastest laps
1987
TT Formula 2 (Yamaha) - winner
Junior 350cc (Yamaha) - fastest lap
1988
Production Class B (Honda) - winner & fastest lap
Senior 1000cc (Honda) - second
Production Class C (Honda) - third
TT Formula 2 (Yamaha) - fastest lap
Junior 350cc (Yamaha) - fastest lap
1989
Senior 1000cc (Honda) - winner & fastest lap
TT Formula 1 (Honda) - winner & fastest lap
Supersport 600cc (Honda) - winner
Production 750cc (Honda) - third
1990
TT Formula 1 (Honda) - fastest lap
Junior 350cc (Honda) - second
1991
Senior 1000cc (Honda) - winner & fastest lap
TT Formula 1 (Honda) - winner & fastest lap
Supersport 600cc (Honda) - winner & fastest lap
Supersport 400cc (Honda) - second
1992
Senior 1000cc (Norton) - winner
TT Formula 1 (Honda) - second & fastest lap
Supersport 600cc (Honda) - second & fastest lap
Junior 350cc (Yamaha) - second & fastest lap
1994
Senior 1000cc (Honda) - winner & fastest lap
TT Formula 1 (Honda) - winner
Steve Hislop's British Superbike summary
2 titles, 31 wins
1995
champion, seven victories (Ducati)
1996
fifth overall (Kawasaki)
1997
ninth overall (Ducati/Kawasaki)
1998
third overall, four victories (Yamaha)
1999
ninth overall (Kawasaki/Yamaha)
2000
seventh overall (Yamaha)
2001
second overall, twelve victories (Ducati)
2002
champion, eight victories (Ducati)
2003
eighth in the standings after eight rounds (Yamaha)
Steve Hislop other racing highlights
1984
2nd in 350cc Manx GP
1986
3rd in British F2 championship
1987
4th in World F2 championship
4th in British Superbike Super Two championship (Yamaha)
7th= in British 350cc championship (Yamaha)
5th in British TT F2 championship (Yamaha)
1988
10th in British TT F1 championship (Honda)
3rd in British Superstock championship (Honda)
1989
2nd in World F2 championship
9th in British 750cc TT F1 championship (Honda)
8th in British Superbike championship (Honda)
7th in British TT F1 championship (Honda)
1990
British 250cc Champion (Honda)
1991
3rd in Suzuka 8 Hours, with Carl Fogarty (Honda)
10th in British 250cc championship (Honda)
4th in European 250cc championship (Honda)
1992
Bol d'Or winner, with Carl Fogarty and Terry Rymer (Kawasaki)
1993
won Macau GP (ROC-Yamaha)
3rd in British TT Superbike championship (Honda)
6th in British Superbike Supercup (Honda)
1994
10th in British TT Superbike championship (Honda)
1999
won Le Mans 24 Hours, with Chris Walker (Kawasaki)