Honda Racing get off to a good start in BSB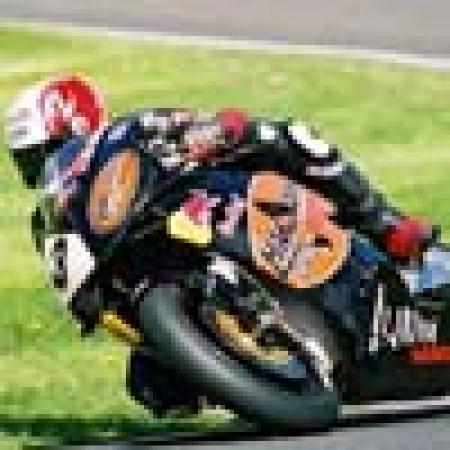 Raceline photography
By Dan Moakes
November 8 2004
The 2004 British Superbike championship started at Silverstone, where the crowd saw some good racing between the top Honda, Suzuki and Ducati runners, and with Kawasaki not far behind. There was a bit of everything, as race one was run in damp conditions, and race two was dry.
Qualifying had seen the three title favourites come out on top, although Sean Emmett's MonsterMob Ducati and John Reynolds' Rizla Suzuki were beaten to pole by Michael Rutter on the HM Plant Honda FireBlade. Fourth place went to the second HRC-supported machine, with Japanese débutant Ryuichi Kiyonari on board. Stuart Easton's ETI Ducati headed row two, from Scott Smart (Hawk Kawasaki), Yukio Kagayama (Rizla Suzuki) and Dean Thomas (Sendo Ducati).
Smart's team-mate, Glen Richards, had the second ZX-10RR in ninth, from the first two Virgin Yamahas of Steve Plater and Gary Mason. Jon Kirkham's Suzuki was quickest of the privateer entrants, with James Buckingham (thirteenth), Dennis Hobbs (fourteenth) and Sam Corke (fifteenth) also getting ahead of the works machines of Dean Ellison and Kieran Clarke.
With a wet track for race one, the majority of the field went to the grid with wet weather tyres, although one or two opted for intermediates. At the start, it was the two Japanese men who made the best getaways, with Kiyonari taking the lead and Kagayama moving up to third. Emmett was sandwiched between this pair, whilst Rutter dropped to fourth. Reynolds made the slowest start, and so had the most to do, although Nick Medd came a cropper in turn one and would go no further.
Emmett was the quickest man on the first lap, rapidly finding his way past Kiyonari and starting to pull away from his pursuers. Rutter wasn't about to let him get clear, and he passed Kagayama on the inside at the Abbey right-hander before moving inside his team-mate to go second. Kiyonari came under attack from Kagayama in the same moment. Meanwhile, Reynolds was also on the move, and was soon up to fifth ahead of Thomas, Smart and Richards.
It wasn't too long before Rutter had caught Emmett, leaving Kiyonari to circulate on his own, a little way ahead of the Rizla Suzuki pair of Kagayama and Reynolds. Rutter made his move at the tight final chicane, forcing through on the inside of Emmett, and then used his celebrated wet weather skills to good effect as he rapidly built a comfortable lead. As the tarmac started to dry, the action hotted up in the group behind him. It was soon a three-way tussle for second, with Emmett leading Kiyonari and Reynolds.
Track new boy Kiyonari regained his second position by going inside Emmett at the fast downhill right-hander at Bridge, making it a one-two for the Honda CBR 1000RR in its début appearance. Reynolds followed the youngster's lead, attacking former team-mate Emmett, and going through on the brakes at Abbey. At this stage Kagayama was a little way off the group, but under no immediate threat. Unfortunately for Virgin Yamaha, Plater and the R1 went down, and team-mate Mason also crashed not long after, leaving new boy Tommy Hill as the team's sole survivor
There now followed a tight battle over sixth position, with Thomas under attack from the Kawasaki pair and Yamaha privateer Marty Nutt. The latter rider was racing on intermediate rubber, and was therefore benefiting as the damp surface dried out. In an impressive manoeuvre, Nutt took on both Smart and Thomas, managing to move past both of them on the inside in one go.
And so Rutter took the first victory of the year, followed home by team-mate Kiyonari and then Reynolds, Kagayama, Emmett, Nutt (ineligible for full championship points*), Smart, Thomas, Richards, Craig Coxhell, Easton, James Ellison, Kirkham, Hill, Corke and Clarke. Nineteen finished in all, although only twelve of them scored points in the main championship.
Race two went ahead in dry conditions, and again it was Kiyonari away in front of the pack. This time he was followed off the line by Reynolds, Kagayama, Emmett and Easton, with Rutter the man to drop back. To begin with, Emmett and Kagayama had a big tussle over P3, changing places in quick succession, and the Englishman finally got the upper hand. Meanwhile, Easton soon fell victim to Thomas and the two Hawk Kawasakis, with Richards and Smart then passing the Australian Ducati rider in one go.
It wasn't long before Kiyonari and Reynolds had stretched clear of the pack, but then the Honda rider managed to run wide and gift the lead to his Suzuki rival. The order behind saw Emmett leading Kagayama, Richards, Smart, Thomas, Easton and Rutter, but then Kagayama's GSX-R hit problems, and he was forced to park it in his pit garage. Rutter had no such worries, and his fight back soon took him up to fifth, where he made an attack on Richards at turn one.
By the time Rutter got through into P2, on the inside at Abbey, he had a bit of a gap to make up to catch Emmett. However, the two Hondas were going great guns, and before long it was Kiyonari and Rutter on Reynolds' tail. The Rizla Suzuki man was not helped when he was blocked by Paul Jones' GSX-R, as the Welshman was about to be lapped. But JR's position was made easier by the battle behind him, as Rutter went inside his team-mate at the tight final chicane.
A late highside crash for Richards took him out of the equation, and his ZX-10RR caught fire in protest. With a lap to go, Reynolds and Rutter raced each other for the win, and Kiyonari was sitting in behind them. His efforts were rewarded in the complex, when Rutter ran wide in his attempts to get at Reynolds. Ryuichi was able to pass Michael before he could get back on line, and these three crossed the finish line in the same order.
Emmett finished fourth, with Smart next, ahead of the 998 Ducatis of Thomas and Easton. Mason, Plater and Hill brought the three Virign Yamahas home in the next positions, and Kirkham was first privateer in eleventh. The remaining points went to Coxhell and Dean Ellison, as Clarke was another non-finisher.
The HM Plant Honda team had proved the pace of the CBR 1000RR on its début, with Michael Rutter and Ryuichi Kiyonari up at the top of the points table with John Reynolds and the proven Suzuki GSX-R1000. Rutter also set the fastest lap in each race. Sean Emmett and MonsterMob Ducati had a relatively low-key start, with fifth and fourth, but there is a long way to go. Meanwhile, Yukio Kagayama had a promising return to the track, and the new Kawasaki also looked to be on its way.
Standings after two races: Rutter and Reynolds 41; Kiyonari 40; Emmett 24; Smart 20; Thomas 18; Easton 14; Kagayama 13; Nutt and Coxhell 10; Kirkham, Hill and Mason 8.
* the points system was changed during the year, and privateers were credited with full championship points