Husky Sport preview to the Snetterton Supermoto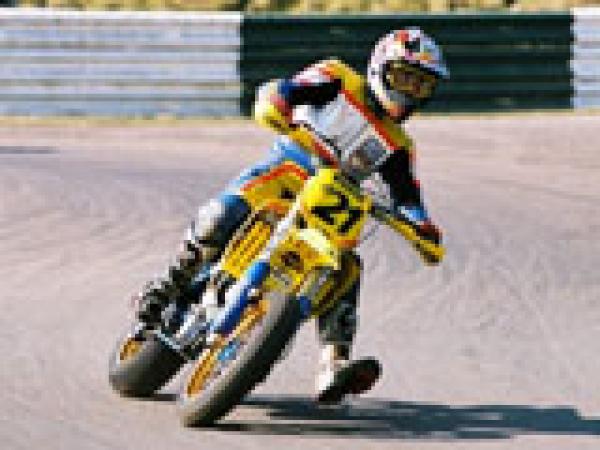 Pic: Carly Rathmell
By Carly Rathmell
April 30 2004
The mighty Husky Sport Team - Christian Iddon, Jay Smith, Dave McKee and Mike Wright - will be competing in the first round of The Maxxis UK Supermoto Championship this weekend (formerly the MRO Super7 - www.supa7.com) Christian Iddon was on form when he competed in the first round of the German championships last weekend - gaining three podium places from four races, and leaving the weekend lying in second place in both the 450 and Open Class standings. Christian was happy with his results, saying, "It was a good weekend for me and, although I'm not competing in the full championship, they have a very high standard of riders over there so it's good to be up against some of the best riders in the world series."

Snetterton played host to the British Superbike Championships last weekend and, in baking sunshine, drew in thousands of people from all over the country. There are mixed forecasts for this weekend, but the BMCRC organisers are keen to promote this relatively new sport and are looking forward to welcoming the 170 riders who have entered the four classes.

Dave McKee will be fighting his way back from the massive crash he had at Cardiff a few weeks ago, where he badly broke his collarbone. He will be taking things steady but will still be hoping for a strong result, and as soon as the lights turn green the pain will be the last thing on his mind.

It will be a fierce fought battle with top Supermoto regulars competing. Ady Smith, Dani Müller, Leighton Haigh, Danny Tollet and Matt Wynstanley will all be pushing hard, and are all capable of podium places. It will be a tough weekend but a challenge that the Husky Sport team are ready for.