Jenkinson takes third win in the Yamaha R6 Cup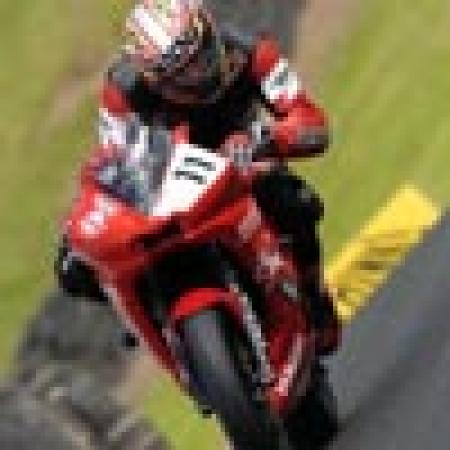 Pic: Chris Martin
By Carly Rathmell
May 11 2004
19-year-old Manchester based rider Adam Jenkinson took yet another win in the prestigious Yamaha R6 cup race at Oulton Park, yesterday (3rd of May). Adam has now won all three races that he has finished, and is proving to be a sure talent for the future.
picture by Chris Martin @ www.brakingzone.com
Qualifying fourth and on the front row, Adam was keen to add another win to the two he has already gained at Brands and Silverstone. It was one of his toughest races to date as Londoner Richard Wren was pushing him at every possible opportunity. It was a last lap manoeuvre by Jenkinson that secured him the win when he passed Wren on the brakes into Shell.
A first lap, first corner incident forced the race to be stopped whilst the injured riders were attended to. On the restart is was Russ Hodgson who got the hole-shot. Adam was sitting comfortably in third until James Hillier, whom Adam had the coming together with at the last round, got by him on the second lap. Not wanting a re-run of Snetterton, Adam was keen to ensure that he got past Hillier smoothly and began to make a move towards the front.
Richard Wren had already made the pass on Hodgson, and Adam was not going to let him get away easily. A tidy pass on Hodgson and it soon became a battle between Wren and Jenkinson for the lead.
A tight battled ensued between the two front runners, and lap-by-lap they were tussling with each other and dicing for the top position. On lap six Jenkinson made a neat move up the inside of Wren at Lodge, the last corner. Wren was soon keen to grab the place back and regained the lead into the first corner.
Again another manoeuvre on Wren down at Lodge on the penultimate lap and Adam was looking confident of the win. Wren had other ideas and soon pulled the position back. All talk now was of a last lap passing place at Lodge corner for Jenkinson to wrap up the win and extend his lead in the championship tables. An earlier than expected pass at Shell saw Jenkinson begin to pull a slight edge from Wren. A tight run into Lodge and it was win number three for the ecstatic teenager.
Adam has now secured a nineteen point lead in the championship. He was delighted that he'd managed to take the win at his home circuit, commenting, "It's been a great weekend. I managed to qualify on the front row, I got a good start in the first race, and then luckily another good one in the re-start.
"I've done a couple of track days here at Oulton and I knew it was going to be a difficult race. Richard and I pushed each other all the way. It's my home circuit, so all my friends and family have come here to watch me, so I'm glad I managed to pull off the win here more than anywhere else. It's like a dream come true; I'm really happy. We're going to Thruxton next, another circuit I don't know anything about, so that should be interesting. I just want to remain consistent through the year and gain myself some good points and hopefully take the win at the end of the series."
Race Results
1 Jenkinson, 18:05.311
2 Wren, 18:05.452
3 Bridewell, 18:08.202
4 Glynn, 18:10.389
5 Hillier, 18:10.535
Points after round four
1 Jenkinson, 75
2 Bryce, 58*
3 Wren, 56
4 Hillier, 47
5 Lee, 44
* Now competes in British Superbike championship