Husky Sport Supermoto report - Snetterton, 3rd May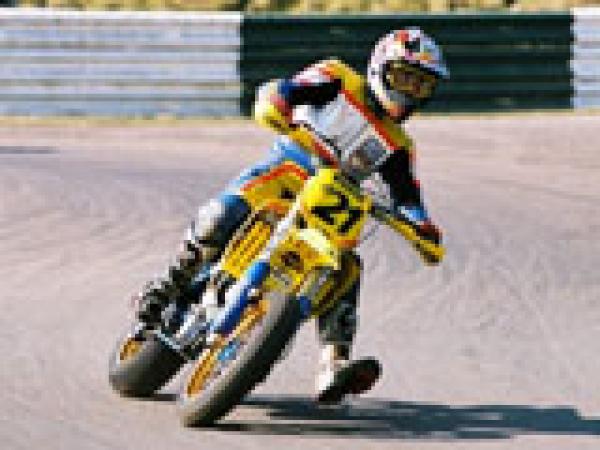 Pic: Carly Rathmell
By Carly Rathmell
May 5 2004
The forecast of rain for the Norfolk based track of Snetterton was unfortunately correct. Appalling weather conditions hit with a vengeance at the first round of the UK Supermoto Championships yesterday, the 3rd of May.
The Husky Sport team had a mixed day of racing and battling against the conditions, but they still managed to gain some podium places. A good, twisting, technical track faced the massive entry of over 170 riders, and they were all prepared for an intense battle.
Mike Wright managed to gain his first podium position of the season, taking an impressive second place in the fierce 450cc Class. Locked in a tight battle through the whole race with Husaberg rider Rob Cross, they were side by side as they crossed the finish line. But it was Cross that managed to gain the 0.4 second advantage from a very happy Mike Wright. Commenting, he said, "I've been pushing hard all season and now I've managed to get myself onto the podium. The weather conditions left something to be desired, and it made riding very tough indeed. I struggled in the second 450 race but am very content with the first race results."
Reigning British Champion Christian Iddon could only secure third place in the first 650 race. Pushing hard from the start, Iddon was unable to challenge front runners Ady Smith and Andy Mitchell, but he still pushed his Husqvarna to a confident third place. A technical problem in race two forced Christian to retire. In an interview he said, "I simply couldn't see anything in the first race. The weather was so bad and I've never ridden in anything like it before. It got to a point where I had to remove my goggles and I was going down the back straight with my eyes shut cos you just couldn't see anything. There was a moment when I opened my eyes a little too late. Luckily, I managed to rescue the bike and take third place. In race two some water had got into the carb and I was forced to retire. The conditions were unbelievable. So much for a summer series!"
With a brave effort, Dave McKee attempted a come back from the severely broken collar bone that he sustained at the ACU Championship a couple of weeks ago. Still not fully fit, Dave was keen to get some points in the bag. An eleventh place in race two was all he could manage, but he is hoping to be fighting fit for the British Championship at Three Sisters in a couple of weeks' time.
The two Husky Sport riders, Jay Smith and Christian Iddon, managed to make the 'Dash for Cash' race their own. Jay gained a healthy lead from his team-mate as they secured a one-two. Smith came out on top and took home 1000 euros which he was extremely happy with.
For more information see www.supermotoracing.net