Rizla Suzuki's riders both win at Snetterton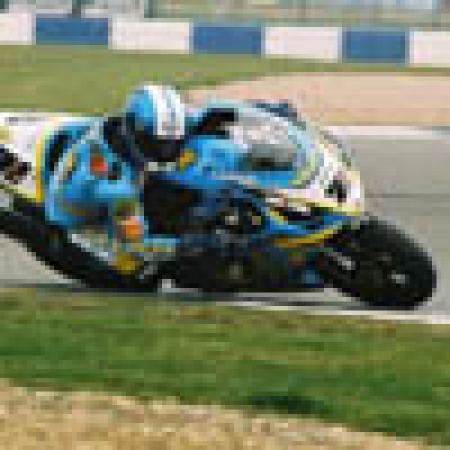 Pic: Carly Rathmell
By Dan Moakes
August 7 2004
With wins already scored by Honda, Suzuki and Ducati riders, the British Superbike championship was developing nicely as the teams arrived for round three, at Snetterton. Once again the competition was hot, with four different teams and models of bike qualifying up front.
For the second time in three attempts, Michael Rutter put the new HM Plant Honda FireBlade on pole position. And again his championship rivals Sean Emmett (MonsterMob Ducati 999) and John Reynolds (Rizla Suzuki GSX-R) joined him on the front row. However, these two were placed third and fourth, respectively, behind the Ducati 998 of Dean Thomas. The Dienza machine may have been two years old, but had gone well enough in James Toseland's hands during 2003. Thomas obviously had the knack, too.
Rutter and Reynolds' two Japanese team-mates were on row two, with Ryuichi Kiyonari fifth for Honda and Yukio Kagayama's Suzuki down in eighth after a sizeable practice crash. In between came Scott Smart (Hawk Kawasaki) and Steve Plater (Virgin Yamaha). Glen Richards (Kawasaki) led Tommy Hill (Yamaha) and Craig Coxhell (Honda), with James Haydon (twelfth) making a one-off appearance in place of ETI Ducati's Stuart Easton.
Rutter made another poor start in race one, so that Reynolds led away, from Emmett, Kiyonari, Thomas and Kagayama. When Kiyonari ran wide, Thomas soon moved up to third. Much of the day's action was destined to happen on the 180mph Revett Straight, which feeds straight into the tight Esses, and the first lap proved no exception. As Emmett passed Reynolds to lead into the left-hander so Kagayama did the same to Kiyonari behind them. Now Emmett led Reynolds, Thomas, Kagayama, Kiyonari and Plater, with Rutter on the attack in seventh.
A straight line speed advantage helped Kagayama to move by Thomas, as the first four began to get a small gap over Kiyonari. We were then treated to the thrill of Yukio slipstreaming both Emmett and Reynolds, and the sight of them running three abreast as they tried to get the best of the run into the Esses. The upshot was that Kagayama passed both the other two, with Emmett going from first to third as Reynolds also came past. Gary Mason's Virgin Yamaha R1 was an early retirement at this stage.
Kiyonari wasn't quite managing the pace of the leaders, so it was Rutter that emerged as the challenger, and he caught up to Thomas with some quick laps. He was joined by Smart on the impressive ZX-10R Kawasaki, effectively a converted road-going version. The top six began to resolve itself into two three-way groups, although the two GSX-R1000 Suzukis also threatened to move clear of third man Emmett. However, Kagayama and Reynolds proceeded to have a titanic battle of their own, with JR going past, then being re-passed at turn one.
Not happy with that, he was back on the attack straight away, and they swapped the lead yet again. Kagayama finally got the verdict, going inside his team-mate as they went onto the main straight. But John's revenge came at turn one, all of which helped Emmett stay with them. Meanwhile, Rutter was making good on his start, passing Thomas and closing in on the leading trio. As Kagayama attacked Reynolds at the Esses, so Rutter did the same to Emmett just behind.
Michael made it past on a subsequent lap, by which stage the Suzukis were just out of reach. There was still time enough for Kagayama to overtake Reynolds into the Esses, and the Japanese rider thus took his first victory of the season. Given that his practice spill hadn't done much good for his still-healing 2003 injuries, and given that he was still limping when off the bike, it was a particularly worthy result. Reynolds was happy to beat his title rivals with second, with Rutter and Emmett next home.
Smart took fifth, proving his bike's speed by overtaking Thomas on the straight and leaving the Australian in sixth at the flag. Plater disappeared in the late stages, so that Kiyonari was the next man through, having recovered seventh from Hill before the finish. Ninth was a good showing for Richards, after his Brands crash, and he was followed home by Haydon and the leading privateers - James Ellison, Dennis Hobbs, Sam Corke, James Buckingham and Chris Martin.
In race two, Smart was the man to look out for in the early laps. Reynolds was first away again, heading Plater and Emmett, but the Kawasaki rider rapidly moved past both the red machines to run second. Thomas ran fifth, from Kagayama. Smart's heroics were not over, as he soon took the lead from Reynolds. And Emmett went into third at the expense of the fast-starting Plater. With Kagayama now fifth, these few began to stretch away from sixth man Thomas, who had Rutter in attendance.
The pace of Plater's R1 was not on a par with the usual front runners, and he could do nothing about Kagayama passing on the straight. Before long he fell into the clutches of Rutter and, as the Honda joined the lead group, so the Yamaha fell away from it, towards Thomas and Richards. Smart's spell in front was ended as both Reynolds and Emmett overtook, and these two began to run clear. When Scott ran too hot into the final chicane he went over the grass and cost himself more places.
Now Emmett led from Reynolds, Kagayama and Rutter, with the last named having set fastest lap as he caught up to the men ahead. When Kagayama seemed to miss a gear, Rutter was up to third. Next he got ahead of Emmett into the Esses, and quickly brought himself onto Reynolds' tail. It became a race between these two, but Michael was never quite close enough to attempt a pass, and so John recorded his third win of the year.
Emmett had to settle for third as, in the closing stages, the two ahead kept up a more rapid pace than his Ducati, and pulled well clear. He was followed home by Kagayama, Thomas, the recovering Smart, Richards, Plater, Kiyonari, Hill, Mason, Ellison, Coxhell, Haydon, Kieran Clarke and Hobbs.
It had been a good day for Rizla Suzuki, and John Reynolds in particular. With Michael Rutter a place behind JR in both outings, the points lead grew to ten. Rutter maintained he would have done better if he could just crack the starts on his CBR 1000RR. With an identical series of results, Yukio Kagayama and Sean Emmett now shared third, whilst a consistent run for Scott Smart meant he was getting closer to Ryuichi Kiyonari. Dean Thomas had his best weekend so far, and the opposite was probably true of the Yamaha boys.
Standings after six races: Reynolds 127; Rutter 117; Kagayama and Emmett 78; Kiyonari 76; Smart 67; Thomas 47; Hill 35; Richards 32; Mason 31; Plater 24; Kirkham 21.