Yukio Kagayama is top man at Oulton Park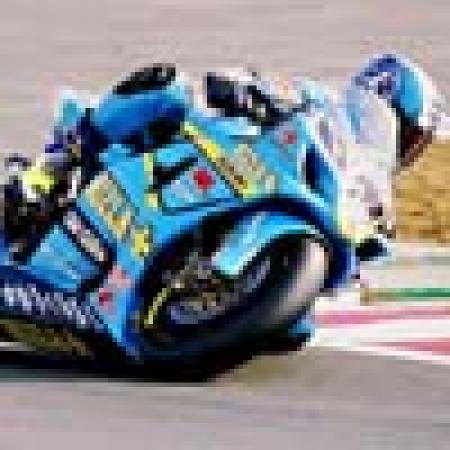 Raceline photography
By Dan Moakes
November 8 2004
Having won both British Superbike races at Snetterton, the Rizla Suzuki team were on a roll as they arrived at Oulton Park, for round four. Honda's Michael Rutter and Ducati's Sean Emmett would be looking to make back some ground on points leader John Reynolds, and the GSX-R1000.
The grid had a bit of a different look to it this time. For starters, Rutter's HM Plant team-mate Ryuichi Kiyonari was missing, as was Virgin Yamaha's Steve Plater. The Japanese rider was out due to a broken collarbone sustained on Saturday. Plater had crashed on Sunday, thanks to the oil dropped by another bike, and he had come out of it with a broken wrist. Even with a time good enough for ninth on the grid there was no way he would be racing.
Another difference was the Renegade Ducati team, making the first of several wildcard appearances due to a gap in the World Superbike schedule. Leon Haslam lined up eighth, while Noriyuki Haga was five places back on his first visit to the circuit. Towards the rear, privateers Vince Whittle and Adam Hitchcox were absent as the field assembled for the first race. Whittle had gone down on the warm-up lap, tagging Hitchcox, and a huge fireball had erupted as the Ducati's fuel tank split. No one was hurt, but the start was delayed for the clean up.
Up front, pole position had gone to Reynolds, with team-mate Yukio Kagayama closing out row one behind Rutter and Sendo Ducati's Dean Thomas. Sean Emmett would start back in seventh, behind Gary Mason (Yamaha) and Scott Smart (Kawasaki). Between Haslam and Haga came Glen Richards (Kawasaki), James Ellison (privateer Yamaha), Tommy Hill (Yamaha) and Jon Kirkham (privateer Suzuki).
The start of race one didn't go too well for polesitter Reynolds, as he found himself slotting in behind Kagayama, Rutter, Smart, Thomas and the impressive Ellison. However, through turn one, Old Hall Corner, Smart and Rutter managed to come together. The Kawasaki man went wide in the incident, forcing Michael out onto the grass. Both riders kept going, but Smart was now back in sixth, with Rutter rejoining mid-pack. This left Kagayama leading from Thomas, Ellison, Reynolds, Mason, Smart and Hill.
Ellison was having a good run on the Jentin Yamaha R1, but it was inevitable he wouldn't be able to resist the full works Suzuki of Reynolds for long. Sure enough, the lead soon developed into a tussle between Kagayama, Thomas and Reynolds, with Ellison quickly receiving full attention from Mason on the Virgin R1. Reynolds made his presence felt behind Thomas, and overtook him on the inside of Lodge, the penultimate right-hand corner. Stuart Easton was an early retirement on the ETI Ducati, and was ultimately joined by Haga, after a grassy excursion and subsequent pit stop.
At the front it developed into a two-way race between the Rizla Suzuki pair, with Thomas dropped into a solitary third. Reynolds duplicated the manoeuvre at Lodge to take the lead from Kagayama, but the pair remained tied together throughout the race. It all came down to the final lap, with Yukio launching a late attack on JR. Getting a better exit from Foulstons as they went down the hill to the Knickerbrook chicane, the Japanese rider went in late on the brakes, taking a tighter line, and was ahead. A slide as they powered onto Clay Hill wasn't costly for him. Although John tried to counter attack at Druids and Lodge, Kagayama kept hold of the lead he'd 'stolen' so dramatically.
Rutter had been faced with a tough fight after his early setback, but made the most of his bike's undoubted speed. Joining the battle between the Hawk Kawasakis and Virgin Yamahas, Michael had already relegated Hill, Haslam, Richards and Smart by the time he got to grips with Ellison. The youngster was duly despatched at Knickerbrook, and then Rutter got past Mason on the inside as they ran into a fast left-hander. His next target was Thomas, whom he caught and overtook in the same way as Ellison. The Rizla men were out of reach, but third was a good result.
So fourth went to Thomas, from Smart and Richards. Haslam was out of luck, as a late tangle with Richards off the final turn saw him launched into the crash barrier, and cost him at least nine points. Mason finished seventh, ahead of the disappointing MonsterMob Ducati of Emmett, with Ellison dropping back to tenth behind Hill. The remaining points were awarded to Craig Coxhell and Kieran Clarke, in amongst a group of privateer cup runners.
Race two saw Rutter in trouble yet again. When his FireBlade began misfiring on the warm-up lap, it looked like he would be starting from the pitlane. The Honda Racing team managed to get him out in time, but he had to line up at the back of the grid. This time the man on the move at the start was Mason, as he leapt into the lead from row two, in front of Reynolds, Thomas, Ellison, Kagayama and Smart. Thomas was aggressive on the first lap, trying to go around the outside of Reynolds at the banked Shell Oils hairpin, but the Suzuki man defended this ambitious move.
Kagayama was also in a positive move and, after getting ahead of Ellison, put Thomas back a place with another inside pass at Knickerbrook. Despite his good start, Mason's Yamaha was always going to struggle to hold off the rampant Suzukis. It was no major surprise to see Reynolds do the job at Lodge, and Kagayama follow his team-mate through at Knickerbrook. This put Mason third, from Thomas, Ellison, Haga, Smart and Haslam. Emmett, meanwhile, had seen his hopes with the 999 end in the pit garages.
The progress of the Rizla Suzuki pair was every bit as rapid as in race one, leaving Rutter to generate some excitement back in the pack. The Honda man had made his way through, thanks to record lap pace, so that he found his way onto the tail of third placed Thomas. Again Michael made it to the head of the Suzuki pursuers, going inside the Ducati at Lodge, but there was nothing he could do about the two ahead.
Rizla Suzuki had a certain one-two, but again it could have gone either way. Kagayama kept up the pressure on Reynolds, and on the penultimate lap got the Lodge corner just right to go inside the former champion and take the lead. John wasn't going to accept second best and tried everything to have a go back. However, it seemed he was just not quite fast enough to try anything, so Yukio held on for another close fought victory. Rutter and Thomas were next home, with Smart and Haslam both getting the better of Mason and Ellison in the final results. Richards took ninth, from Haga, Coxhell, Kirkham, Clarke and Hill.
Despite losing both races to his team-mate, John Reynolds gained eight more points over Michael Rutter in the title chase. Yukio Kagayama had taken three wins in four races, the same as his total from 2003, putting him in a clear third place. Meanwhile, a fairly diastrous meeting for Sean Emmett left him trailing behind the consistent top six finisher Scott Smart. Dean Thomas had his best results of the year to creep up behind the absent Ryuichi Kiyonari.
Standings after eight races: Reynolds 167; Rutter 149; Kagayama 128; Smart 89; Emmett 86; Kiyonari 76; Thomas 73; Richards and Mason 49; Hill 44; Ellison 30; Kirkham 27.