Sete Gibernau reigns in the French Grand Prix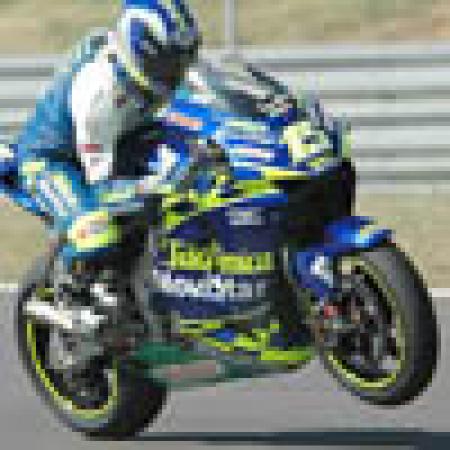 Pic SportsPics.co.za
By Dan Moakes
May 19 2004
The score was set at one each to Yamaha and Honda, with Valentino Rossi having won in South Africa and Sete Gibernau take his turn at home in Spain. MotoGP's round three, at Le Mans in France, was likely to see more action involving these two, and double runner-up Max Biaggi.
photo by www.SportsPics.co.za
Qualifying saw the same three riders emerge at the head of the timesheets, but with Rossi (Gauloises Yamaha) on row two, as Gibernau (Telefónica Honda, pole) and Biaggi (Camel Honda) were split by Valentino's team-mate, Carlos Checa (Fortuna Yamaha). In fact, the first eight positions were occupied by only Honda and Yamaha pilots, with Colin Edwards fifth, from Marco Melandri, Nicky Hayden and Makoto Tamada.
Ducati were best of the rest, with works riders Loris Capirossi and Troy Bayliss next up, ahead of Alex Barros on the sixth of the Honda RCVs. Twelfth was Shin'ya Nakano, on the Kawasaki, and the first Suzuki was Kenny Roberts' machine, heading row five. The representatives of Aprilia, Proton and WCM followed on towards the rear of the grid. The exception was Shane 'Shakey' Byrne, kept out of action with a hand injury.
The start went well for Spanish fans, with Checa and Gibernau emerging in front of Biaggi, Rossi, Edwards, Hayden, Melandri, Capirossi, Bayliss and Roberts. Hayden's first lap didn't go well, as he was quickly relegated to eighth by Melandri and Capirossi. Meanwhile, Roberts got past Bayliss, and Rossi moved forward by passing Biaggi on the inside at the penultimate right-handed corner. Not so fortunate were Neil Hodgson (Ducati), John Hopkins (Suzuki) and Norick Abe (Yamaha), as this trio managed to come together on the first lap. The clash resulted in a pile of machinery in the gravel trap, and some angry looking riders.
As the field spread out, Checa and Gibernau threatened to open a gap over Rossi, but a mistake by Biaggi, running wide over a kerb, meant that a space opened up behind the reigning title holder. An early fastest lap by Valentino, his bike twitching, helped him keep on terms with the Spanish duo ahead, but as Gibernau pushed Checa, so 'the Doctor' fell away. The order behind settled down with Biaggi leading Edwards, Capirossi, Melandri, Roberts, Hayden, Bayliss, Tamada, Barros, Nakano, McWilliams, Alex Hofmann and Kurtis Roberts. McWilliams, however, was assessed as having jumped the start, while Hofmann's Kawasaki was an early casualty as the German parked the smoking machine against the armco barrier.
The speed of Checa and Gibernau saw them open a 2.3s gap over Rossi and, at the same time, Biaggi was bringing his rival's lead down from 2.1s to 1.2s. Melandri had overtaken Capirossi on the inside through a fast left-hander, and then moved up to fourth by passing Edwards. By this stage, the pair of them were just out of touch of Biaggi, as the Roman's superior pace took him clear.
Gibernau's close attention to Checa paid off when the Yamaha man ran wide, leaving room for Sete to nip through on the inside at a right-hand corner. At around this time, Biaggi was able to go straight past Rossi on top speed, and he then began to pull Valentino along as they chased the leaders. As Gibernau's lead went out to 5s, Biaggi, with Rossi on the attack behind, pulled the gap to Checa down from 2.6s to 1.8s to 1s.
Although Checa was not matching Gibernau's pace, he seemed more comfortable than team-mate Rossi. The Italian was obviously pushing hard, and a mistake saw him run deep at one corner and lose ground to Biaggi in the process. He fell to 1.6s back in that moment. Max's softer tyres meant he was catching Checa, and soon the margin was just 0.6s. The Pons rider mounted an attack, but overdid it over the kerbs at the first chicane and skimmed across close to the gravel. Luckily, it didn't cost him any ground.
With six laps remaining, Gibernau improved his fastest lap time and began to take his lead margin to two seconds and beyond, to which the rest had no answer. Checa and Biaggi were together until the latter ran wide, letting Rossi right onto his tail again. With three laps left, the champion pushed his countryman hard, finding a way through on the inside at a right-hander. His momentum took him wide, though, which was enough for Biaggi to cut back into P3.
Despite his worries over the state of his rear tyre wear, Gibernau ran out to his sixth MotoGP win, leaving the late race action to his three pursuers. Second man Checa was helped by the tussle behind him. An aggressive move from Rossi at the final turn did not pay off. Biaggi wouldn't yield the racing line, and it meant that the Yamaha rider was forced into giving away ground to the man ahead. Max's penultimate lap was the fastest of the race and, despite a busy final circuit, due to backmarkers, Rossi had too much to make up. They finished in unchanged order, Checa from Biaggi and Rossi.
Melandri's good showing saw him make it to the flag this time, but not before Edwards had come back at him. The Texan had got onto the inside of the Yamaha over the line, just holding position into turn one, and then went clear of Marco in the late stages. He was fifteen seconds from team-mate Gibernau at the end, but fifth was his best GP result. Melandri was a comfortable sixth.
Seventh place went to the battling Alex Barros, whose works Repsol Honda had been down in twelfth at the start. The experienced Brazilian had dealt with Roberts, Tamada, Hayden, Bayliss and Capirossi to salvage some respectability, but by then was disappointingly far away from the first three Honda men. All RCVs were by now virtually identical, but the fact is that Barros and Hayden had been using the new parts longest. Hayden could not better eleventh, following an earlier gravel tracking incident.
The Ducati men had mixed fortunes, with Capirossi dropping from sixth to tenth, just as Bayliss was going from tenth to eighth. They were split by Tamada at the finish. One man to lose out was Nakano, who had held down eleventh but then disappeared from the lap charts. This meant Kenny Roberts came home twelfth, followed by McWilliams' Aprilia, even after serving a ride-through penalty. Rubén Xaus recorded the first points for d'Antín Ducati with fourteenth, whilst Chris Burns was another to retire on his Harris WCM.
Sete Gibernau and Max Biaggi had finished on the podium in all three 2004 races, but Valentino Rossi's showings for Yamaha were good enough to keep him in touch. But the two Honda men had this time had the edge in dry weather, and the signs were particularly good for the Spaniard. Carlos Checa's second place on the day brought him right up behind the consistent Alex Barros, but it also represented his best result since Portugal 2002. Added to that, it was the first time Rossi had been beaten by his team-mate in a straight fight for 33 races...
Standings after three races: Gibernau 66; Biaggi 56; Rossi 51; Barros 38; Checa 36; Edwards 29; Hayden 27; Capirossi 20; Tamada and Melandri 15.