Régis Laconi reigns supreme at Monza WSBK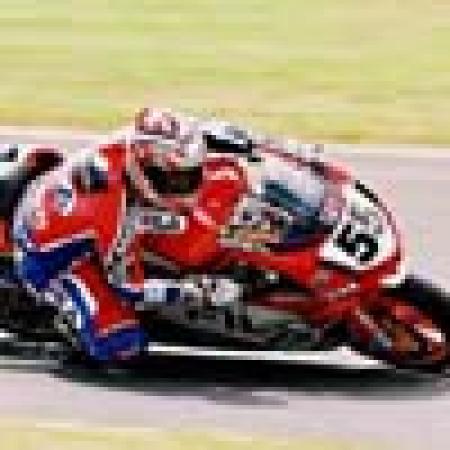 Raceline photography
By Dan Moakes
November 9 2004
The Italian fans at Monza were right behind traditional favourite Pier-Francesco 'Frankie' Chili, the championship leader following his dramatic win at Misano. However, the PSG-1 Ducati rider was to suffer one of the most disastrous weekends of his career, letting in works team leader Régis Laconi.
Régis Laconi recorded a third pole position from four attempts, and another six Ducati riders joined him in the top eight. The closest challenger, however, was the impressive Chris Vermeulen on the Ten Kate Honda FireBlade. Third place went to Chili, from Noriyuki Haga and Leon Haslam (both Renegade), James Toseland (Fila), Gianluca Nannelli (Pedercini) and Marco Borciani (DFX). The Ducatis of Garry McCoy and Steve Martin, who was carrying an arm injury, were separated from the men ahead by Chris Walker's Petronas FP1.
There was drama before the first race could even start, as Chili's 998 RS engine blew up spectacularly at the beginning of the warm-up lap. A somewhat frantic scramble enabled him to get onto his spare bike in the pitlane, but starting from there meant he had a lot to do. The getaway for race one went Vermeulen's way, as he led Laconi, McCoy, Haga, Borciani, Haslam and Piergiorgio Bontempi off the line. As things began to settle, Haga overtook McCoy, and Laconi threatened Vermeulen at the final right-hand Parabolica corner.
Even with just a single lap down, Vermeulen, Laconi and Haga looked to be moving clear of McCoy and Toseland, now with Borciani sixth from Haslam, Troy Corser, Bontempi and Ivan Clementi. Chili was in eighteenth by this stage. With Laconi passing Vermeulen on the inside as they braked for the Ascari chicane, a move Toseland was also putting on McCoy just behind, the stage was set for the rapid Frenchman to make a bid for victory. Sure enough, Régis began to pull away, and there looked to be nothing the Honda man could do about it.
This left a battle between Vermeulen and Haga for second, with Toseland charging up to join them. But there was more drama at this stage, as Chili suffered a second engine blowout, having brought his other machine up into fourteenth position. The fans were understandably unhappy at this development, but the race went on. Except in Steve Martin's case, as the Australian was seen parking up not long after this.
The next excitement centred around the battle for second. Haga took this from Vermeulen at Ascari, but Chris paid him back when he slipstreamed past the Ducati into turn one. And this soon left Noriyuki open to Toseland's advances, as the 23-year-old Englishman put up a strong attack, and finally got ahead along the back straight. Haga tried a counter move at the first chicane, and at the same time McCoy was homing in on this trio. Before this could happen, Toseland passed Vermeulen at Ascari, just at the point when Haga's engine decided to expire right behind them.
With James now able to pull away in pursuit of Laconi, Vermeulen and McCoy gave the crowd some serious entertainment. Garry passed Chris in a dramatic slide on the inside at Parabolica, but the FireBlade rider recovered the place as the 999's sideways motion cost its rider critical forward momentum. However, McCoy came straight back and re-passed at turn one. He then began to slide his way around as he chased Toseland, but the works rider was able to respond. Meanwhile, Vermeulen's pace seemed to be dropping.
And so they finished with Laconi winning comfortably, from Toseland, McCoy and Vermeulen - all four somewhat spaced out by the flag. Haslam got the better of Borciani for a lonely fifth, with the Italian dropping back behind Sergio Fuertes into a tight battle with Corser, Mauro Sanchini and Walker. The last of these had worked his way past Bontempi and Clementi to join the group. Sanchini and Walker had the ascendancy to begin with, Chris going around the outside of his Kawasaki rival, but there was a lot of shuffling around, and Borciani took seventh, from Walker, Corser, Bontempi and Clementi. Sanchini did not finish.
Race two started badly for Nannelli, as a chain failure meant he was left on the grid. This time it was Haga who took the lead, with Toseland, Laconi, Vermeulen and Chili in hot pursuit, and McCoy, Borciani and Haslam following on. Laconi made short work of his team-mate, and then the Fila Ducati pair both went past Haga, to be followed by Vermeulen round at the Parabolica. With Laconi again the fastest man out there, a tussle for second developed between Toseland and Vermeulen.
The Australian's bike was not lacking straightline speed, which he used to pull ahead, but then James got back at him in turn one, although not for long. Chris got a bit of a breather as Chili focused on Toseland, and an attack on the inside at the exit of the Parabolica put Frankie ahead, until James braked later at turn one. With Laconi, in particular, and Vermeulen breaking away, Chili seemed anxious to move after them. His all-out attack at the Parabolica caused the Ducati to twitch, but also allowed him to slipstream into turn one and get by.
Frankie's pace was hot at this stage, especially with a moment over the kerbs for Toseland, and he looked to be going after the win. To do this he needed to circulate rapidly but, unfortunately, a huge groan from the crowd signalled that he'd overdone it. Sliding off at the Parabolica meant that Chili's day was done, and to cap the weekend's misery he had inevitably lost the points lead.
As things developed, Laconi kept on pulling away from the rest of the field, despite his own twitch on the kerb. A good lead of 4.4s would eventually grow to almost three times as much at the end, and again no one had an answer to the Frenchman. Vermeulen developed a six second margin over third, which would eventually come down to a two-way fight between Toseland and McCoy. Haga's weekend was just as tough as Chili's. The Japanese rider had already fallen behind McCoy and Haslam when his bike let him down for a second non-finish.
McCoy's progress took him beyond Haslam and onto the tail of Toseland, then ahead before half distance. They ran in this order for some time, but James found his way back at Ascari, only for Garry to get inside and re-pass at the second chicane. The battle raged as McCoy's Xerox Ducati smoked its Pirelli tyres sliding at Parabolica, and Toseland got past again at Ascari. They then ran together along the main straight, with James holding on into turn one.
But McCoy's next move took him though on the inside round the fast Curva Grande, and it meant that Toseland had it all to do again. This time he got the verdict on the inside at Parabolica on the penultimate lap, but Garry was still not giving up. Trying again as they went over the line, the Australian made a small mistake at the first chicane, enough to determine that he wouldn't make the podium this time.
With Haslam picking up another fifth, Corser was the next man to impress. Coming from fourteenth early on, the former champion had already dealt with Bontempi, Clementi, Sanchini and Martin as he joined Walker to chase down Borciani. This battle went Troy's way, with Borciani finishing seventh once again, ahead of Walker, Martin, Sanchini, Clementi, Bontempi, Lucio Pedercini and wildcards Velini and Saiger.
Contrasting fortunes had seen Régis Laconi add fifty points to his tally, whilst Frankie Chili and Noriyuki Haga both came away from Monza without scoring. For the Italian, this meant he went from leading the championship down to fourth, even as Laconi's impressive display had pushed him to the head of the table, finally recovering from his three early no-scores. On top of that, the French rider's form was looking ominous, especially as even team-mate James Toseland seemed off his pace.
Standings after eight races: Laconi 120; Toseland 113; Vermeulen 103; Chili 97; McCoy 84; Haga 69; Walker 68; Borciani 67; Corser 65; Haslam 62; Martin 61; Sanchini 38.
STOP PRESS: Chris Vermeulen was later excluded from second in race two, as his engine's cut-out switch, which should be activated if the bike falls when running, didn't actually work when tested.