Moto Grand Prix championship review 2004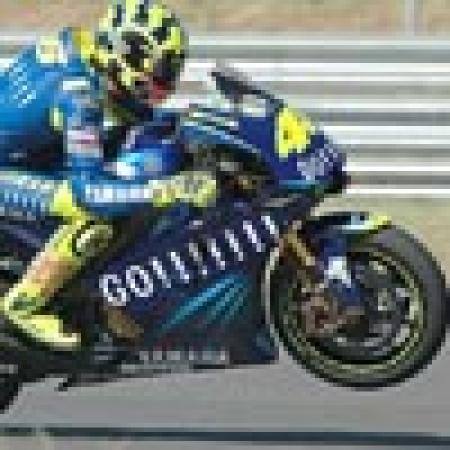 pic SportsPics.co.za
By Dan Moakes
December 14 2004
The 2004 MotoGP series added to the evolving legend of Valentino Rossi, as the Italian broke the run of Honda successes by switching to rivals Yamaha - and winning yet again. His challengers were no push over, though, as described below.
photo by www.SportsPics.co.za
The most significant change for the 2004 MotoGP season was Valentino Rossi's move from Honda to Yamaha. The reigning world champion had spent four years with the dominant marque, and was evidently finding it too easy to win with Honda - as his three consecutive titles seemed to demonstrate. A move to Yamaha would bring a fresh challenge, with their last successful campaign in the top class dating back to 1992 and Wayne Rainey's era. Could Rossi do what the likes of Luca Cadalora and Max Biaggi had failed to? More to the point, could he even make the YZR-M1, with just one podium finish in 2003, into a race winning bike?
Rossi's task was perhaps made easier by taking key members of his Honda crew to the works Yamaha team, now under the Gauloises Fortuna banner. Chief engineer Jerry Burgess, veteran of Honda successes dating back to the 1980s, was probably the most vital part of this arrangement. Between Rossi, Burgess and Yamaha, various configurations of the M1 engine were evaluated, with the final selection being a 'big bang' close firing order unit, that transmitted power to the road in a more usable manner than the previous version. All Yamaha's riders felt the benefits, but only Rossi's number 46 machine would consistently match up to the class leading Hondas.
The Honda RC211V remained the fastest motorcycle, and six talented men were lined up to ride it. But the works Repsol team seemed to falter without Rossi and Burgess to guide them, and once again it was satellite riders Sete Gibernau and Max Biaggi that looked most likely to topple 'the Doctor'. Except that they didn't manage it, because Rossi always seemed to have that little extra. If there were any lingering doubts as to the Italian's status as top dog in the current generation of riders, his first year at Yamaha surely put those to rest. At this rate, he might just prove the best ever and, unless he switches to yet another under-performing marque in the near future, we should expect to see him do a lot more winning. Can the other riders catch up to him?

Valentino Rossi - photo by www.SportsPics.co.za
Motorcycle Racing Online's 2004 MotoGP top ten
1 Valentino Rossi - Gauloises Fortuna Yamaha
How could it be anyone else at number one? After four years and 33 wins for Honda, Valentino Rossi switched to Yamaha for 2004. His new employers had won just eleven races in the same period, and only two of these with the 990cc M1. Not only did 'the Doctor' make the bike into a winner, but he did it first time out in a straight fight with the Honda RCV - and the success kept on coming. There were tracks where the Honda was too fast, but all too often he just moved to a higher level, and nine victories resulted. He crashed twice, as did Sete Gibernau, but there were no off days for the spectacular Italian, and a historic sixth GP title duly followed.
2 Sete Gibernau - Telefónica MoviStar Honda MotoGP
Once again, the only consistent challenge to Rossi came from Sete Gibernau, in Fausto Gresini's satellite Honda team. Ten podium finishes and five pole positions showed the Spaniard's ability, and he was rarely beaten by the works RCV bikes. The wet weather skills remained, as evidenced by his victory at Jeréz, but somehow there were days when he wasn't on the pace - witness his sixth at Motegi and seventh at Sepang. Coupled with his two consecutive crashes, these were costly. Being number two to Rossi, while beating five other talented Honda riders, is no mean achievement, but Sete had wanted to be number one...
3 Shin'ya Nakano - Kawasaki Racing Team
After twenty years, Kawasaki returned to grands prix during 2002. The Dunlop-shod Ninja ZX-RR started out as a backmarker but, now with a Bridgestone tyre contract, that all changed this year. Shin'ya Nakano was surely no small part of this, as he had an impressive season on the green machines. There were frequent fourth row qualifications, but he also got onto row two five times, and started from an excellent third place in Malaysia. The bike was no match for a Honda, but the under-rated Shin'ya had seven top nine finishes, including an admirable third in Japan, ahead of Barros and Gibernau. He then ran fourth in Qatar until the bike gave out on him. Another big moment came when he suffered a huge accident on the high speed straight at Mugello, following tyre failure. Thankfully, he came through that one, and should go on to better things as the bike improves.
4 Max Biaggi - Camel Honda
It was surely the time for Max Biaggi to strike, with his big rival having left Honda for Yamaha - two bikes whose relative merits the Roman knew all about. But the top three riders from 2003 remained unchanged, and Rossi stayed out front despite the switch. Max challenged Valentino all the way in the first race of the season, and added an accomplished win in Germany to eight other rostrum visits. In Portugal, he was the unfortunate victim of Capirossi's lap one mistake, and a multiple Motegi start line accident also cost him in the title challenge. Biaggi's worst performance was in Britain, but otherwise he rarely dropped out of the top four. He moves to the lead Repsol Honda in 2005, and must look on it as a chance not to be missed.
5 Makoto Tamada - Camel Honda
Makoto Tamada's Pramac Pons-entered Honda continued as the sole RCV on Bridgestone tyres, and this meant that data from any of the other HRC machines was of limited use. As in 2003, the rubber had its good days, when Tamada was fast, but it was not always equal to the more prevalent Michelins. Nevertheless, Tamada showed notice of his talents, scoring three pole positions and racing with the likes of Rossi on several occasions. The high points were his wins in Brazil and at home in Japan, but these were offset by days when a finish of eighth was all he could do. However, a top five in Barcelona was lost with mechanical trouble, and he was cruelly robbed when his thrilling race with Rossi in Italy was halted by tyre failure. With these results he could have been a worthy fourth overall.
6 Alex Barros - Repsol Honda Team
It was a disappointing year for Alex Barros. Honda works riders had won eight of the last ten world championships and, following a brief but impressive stint on the RCV in late 2002, the experienced Brazilian returned as team leader for 2004. He probably should have been a title contender, but was instead one of three Honda men not to win a race - and the ones who did were with customer teams. Four podium appearances showed Alex still had it in him, and top six results in eleven of sixteen races showed some consistency. But there were also crashes in Barcelona, Assen and Brno, each time whilst he was holding a top three position. Without these, he would have been on the tail of Biaggi for third overall, but the season as a whole was not good enough for Barros to hold onto his ride.
7 Colin Edwards - Telefónica MoviStar Honda MotoGP
Much was expected of double World Superbike champion Colin Edwards on a decent GP bike, after his year with the awkward Aprilia. Sure enough, there were signs of the old skills during 2004, but they didn't come often enough. Edwards' title-winning pedigree was evidenced by his consistent run of points finishes, but he was often at least four places behind team-mate Gibernau in races, and further back in qualifying. However, good performances saw him on the second row six times, and he was P2 in the races at Donington and the new Qatar circuit of Losail, beating Sete in the first of these. Colin did enough to beat race winner Tamada in the points table, and is rewarded with the ride alongside Rossi in 2005.
8 Loris Capirossi - Ducati Marlboro Team
The momentum of Ducati's début season was missing in year two and, consequently, Loris Capirossi rarely looked like adding to the race win he'd scored in just the bike's sixth outing. Indeed, it was fairly unusual for the Desmosedici to break into the top eight in qualifying during 2004. But it did keep running, and so Loris brought the bike home for points in all but three of the races. He was on the front row twice, and it was on the second occasion, in Australia, when he impressed with a podium finish in third. He had another good opportunity in Estoril, but hit Biaggi at the hairpin on lap one, and Loris was also responsible for the first corner incident involving six riders in Japan. But, these incidents aside, he remains a force to be reckoned with - when the bike is equal to it.
9 Carlos Checa - Gauloises Fortuna Yamaha
After several years as Biaggi's number two, followed by a difficult season with the 2003 Yamaha, Carlos Checa found himself paired with the world champion this year. Perhaps unsurprisingly, the Spaniard was not a regular match for Rossi, but he still put the improved M1 on the front row four times. In Qatar this meant his third career pole position, and in the race he was always in the top three until a fuel pump failure with less than three laps to go. His best result came from an excellent second at Le Mans, but he later managed to slide out of third place in Germany, and on other occasions his pace seemed to fade. This may have been because Rossi's speed didn't come to the detriment of the tyres. But it probably also showed how hard 'mere mortals' had to go to keep the Yamaha with the Hondas.
10 Marco Melandri - Fortuna Gauloises Tech 3
With Rossi engaging the lead Hondas at the front, the other three Yamaha men tended to be in the battle for 'best of the rest' at the back end of the top eight. All of them had their moments, but Marco Melandri looked the most consistently quick - as long as he kept the bike on the track. He did this for an excellent pair of rostrum finishes - third in Barcelona and at Assen - but plenty of points went astray as a result of his mistakes. In particular, he crashed out of the wet Jeréz race when in a clear third place, and probably lost top six finishes in both Portugal and Qatar, and these weren't his only off-track incidents. However, his pace was evident, also backed up by five second row starts, and his record in the lower formulae shows that he can learn and improve. He makes a promising move to Honda for next year.
The best of the rest
Nicky Hayden scored nine top six results on the second works Honda, and was equal on points to Capirossi and Checa. His season was considerably less erratic than the likes of Melandri, and he had some impressive outings. However, as with Barros, his final championship position of seventh was less than a works HRC machine deserved. Three race crashes and a Supermoto-induced injury didn't help his cause, but he now has the experience and the opportunity to move forward next season.
Débutant GP rider Rubén Xaus went well on the customer Ducati, usually over-shadowing his experienced team-mate Neil Hodgson, and was a deserving podium finisher in the Qatar GP. He moves to a Yamaha next.
Troy Bayliss had a difficult second year, but took his machine into the top five three times, including an end of season podium result. He also got onto row two of the grid three times, but will look for more from a Honda in 2005.
The Suzuki remained off the pace in racing, with just one top six, but riders Kenny Roberts and John Hopkins achieved much in getting it onto the front row of the grid three times in total. Roberts was on pole in Brazil. They stay with the team for next year.
Join us here for coverage of the 2005 season.