World Superbike championship review 2004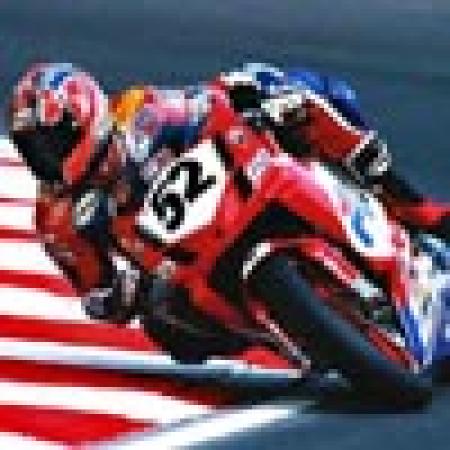 Raceline Photography
By Dan Moakes
December 29 2004
The 2004 World Superbike championship was again decided between the two works Ducati Corse team-mates, James Toseland and Régis Laconi, with several of the various customer team riders in close attendance. But this year there was an interloper in the shape of the new 1000cc Honda CBR FireBlade.
There were doubts about whether the 2004 World Superbike championship would be worth the name, thanks in no small part to the somewhat unpopular new one-make tyre rule. Teams with existing contracts and data were effectively forced to switch to Pirelli's rubber, even though Michelin had been the majority supplier. This was a significant enough change, amongst other things, to deter most of the major manufacturers from fielding teams, leaving just Ducati and Carl Fogarty's Petronas team, plus a host of privateers.
A great many of these privateers ran Ducati machinery, most of which was at least a step behind the works team's new 999 F04 model, if not more. However, the grid did boast a handful of four-cylinder bikes, including one or two newcomers. Specifically, there was Honda's CBR 1000RR FireBlade, and the ZX-10R from Kawasaki - both of which were road machines adapted with the use of racing kits, as opposed to full-on racing motorcycles. Honda's Michelin-shod British Superbike team got the HRC treatment, whereas the Ten Kate WSB team did not.
But despite the concerns generated by the entry list, the racing this season was as engaging as ever and, in fact, the tyre situation helped generate a close fought four- and five-man championship battle. Ducati riders ultimately took eight of the top ten positions, but they faced a strong challenge from new boy Chris Vermeulen on the Honda. The Australian was quick from the off, and a strong burst at mid-season put him right into the title chase.
Although the battle for honours ultimately came down to the two works Ducati Fila riders, it wasn't as clear cut as in 2003. In addition to Vermeulen's fine efforts, this time five of Ducati's pilots won races, and two of the non-factory men stayed in the title race until the penultimate round. Also unlike last year, all the top men will stay on into the 2005 season, giving some a chance to move forward, or redeem themselves for any missed opportunities this time around. It should be worth seeing.

Chris Vermeulen in 2004 - photo © Raceline Photography
Motorcycle Racing Online's 2004 World Superbike top ten
1 Chris Vermeulen - Ten Kate Honda
To come fourth in your début year of World Superbikes is good going in anyone's book. Both Chris Vermeulen and the Ten Kate team, already familiar with one another, did just that - but they also combined with a completely new bike. In fact, the the 1000cc Honda FireBlade was so new that it started out in road-going spec, complete with ignition key, and had to be kitted up for the circuits. Ten Kate did not get full HRC support as seen in Britain. But Chris was quick straight off, starting from the front row first time out, and finishing second twice in Australia's second round. He picked up momentum mid-season, with three race wins in a row that broke the Ducati stranglehold and, despite disqualification from one race at Monza, became a genuine title threat. He could do the job next year.
2 James Toseland - Ducati Fila
James Toseland finished third in 2003 - the best non-works rider. This earned him the Fila bike vacated by Neil Hodgson, and he made full use of it. To begin with, it looked like team-mate Laconi was going to be a tough nut to crack, but being the fastest isn't the only way to win, and James kept up an admirably consistent run. Although he crashed twice, at Phillip Island and Silverstone, Laconi did the same thing in both races, so these incidents weren't costly. Likewise when his Ducati was taken out at Brands Hatch, where Laconi again let him off the hook. So although James had only won twice as they arrived for the Magny-Cours finale, he was close enough in the points to have a real chance. By out-riding his rival at home, to take another win and a nine point advantage, he fully deserved his title.
3 Noriyuki Haga - Renegade Ducati Koji
After three years away, Noriyuki Haga was back in the winners' circle from the outset in 2004. The spectacular Japanese rider's best years had been with Yamaha and Dunlop, but it seems a move back from Aprilia's GP bike to a Pirelli-shod Ducati 999 also did the trick. Haga was consistently quick, winning six times and with seven fastest laps, but also suffered some bad luck. His bike failed both times at Monza, and a convincing double at Oschersleben was lost to a race two engine failure. In fact, Nori only crashed out once, and it was bike failures that were most costly to his title hopes. The MotoGP worries behind him, Haga's elevated reputation has been re-established this year. It will be interesting to see how he gets on with the Yamaha R1, after an expected off-season switch.
4 Régis Laconi - Ducati Fila
Régis Laconi, with five pole positions and seven race victories on the full works Ducati 999, was surely the faster rider in 2004, and he was only off the front row twice. As such, he should really have wrapped up the title without too much fuss. However, there were rather too many wasted opportunities, with the Frenchman crashing out four times, including when he was comfortably out front in the second Australian race. To be fair to Laconi, he also lost points with a mechanical failure at Valencia, and because of a ride-through penalty in Germany, but with just one less crash he would surely have got the extra nine points needed to defeat Toseland. He will have to prove himself next season, which could be his final chance at the crown, as many feel he blew it this time.
5 Frankie Chili - PSG-1 Corse
The most experienced man in the series, Frankie Chili remained one of the men to beat and, in the early running, looked to have a good chance at the title itself. In fact, this was despite the fact that he wasn't happy with the customer Ducati 999 RS, and soon ditched it in favour of his 998 from 2003. With this machine he still had the pace to appear on the front row six times, mix it with the works riders on track, and set three fastest race laps. An inspired run at Misano - perhaps the best performance of anyone all year - saw him come through the field to win in a wet second race. But a significant slice of misfortune awaited him at Monza, where two engine blow-ups and a crash meant no points were scored. Even so, nine podium results took Chili to fifth overall, but he now has to find a new team for next season.
6 Steve Martin - DFXtreme Sterilgarda
Steve Martin started the season as probably the best rider in the series without a podium finish. That soon changed as, with plenty of experience on Pirelli's tyres, he hit top form right from the off. Unfortunately, he could have done with better luck in the first two rounds, when mechanical failures cost him two rostrum places. The second of these would surely have been a home win at Phillip Island, where he led with three laps to go in race two. Together with a third and a fourth, these lost results would have put him ahead on points after four races. After this, Steve never looked quite as threatening, but he proved his worth with twelve top six finishes, and three pole positions showed he had the pace. It will be interesting to see how he gets on with the FP1 triple.
7 Leon Haslam - Renegade Ducati Koji
Leon Haslam, 'the Pocket Rocket', had done a bit of everything, including Grands Prix in three classes, and Superbike racing at home. When the Renegade team moved up from the British series to WSB, Leon was the obvious choice to go with them, partnering Noriyuki Haga, and he proved his worth with front row starts in the first two events. A run of top six results started in race one, and he reached the podium in Germany's second race. Unfortunately, he was out of luck on Phillip Island, where he went straight into the lead for race one, only for his engine to blow on the first lap. He had every right to be frustrated on that occasion, but was still a creditable eighth overall for the season. Next year he tackles the British series for GSE Ducati, having won impressively at Brands Hatch as a wildcard.
8 Garry McCoy - Team Xerox Ducati - Nortel Networks
Garry McCoy spent 2003 with the new Kawasaki MotoGP racer, and it was a difficult season for the former Grand Prix winner. A chance to ride a competitive bike in WSB seemed like a step forward, and the move duly paid off for the spectacular Australian. Once again able to use his trademark sliding style to beneficial effect, Garry's 2004 results reflected his recognised ability. Although he wasn't quite there with the quick men overall, McCoy was a popular home winner in race four, and also took a pair of podium results at Monza. At Imola he qualified third, and a final tally of 199 points put him sixth overall at his first attempt, and he could go better in 2005.
9 Troy Corser - Foggy Petronas Racing
2004 was the third year of the Foggy Petronas FP1 three-cylinder project, and the second season of competition. Although top five finishes remained rare, there was sufficient progress for the bike to make it onto the podium once with each of the riders - Troy Corser taking an excellent second at Misano in drying conditions. On top of that, the team leader was a regular on the first two rows of the grid, with impressive pole positions in both Germany and France. A good run of points finishes took the former champion to ninth in the series but, used to top three results for Ducati and Aprilia, Troy was obviously disappointed with the team's progress. He moves onto a Suzuki for 2005, and should be worth watching.
10 Chris Walker - Foggy Petronas Racing
Popular Englishman Chris Walker took an apparent step back by joining Carl Fogarty's team, having previously ridden a Ducati. But he had the accolade of scoring the first rostrum finish for the three-cylinder 900cc FP1 machine, in mixed conditions for the first race of the year. Things were never quite as good for 'the Stalker' from that point, but he maintained a good scoring record, and qualified on row two a couple of times. Sixth at Misano and fourth at Brands Hatch were his best results post-Valencia, and he was close behind Corser in the final reckoning. He has earnt a spot on the PSG-1 Kawasaki for next season, and a return to the four-cylinder technology that gave him such success at home.
The best of the rest
No other riders appeared on the rostrum, but both Marco Borciani and Gianluca Nannelli had high points with fourth place finishes, and the first of these had an overall consistent scoring record to take him above Walker in the final table. Both were quick enough for second row starts.
The tyre monopoly effectively ruled out the usual clutch of fast wildcard riders, usually seen in the British rounds and the United States - and Japan, which was now off the calendar. But the particularly impressive exception was 23-year-old James Ellison, a regular in the Superbike Cup for privateers within the British championship - which he ultimately won. As one of the few Pirelli men in the UK, James entered both his home WSB events on the Jentin Yamaha, qualifying seventh and ninth, and raced to three creditable top seven finishes. Indeed, he beat the likes of McCoy, Corser and Toseland in the process, and was actually third highest scorer at the Brands Hatch double header. He also found time for MotoGP outings with WCM, earning a full-time ride for 2005. Surely a man for the future.
Sébastien Gimbert was another wildcard to show good form, particularly in taking fourth in both Magny-Cours races for Yamaha France, ahead of men like Frankie Chili. The French rider returns for a proper shot at the series in 2005, and could do well on the relatively unproven R1.
Join us here for coverage of the 2005 season.
---
To buy the photographs shown above, visit Raceline Photography