FIM Sidecars Hungaroring, first official practice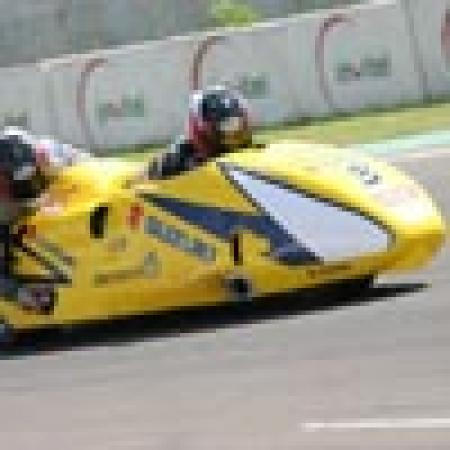 Pic:
By Ian Guy, Superside.com
May 28 2005
The Superside teams had an opportunity to acclimatise to the Hungaroring circuit in unofficial practice sessions today, for round two of the series.
In typical sidecar camaraderie, World Championship leaders Tim and Tristan Reeves took the opportunity to help rivals Billy Gällros and Johnny Briggs sort out some handling problems with their Sourcecom BG Sidecar Sweden machine.
After the early free practice, the late evening was dedicated to the first practice session. Jörg Steinhausen and Trevor Hopkinson were looking in determined mood as they powered their Steinhausen Racing Q8 machine to the second fastest time on their circuit début. "I am happy at the moment," said Jörg, "But I still think we do not have the power to stay with the engines of Webster and Reeves in the race."
Reeves who finished second to Webster last year in the UEM series, set the fastest time in the 35 degree heat. "The conditions weren't ideal with the heat, but we were just getting used to the track and having a bit of fun" said Tim.
Reigning Champions Steve Webster and Paul Woodhead were running in their new engine after the problems at Brands Hatch, but suffered another electrical problem on the Castrol Suzuki, leaving them down in 15th position with a lot of work to do tomorrow.
The real work begins in the first official qualifying session, which starts at 11:40hrs on Saturday.
Practice times, top fifteen:
1 77 Tim Reeves/Tristan Reeves GB/GB, Team Roberts Racing, 1:56:233
2 22 Jörg Steinhausen/Trevor Hopkinson D/GB, SteinhATen Racing, 1:57:865
3 2 Martien van Gils/Tonnie van Gils NL/NL, Maton Racing Etec, 1:58:386
4 55 Mike Roscher/Adolf Hänni D/CH, Hänni Racing Team, 1:58:531
5 3 Bill Gällros/Johnny Briggs S/GB, BG Sidecar Sden, 1:59:301
6 75 Bryan Pedder/Rod Steadman GB/GB, Team Roberts Racing, 1:59:898
7 41 Sepp Doppler/Bernard Wagner A/A, Gemini Racing, 2:01:516
8 99 Daniel Morrissey/Rob Biggs GB/GB, Team Advan Excalibur, 2:02:381
9 84 Andy Laidlow/Patrick Farrance GB/GB, Team LFR, 2:02:552
10 97 Michael Grabmüller/Bernd Grabmüller A/A, Gemini Racing, 2:02:596
11 5 Pekka Päivarinta/Peter Wall SF/S, Päivarinta Sidecar Racing, 2:02:681
12 9 Tomas Foukal/Jiri Pertilcek CZ/CZ, Fuki Racing Team, 2:03:019
13 37 Gary Knight/Dan Knight GB/GB, Redline Superbikes, 2:04:743
14 10 Jean Cluze/Gregory Cluze F/F, BARSA, 2:06:207
15 1 Steve Webster/Paul Woodhead GB/GB, Castrol Suzuki, 2:07:967