Scott Smart impressive at a wet Donington Park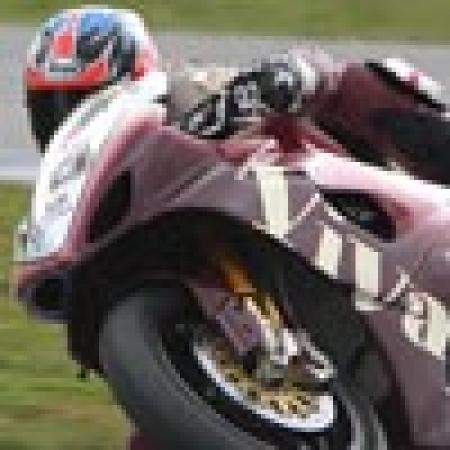 Raceline Photography
By Dan Moakes
April 11 2006
British springtime has been a long time coming in 2006, and this was more than evident at the second round of the British Superbike Championship, held at a wet and cold Donington Park circuit. Difficult conditions evened the playing field, to give rider talent the chance to shine through.
There was little to choose between rivals Gregorio Lavilla (Airwaves Ducati) and Ryuichi Kiyonari (HM Plant Honda) after Brands Hatch, and qualifying at Donington reflected the standings, with the Ducati 999 and Honda FireBlade machinery to the fore again. The Italian bikes were represented by Lavilla, on pole, and third placed team-mate Leon Haslam. HRC had HM Plant riders second and fifth - Karl Harris ahead of 'Kiyo' - and Red Bull rider Jonathan Rea sixth; with customer Stobart Hondas fourth (Michael Rutter) and seventh (Michael Laverty).
Rizla Suzuki's James Haydon and Shane 'Shakey' Byrne were eighth and ninth, leading the first Kawasaki of Hawk rider Craig Coxhell, then Scott Smart (Vivaldi Suzuki) and Glen Richards (Hydrex Honda). The first of the Yamahas was piloted by Tommy Hill in P13, from Jon Kirkham (Jentin Suzuki), Dean Thomas (Hawk Kawasaki), and privateer James Buckingham on the Quay Suzuki.
The field was depleted by four at the start of race one, with Hill highsided from the Virgin Yamaha R1 on the way out of Redgate, the right-handed first corner. Among those caught in the confusion was team-mate Kieran Clarke. Meanwhile, Haslam had got the lead, from Rutter, Lavilla, Byrne, Kiyonari and Haydon. Lavilla had made it a Ducati one-two by the time the safety car collected the field, as the débris was cleared from the track and the gravel trap at Hollywood curve.
The restart saw Rutter challenging Lavilla at Redgate, but it was round at the Melbourne hairpin that a change occurred, with Gregorio taking over in front of his team-mate. Behind, Laverty had emerged to race Byrne for fourth, which he was able to secure, but soon it was fifteen-time race winner Kiyo making the running. In quick succession, the Japanese rider passed Byrne at the left-right Fogarty Esses, and former team-mate Rutter at the final left-handed hairpin turn Goddards.
Lavilla had got clear of Haslam at this stage, and some fast times from Kiyo brought him up to the 22-year-old Ducati rider. A spectacular move saw Ryuichi slide the rear on the brakes, as he passed Leon on the inside for the Esses. He then proceeded to chase after his likely title rival Lavilla, catching and attacking at Redgate. They were still together, order unchanged, as Kiyo had a 'moment' through the curve at Starkey's Bridge. Moments later the leaders called for a stoppage, as the track was getting damp. Haydon had already crashed out because of this.
Enough distance had been covered for the result to be declared, with Lavilla winning, from Kiyonari, Haslam and Laverty. Byrne had crashed after the red flag, but had taken fifth, with Harris, Rutter and Rea making it five Hondas in the top eight. Thomas, Smart, Coxhell, Ben Wilson, Gary Mason, Billy McConnell and Haydon were the remaining scorers, with Richards and Sean Emmett among the other non-finishers, and Steve Plater a non-starter.
Things were very different by the time of race two, as the rain had come in with a vengeance. With the track soaked, it was obviously going to be declared a wet race, and the distance to be covered was reduced to fifteen laps. Byrne discovered the treacherous nature of the road surface with a crash on the final sighting lap, and would not start, while Richards would join the field from the pitlane.
One time rain master Rutter got away in the lead this time, with Haydon, Harris, Kiyonari and Haslam tiptoeing behind him. James was not quite cautious enough, as he ran off track and across the grass going downhill towards the Old Hairpin turn. He kept the Suzuki upright, but for the inevitable loss of places. Moments later, Kiyo was looking to repeat his display at Brands, attacking Harris at the Esses, and amazingly he managed to pass both his team-mate and leader Rutter going into Melbourne.
Ryuichi's glory was short-lived this time, however, as he went down moments later at Redgate. He would be the first of many. Rutter, Harris and Haslam now led the way, with Smart passing Hill for fourth, then Lavilla and Mason behind. Haydon's next adventure saw him go down exiting Goddards, but he was able to get going once again. Meanwhile, Smart was now the fastest man, and both he and Lavilla, up to fifth, were closing on the three ahead.
Harris took his turn in the lead, passing Rutter on the inside at Melbourne, and with Haslam going by the Stobart rider on the way out. It was now a five man lead group, but that changed as the front slid away from Harris and he crashed at Coppice. This left Haslam a little way clear of the rest, but the gap came down again as both Smart and Lavilla went by Rutter together at Redgate. The next group were already a way off, with both Mason and Coxhell having gone by Hill, and the Australian setting a new fastest lap.
The next change of leader came when Smart passed Haslam at the Esses. His example was followed by Lavilla at Melbourne, and meanwhile Coxhell overtook Mason as it became a group of six. The next reduction of numbers occurred when fifth man Coxhell crashed out at the McLeans right-hander. Smart now headed the attacking Lavilla, from Haslam, Rutter and with Mason beginning to lose ground. Harris had made it back to the pits, but would go no further.
Rutter improved on Lavilla's fastest lap a couple of times as he looked to threaten again, and sure enough he moved up when Haslam ran wide at Goddards. However, Smart had started to ease away in the lead, which was the cue for Lavilla to try and chase. Mason now went fastest as he moved in on the first four, and Haslam regained third going into the Esses. Rutter's challenge was over soon after, as he crashed at Redgate. The tricky surface, even with a drier line emerging, had now claimed Gregorio Lavilla's three principal Honda-mounted title challengers.

© Raceline Photography
Smart went fastest yet again, with the first four now twenty seconds clear of fifth man Hill, but Lavilla reclaimed the honour on the penultimate lap as he caught ground once more. Haslam stayed with him, and on the last lap he went into second at the Esses. Smart took it by not much from Haslam, with Lavilla settling for the points from third, and Mason in a clear fourth.
Rea had come through on Emmett and Hill for fifth, with the Yamaha rider next home. But a promising ride for Sean ended with a crash on the last lap, leaving Laverty seventh, from Ollie Bridewell, privateers Chris Martin and Malcolm Ashley, and then Wilson, Richards, Buckingham, Dean Ellison and Howie Mainwaring. Haydon had crashed a second time, and a similar exit befell McConnell, with Thomas also failing to make it home.
First and third places had given Gregorio Lavilla a clear lead in the title race, and team-mate Leon Haslam regained ground after his Brands crash, with a third and a second. Honda's top racers had experienced opposing fortunes, with Ryuichi Kiyonari, Karl Harris and Michael Rutter all losing their way in wet weather crashes. Each had of course been with the leaders at the time. But the big winner was obviously Scott Smart, who made up for a disappointing 2005 in one fell swoop, adding his fourth series victory in impressive style.
Standings after four races: Lavilla 82; Kiyonari 58; Haslam 56; Harris 41; Smart 33; Laverty 31; Rea 30; Byrne 26; Rutter 25; Thomas and Mason 23; Hill 20.