Marco Melandri wins from Casey Stoner in Turkey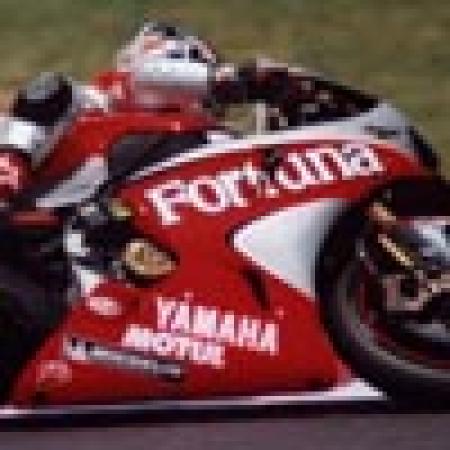 © Elliot L Doering
By Dan Moakes
May 1 2006
Loris Capirossi and Ducati led the points standings after two races, as the Motorcycle Grand Prix circus returned to Ístanbul Otodrom for the second Turkish GP, six months after the first. Yamaha and Valentino Rossi had won in round two, leaving Honda no closer to their 200th class win.
pictured above: Marco Melandri on the 2004 Fortuna Yamaha © Elliot L Doering
The grid for round three of the 2006 championship had an unusual look to it, thanks to a wet weather qualifying session on Saturday. Surely not unconnected was the fact that all six of the Bridgestone tyre runners would start from the top eight, although in some cases the conditions had negated any motorcycle performance deficit, while also allowing rider skill to come to the fore. The upshot of which was that Suzuki scored only their second pole position in six seasons, with 23-year-old Chris Vermeulen starting first in only his fifth Grand Prix.
The other Rizla Suzuki GSV-R of John Hopkins lined up fifth, behind both works Ducatis and ahead of the Kawasaki pair, with only two of the Michelin-shod Honda men getting in on the act. This meant Nicky Hayden was second on the Repsol-backed works RC211V, ahead of the red machines of Sete Gibernau and Capirossi, with the Italian making his first appearance at the track. 'Hopper' was followed by Randy de Puniet (Kawasaki), Casey Stoner (LCR Honda) and Shin'ya Nakano (Kawasaki).
The first Yamaha was that of Colin Edwards, at the back of row three, from Kenny Roberts (Roberts Proton-Honda), with World Champion Valentino Rossi a lowly eleventh on the second Camel Yamaha M1. The other four Honda riders were behind 'the Doctor', with Toní Elías, Makoto Tamada and Marco Melandri in positions 12 to 14. Dani Pedrosa's second Repsol bike was behind Carlos Checa (Tech 3 Yamaha), and the numbers were made up by Alex Hofmann, José Luís Cardoso and James Ellison.
It seemed only a matter of time before Vermeulen would be deposed as they lined up for a dry race, and before Rossi and some of his Honda rivals moved through to more familiar front-running positions. The scene was set for some excitement, and so it proved. The start saw Vermeulen maintain the lead, with Gibernau up to second and Hopkins soon jumping Hayden for third. Stoner, Melandri, Capirossi, Edwards, de Puniet, Rossi and Nakano followed on. For Melandri, sixth represented a jump of eight spots.
Gibernau took over the lead from Vermeulen at turn seven, a tight right-handed hairpin, only for the Australian rider to return the favour at turn twelve, a heavy braking left-hander at the end of the fastest straight - but not for too long. Behind, Rossi passed de Puniet on the power out of the fast right-hand kink of turn eleven. Going into the second lap, Hopkins passed team-mate Vermeulen at the downhill left of turn one, so that Gibernau now led from Hopkins, Vermeulen, Stoner, Hayden, Melandri. The latter pair had gone wide at turn one, jostling for position, giving Casey the spot. Then came Capirossi and Edwards.
Rossi ran wide at the sweeping right of turn two, going over the kerbs, and lost places to 14th. This left Pedrosa leading the charge behind the pack of eight up front, with Elías, de Puniet, Nakano, Rossi, Tamada, Roberts, Checa, Ellison and Hofmann in his wake. Gibernau set fastest lap as he looked to distance himself from the Suzukis, with Stoner all over Vermeulen and getting through on the inside at turn seven. Melandri followed at turn twelve, with Hayden next at the following tight right of turn thirteen. Meanwhile, Rossi gained back a place from Nakano at the left of turn nine.
The action for third gave Gibernau and Hopkins the chance to edge away, but Stoner was soon onto the Suzuki's tail, as Hayden and Melandri raced for P4. This battle involved a number of changes at a number of varying corners, with Hayden getting the verdict before both men followed Stoner past the now fading Hopkins. By the time John had been pushed to the back of the lead group, Pedrosa had set some new fastest laps and joined in the excitement. Dani had moved by Edwards and Capirossi in separate moves at turn one, before getting by Vermeulen and chasing after Melandri. He then followed the Italian past Hopkins, who would soon pit to change his rear tyre after falling away from his team-mate.
Gibernau now had a small advantage over the battling Hondas of Stoner, Hayden, Melandri and Pedrosa, with Vermeulen staying just in touch. Capirossi was alone in seventh, with Rossi and Elías moving through the field behind him. The leading Honda men changed places frequently, and Stoner at one stage went from second to fifth in short order. Hayden led the group at this stage, but then Melandri took over before passing Gibernau's leading Ducati at turn one. In seemingly no time, Sete had followed Hopkins in slipping back, and he ultimately finished outside the top ten.
This made it into a race between the Hondas, with Melandri and Pedrosa racing up front at half-distance, followed by Hayden and Stoner. A lot of the action went on at turn twelve, where Dani got through on Marco in his second attempt, then proceeded to set fastest lap and pull away. Hayden also went past and chased his team-mate, and Melandri set a new fastest lap fending off Stoner as all four closed up again. Now Marco regained second from Nicky out of turn seven, followed quickly by Casey at turn nine.
Melandri was first again after a pass at turn twelve, and an apparent missed gear for Pedrosa allowed Stoner ahead over the start-finish line. He then led after a move at T12, while Marco and Dani swapped second place as Hayden dropped out of contention. With two laps remaining, Stoner, Melandri and Pedrosa were together in that order. The last named attacked unsuccessfully at T12, losing a little ground, and then crashed trying to make amends. He lost the front end going into turn one for the last lap, getting going again but for the loss of many positions.
This made it a two-man race for the flag, with Melandri right on the back of Stoner as they motored on. The Italian made his move as they powered out of turn eleven, to be inside on the brakes at twelve. Stoner fought back into the first part of the following right-left run to the main straight, but Melandri held him off. The win saw the 23-year-old regain his late 2005 form, and was also the first success for Honda this season. They made it a one-two-three, with Hayden holding third, inherited from his team-mate and despite a late challenge.
Fifth, and best non-Honda, had been between Gibernau, Vermeulen and Capirossi. The continuation of Sete's slide had seen Chris get the verdict, while the Ducati pair were then joined by Rossi and Elías. Loris, Valentino and Toní all took a turn demoting Gibernau, and Capirossi would also lose out to the two younger riders, as the Michelin runners seemed to have the advantage. Indeed, Vermeulen was the next victim for Rossi and Elías.
With five laps to go, Rossi had been seven seconds from the four leaders, with Elías on the attack behind as they dropped Vermeulen and Capirossi. The closing stages saw the pair gain ground on Hayden, and they were almost with him at the finish. Rossi had salvaged fourth after dropping out of the top ten early on, and Elías had come through for fifth from P12 on the grid. Capirossi and Vermeulen were next, with Nakano getting by Edwards for eighth.
Tamada finished tenth, with Bridgestone runners Gibernau and de Puniet down to eleventh and twelfth, ahead of Roberts. Indeed, Michelin shod machines had fairly easily salvaged the top five positions in the race, with Capirossi and Vermeulen doing well to secure the next places - particularly the impressive pole man. In fact, only Pedrosa's crash stopped Honda from taking five of the top six places, with the exceptional 20-year-old only salvaging fourteenth after having moved from P16 to the lead. Checa was next, from Hofmann and tyre changers Hopkins and Ellison. Cardoso was the only man missing.
An exciting race led to more shuffling among the points leaders. Nicky Hayden edged ahead of Loris Capirossi with his third podium from three, whilst Marco Melandri improved greatly on fifth and seventh to join the party. Casey Stoner followed his first pole in Qatar with another spell in the lead and a first MotoGP podium, also moving himself ahead of Valentino Rossi. At the moment, the title chase looks to be fairly open, with the next piece of the puzzle to fall into place in China.
Standings after three races: Hayden 52; Capirossi 51; Melandri 45; Stoner 41; Rossi 40; Pedrosa and Elías 32; Nakano 22; Edwards 19; Gibernau 18; Roberts 17; Tamada 14.
Honda 65; Ducati 51; Yamaha 43; Kawasaki 22; Roberts-Proton 17; Suzuki 16.