Troy Bayliss doubles up again, at Monza World SBK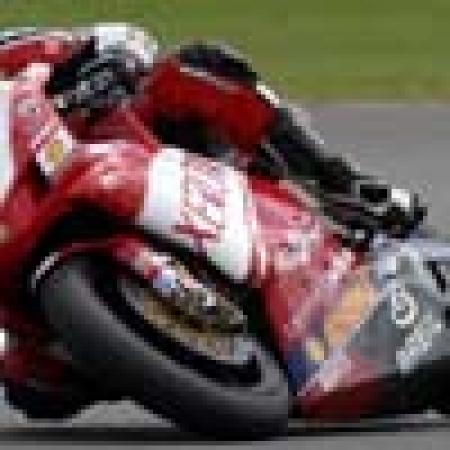 Raceline Photography
By Rob Every
May 9 2006
The former British and World Superbike champion Troy Bayliss, riding for Ducati Xerox, scooped another double at the weekend, and also won his fifth of seven races on the Monza track.
The result left many of his main challengers scratching their heads, at a track that many thought would be the Ducati's weakest - given its alleged power deficit to the four-cylinder machines.
As usual these days, Troy Corser (Alstare Suzuki) set the best time in Superpole to start from pole. The Aussie must have a house full of watches you would think now! Corser got away well for race one, and led into turn one, but right behind there was trouble. The midfield riders all seemed to topple over in the stupidly tight F1-safety-first-brigade chicane, and many riders lost their mounts - including Norick Abe, Michel Fabrizio, Fonsi Nieto and Rubén Xaus.
Away up front though was Corser, until the Aussie got to the chicane for the second time and had a bit of a wobble, to allow Bayliss and returning fellow Aussie Karl Muggeridge, on the Winston Ten Kate Honda, through. Muggeridge actually managed to lead for a few moments, and looked very happy in his return to the series after injury. But it wasn't long before the two Troys usurped him and continued their ongoing battle. This time though Bayliss seemed to have the upper hand completely. Corser was having minor brake trouble, and the lever consistency wasn't quite there, also the former AMA champ was troubled by Noriyuki Haga (Yamaha Italia), who fought through from a bad start.
Bayliss soon pulled clear, a surprise on this super fast track that should in theory expose the V-twin's alleged lack of power. Bayliss was able to hold the slipstream easily though, and though clearly not as fast as the Hondas, was more than a match for Corser and Haga - who was struggling with traction off the Parabolica!
Further back, Régis Laconi, using an improved engine in the Kawasaki (quite why he got it when Walker and Nieto have been getting the results!!) was right in there, and Toseland and Kagayama were there too, until James had a high-side after a chicane exit and Yuki was so close behind that he hit the Honda's back wheel and put himself down.
By now Bayliss was clear, and the battle for second was between Haga, Corser and the battling Alex Barros (Klaffi Honda), who yet again got an awful start. He fought through to the second placed battle, put a great pass on them both, and pulled a small gap on the last lap to get a great second. Third went to Corser, who pipped Haga. Fifth should have been Toseland, who was closing on the pair in front but had a tank-slapper exiting the Ascari chicane which knocked his brake pads back into the callipers. Edging into the Parabolica to start the final lap, the brakes just were not there for James and he tumbled.
Good rides here though for Andrew Pitt in fifth, and Muggas in sixth. But, a poor showing for Lorenzo Lanzi in ninth, only just ahead of Shin'ichi Nakatomi, on the Ipone Yamaha, who scored a superb tenth.
Race two then, and a closer lead battle with the same end result. There were no shenanigans this time in the chicane, but yet again Barros got an appalling start, even worse than the first one, leaving him far too much to do! Bayliss this time could not get away, as Corser, like he did in Valencia, tore away up front.
Bayliss though bided his time and, on a perfectly set up bike, seemed to play a little bit with Corser, letting him through one time, until rocketing away yet again to win five on the bounce and take real command of the championship. Haga was there again, and looking fast on the ever improving R1, but could not hold on to the lead pair as he scored yet another podium. It is clear that Nori is riding out of his skin, his slides and sheer ability to find moves on people were a highlight of both races.
Barros fought his way back to fourth. The Klaffi Honda was very quick and seemed to be far more competitive on this very fast track, but it seems the Honda men, though quick, can't get hooked up out the bends or into them - as Toseland again was there, but not right on the pace just yet.
Pitt again was in the top six, a solid day's work. The same can be said of Muggeridge, the former Supersport champ putting in a solid day's work on his series return. Fonsi Nieto and Chris Walker were next, both yet again running very well on the under-developed Kawasaki ZX-10. Oh how they must wish for the engine that was in Laconi's bike, as the fairly standard parts in the bike right now are not quick enough. Nieto though is showing his GP class!
Not showing class at Monza though was Lanzi. Nearly half a minute behind Bayliss on the same bike is not good, and either makes Troy look like a God, or Lanzi look like a chump. You have to remember that Toseland and Laconi struggled a bit on the bike last year, and now Bayliss is winning races on it. Lanzi looks about the same as James and Régis for me!
Bayliss takes a 40-plus point lead into Silverstone, and the others must hope that the stop-start nature of the track there can stop the Ducati's march to the title! And they say they need another 200cc!!
Standings after eight races: Bayliss 175; Corser 139; Toseland 97; Barros 95; Haga 93; Pitt 79; Lanzi 59; Rolfo 46; Abe 40; Nieto 37.